The Partition was one of the most tragic and traumatic incidents in the history of the country. With large scale atrocities, crimes and brutality that forever defined postmodern South Asian history, the Partition remains an indelible memory for the many people who were caught up in it.
As is with tragedy, the Partition too has given birth to some of the most memorable literary works; timeless in their capturing of this historic event.
Here is a list of some works based on the Partition, bringing depth and dimension to a narrative that is far too often driven by political history, and not social history.
Tamas by Bhisham Sahni
Based on his own experiences of riots he witnessed in Rawalpindi, Tamas is a classic text on the Partition.
When the gullible sweeper Nathu, is convinced by a cunning local politician to kill a pig, he does so without the idea of how this act of his will lead to communal riots in his city. In the aftermath of the riots, Nathu and his family has to leave the country on foot. But they are not the only victims of partition.
Through a gallery of characters and incidents, Sahani portrays the dark time that partition was. Originally written in Hindi, Tamas has been translated into English by the author himself.
Kitne Pakistan by Kamaleshwar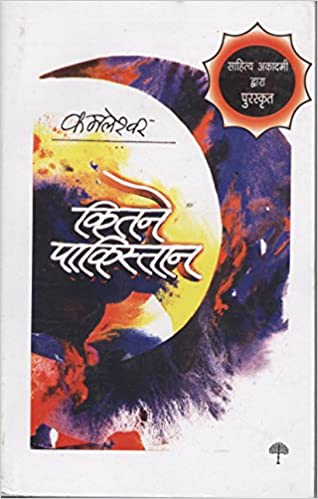 Kitne Pakistan, which has been translated in English as Partitions, is yet another important text of modern Hindi writing at large and Partition literature in general. The novel is feat of achievement both in its content and its style. The narrative unfolds in the form of a trial that transcends the boundaries of space and time.
Historical figures, from Babar and Auranghzeb and Hitler to Saddam Hussein, make appearances as sagas of pain, suffering and victimization unfold. Also weaved in are stories of relationships that have been so mangled the events of 1947 that nothing can become of them.
Like the love story of Buta Singh and Zainab, this runs into the frenzy of partition.
Remnants of a Separation by Aanchal Malhotra
The subtitle of Remnants of a Separation is "A History of Partition through Material Memory" and Malhotra uses the various things that refugees carried with them to re-visit partition.
These include objects as diverse as a string of pearls, a refugee certificate and a notebook of poems that crossed the country with their owners.
And with each of these objects is associated a host of memories – of love, of family, of pain and sacrifices. These objects become testaments of all that was left behind and all that was re-created. Described as "an alternate history of partition", Remnants is definitely a new way of looking at the past.
The Other Side of Silence by Urvashi Butalia
In her work The Other Side of Silence, Butalia brings to life those voices that suffered the most but had remained silenced for a long time.
Women, children and the untouchables – these are the voices that Butalia brings to us from the other side of silence.
Through interviews that were conducted over a period of ten years and examination of artifacts like letters, diaries and official documents, Butalia gives voice to those people who had so far been marginalized in the history of partition.
Train to Pakistan by Khushwant Singh
Train to Pakistan captures the frenzy of partition as well as the highest sacrifice one makes for love in a span of less than 200 pages.
The novel is set in Mano Manjra, a peaceful village that has seen Muslims and Sikhs living together peacefully for generations. But things change with the partition and when a train full of dead bodies of Sikhs and Hindus arrives in the village station. This incident is enough to start a riot than soon engulfs the entire village. Within these pages also unfolds a love story that cannot escape unscathed by the riots.
Train to Pakistan is one of those short yet hard hitting books that shows the basest as well as the highest points of human heart.
Footprints on Zero Line by Gulzar
Footprints on Zero Line is a collection of Gulzar's works based on partition.
This collection includes fiction, non-fiction as well as his poetry on the theme.
The fourteen stories in this collection touch upon the various aspects of partition. Originally written in Urdu, the book has been translated into English by master translator Rakhshanda Jalil.
Pinjar by Amrita Pritam
Pinjar focuses on the events and trauma of partition from the point of its woman protagonist Puro.
When Puro is abducted by Rashid, she manages to escape only to find her family refuses to accept her. She returns to Rashid and marries him because she has no other option.
Just then, their village is engulfed in the flames of partition and the novel unfolds as we witness the struggles of Rashid, Puro and her family members who are trying to cross the border. At once a witness to the status of women in society, the harrowing times of partition and religious disharmony, Pinjar is truly a classic.
This is Not That Dawn by Yashpal
This is Not That Dawn is Yashpal's magnum-opus. At over 1100 pages, this novel introduces its readers to an array of characters living in Lahore. The novel shows us their lives before as well as after the partition and we bear witness to the pain, agony and loss as these characters become victims, caught up in the frenzy of partition.
The book is translated from Hindi and is titled Jhoota Sach (A False Truth). Yashpal, who was a contemporary of stalwarts like Bhagat Singh and who was imprisoned for participating in the independence movement, brings to life those times that he lived through in this epic.
A Bend in the Ganges by Manohar Malgonkar
A Bend in the Ganges covers a long period in Indian history. It begins with the Civil Disobedience movement and ends with the beginning of riots in the wake of partition.
Though not solely based on partition, A Bend in the Ganges gives its readers a picture of those times and deftly takes its readers into a world where they witness as events unfold one after the other leading to the grisly days of partition.
The Unsafe Asylum Stories of partition and Madness by Anirudh Kala
The Unsafe Asylum is a collection of stories that are linked by the character of Prakash, a psychiatry student.
After hearing the story of a patient who was transported from the Lahore asylum after partition, he visits Lahore and learns many things about himself as well those times.
And as he continues his practice and his search for answers, we come across many stories of his patients who are still scarred by the memories of partition. A collection that is unique in its theme and its style, The Unsafe Asylum brings presents partition's tales through a different voice.