This is not a book review. Who am I to judge the past, or what was written of it?
I was introduced to monarchy in reverse. First, the death of Princess Diana. Then, the British empire and its Indian occupation. Then, the many emperors and kings who ruled different parts of the sub-continent. Then, when the Princes William and Harry married. And ofcourse, through the story arcs of the many books as part of collection on fantasy literature. And through movies, both Hindi and English.
I was introduced to the Mughals through four years of learning about Shivaji during school, and his encounter with Aurangzeb. Then Akbar and Birbal. Then, fleetingly, like his reign, Bahadur Shah Zafar.
I was introduced to Delhi since I was a child. Not only as India's capital city, but also as directly competing with my own city of Mumbai. Dilli was always a little door (far) for me. A city where political power was concentrated, so different for an average Mumbaikar whose idea of politics was limited to civics textbooks and voting booths. Then, three years ago, I spent four days in New Delhi (or Dehli or Dilli). I roamed in CP, saw a protest at Jantar Mantar, ate parathas at Chandni Chowk. And then, spent four hours at the Red Fort, listening to the honey-laced voice of an unknown old man on my audio guide, a voice which returned to me when I was reading City of Hearts. History, I realise, is far more interesting when a voice, laden with experience and warmth, narrates it to me.
I was introduced to History through literature. The past was always a story I liked to hear. So when I signed up for the talk of September 29 by Sarmaya, where Mughal women and the remnants of Mughal Delhi would be discussed, I knew I was going to take away a lot of interesting information back with me. I did. Ira Mukhoty and Rana Safvi introduced me to characters, geographies and adventures I had never heard about. But I also took back an autographed copy of Safvi's new novel, City of My Heart. 
Glimpses of the past
Bringing together tales of monarchy from Delhi's history, the book contains translations of four books that chronicle the Mughal Empire's last few years – the shadows of glory and the overnight decline. The books are titled romantically (far more in the original Urdu) and will draw you in.
The first two, Dilli ka Aakhri Deedar (The Last Glimpse of Delhi) by Syed Wazir Hasan Delhvi and Bazm-e-Aakhir (The Last Assembly) by Munshi Faizuddin talk about similar things; describing in detail about the seasonal environment of the Red Fort, what kind of jewels the royalty wore, what the palace looked and felt like, what the Emperor wore, at what time they sat for lunch, who sat to his right, who to his left, who ferried him, who prepared his hookah (which he pulled a lot), who fanned his throne, and who was allowed inside his bedchambers.
It talks of the past in what could now be considered cliches – of girls dancing coquettishly, of harmony, of everyone being happy. At some point, you may pause and wonder – 'What about the stories of the people who served the royals?' But it is not your question to ask here, where days and months, anniversaries and festivals, are all ruled by the requirements of the benevolent Emperor.
It is perhaps a chronicle of a time that could uphold India as the 'Golden Sparrow'. Rich in detail,  it would be an excellent resource for students or researchers- months, rituals, traditions are presented with precision. Imagine, knowing that the necklace that the Emperor wore had 'ruby clasps after every 10 emeralds'. However, it failed to invoke the nostalgia for the glorious times. Perhaps it's distance, perhaps that depth of language could not be achieved in English (both the books sound surprisingly similar in tone and style) – either way, I felt like I was just reading a rather elaborate version of Sarojini Naidu's 'The Bazaars of Hyderabad'.  
Portrayals of lost glory
The meat of the collection lies in the final two books – Qila-e-Mu'alla ki Jhalkiya'n (Glimpses of the Exhalted Fort) by Arsh Taimuri and Begamat ke Aansu (Tears of the Begums) by Khwaja Hasan Nizami – that really take history beyond a list of rituals and traditions and foods and festivals. It's a mix of tiny tales, accounts of princes and their flaws, cases of deceptions, a little family tree of the last Mughals, issues of succession, about war and death, about singers of the time and of the role that palace attendants played in royal life. It puts characters at the centre of its, slightly fragmented narrative, and touches your heart.
The best Safvi has saved for the last. Nizami in Begamat ke Aansu truly paints the picture of an Empire extinguished, of a King and his family reduced to extreme poverty, having lost every rupee they owned. It's a book that will remind you that what is history today, was a contemporary moment for the people, tinged with flesh, blood, pain, grief, tears and triumph – depending on who's record you are reading. Nizami's work and Safvi's translation brings life back to nostalgia, and sepia suddenly turns into blood red and grey soot.
There is an instance, after Bahadur Shah leaves Red Fort following the mutiny. He goes to the dargah of the Mehboob-e-Illahi and speaks to the attendant, saying,
I am a descendant of the Timurid race….but my end has been revealed to me. There is no doubt that I am the last Timurid to sit on the throne of the Hind. The lamp of the Mughal dynasty is about to be snuffed out. It is just a guest for a few more hours…This country is God's and He can bestow it on whomever He pleases. For hundreds of years we have ruled Hindustan through force and fear. Now it is the turn of others to rule. We will be the ruled and they the rulers. This is not a reason to mourn, for we also removed someone from the throne and destroyed their dynasty to establish ours.
It is perhaps the most moving, all encompassing line of the whole book, which otherwise often feels like only a researcher's pocket guide.
Besides these translations, the book comes with a detailed appendix on the various dishes, jewellery items, clothes, colours, fruits, desserts that are mentioned. Urdu words are kept intact at several places and if you are familiar with even Hindi, they will add a delicious flavour to your reading. There is also a map at the beginning of Delhi and a chapter on how the city came to be – from Mehrauli to Shahjahanabad, a fantastic timeline of the rulers through hundreds of years. But what I sorely missed was a map, or some reference images of the many sections of the Red Fort, as so much of the action takes place within its walls. I have included some of it here to help you. Click on the sources for better resolution. Rana Safvi's own blog also has some fantastic then and now images.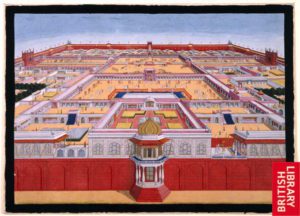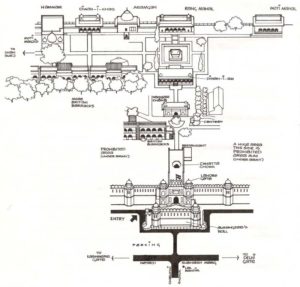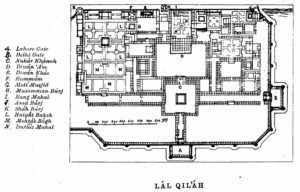 Picture Credits: Columbia 
Special mention to the amazing book cover, a procession that is entering the Red Fort, as if ready to shut forever, its gates to the world. It is illustrated by Shiraz Husain Usmani, of the Khwaab Tanha Collective. 
Further Reading:
1.  This article in Scroll for pictures of the time.
2.  Writings by William Dalrymple and Ira Mukhoty.
3.  If you like to read about the lives of the royals, there is also Princes by Manohar Malgonkar.
You can buy the book here.
Feature Images from Wikimedia Commons. Author Image from Instagram/Rana Safvi