Akankshya Abismruta reviews Riva Razdan's The Naani Diaries and calls it a satisfying read.
The last Indian love story I read by an Indian author was Revolution 2020. I was 17. I was so disgusted by it that I not only stopped reading Bhagat but also came to the conclusion that Indians cannot write love stories as authors like Nicholas Sparks in the West did. My late teens were filled with reading most of Sparks' works which often left me bawling. When I went to college, I self-shamed myself to get out of reading love stories.
Do not get me wrong here. I continue to be a huge advocate of love. I like elements of love, heartbreaks, and all things related, in any fiction that I read. I have a party inside my head every time a narration suggests, if not explicitly states, that love is all that matters in the end, above all (looking at Mamang Dei's Escaping The Land). I will also admit that I have held on to Volga's Vimukta, translated from Telugu as The Liberation of Sita by C. Vijaysree and T. Vijay Kumar, as the bible to navigate heteronormative relationships and gender roles.
We encourage you to buy books from a local bookstore. If that is not possible, please use the links on the page and support us. Thank you.
Have I consciously picked up a fiction knowing it is a love story written by an Indian writer? No. Even though I read all four of Janice Pariat's works in the last couple of years, I had absolutely no idea what I was getting involved in. So, when I received The Naani Diaries by Riva Razdan from Harper Collins, I was disappointed. A romance? Why!
Naani Diaries: Reading Beyond My Prejudices
I was sure that I won't be reading it anytime soon simply because the blurb stated "Sometimes millennials need an old-fashioned romance.." I understand this need for old-fashion love in times of situation-ships —where there's no certainty of where one is or where the relationship is headed. I am just not an advocate of going back in time without considering every aspect of society. Old-fashioned love story? Doesn't it also involve willingly giving in to gender roles that we are advocating against now? Nah, not my thing.
Yet, the title and the cover kept tugging at me. If it's a story about a millennial, then why does the title say, 'The Naani Diaries'? Colour me intrigued. I began reading it despite my skepticism and prejudice.
The story is that of a 29 year-old overachieving Radhika who moved from New York to Bombay to have an arranged marriage. Not surprising, considering she is tired of non-commital men and sees marriage as a sure sign of commitment. Her Naani, Gayatri Anand, a former IAS officer is surprised but decides to follow her granddaughter's request. At the same time, Gayatri's daughter, Mangala, who has made a living as a professor in New Haven, is completely against the institution of marriage.
The narration uses a clever technique of creating small episodes of a larger story. It is divided into a first-person narration of Radhika and a third-person omniscient narration of the rest of the characters. Characters there are many and each is memorable through its specific quirks or the back story. It also consists of WhatsApp texts as well as emails, making it epistolary in parts (reminding me of Where The Rainbows End by Cecelia Ahern – another book I read and loved as a teenager).
Women Empowering Women!
Irrespective of Radhika's very handsome and eligible suitors, the floor is occupied by the women in the book. Radhika is privileged with the legacy of having an agency to choose, raised by a mother who reiterated that independence is everything to a woman if she wants to build a life for herself. Moreover, Gayatri Anand begins her own beauty salon where she makes women not only feel better with blowouts but also by making their stories seen and heard.
Despite the patriarchal system at play in the Mumbai McKinley office, Radhika manages to empower women working under her, showcasing an example of what a safe leadership space looks like. She reflects on the difference in behaviour of men towards women in the workplace in the US and India, realising that if women are so conscious of their bodies and how they are perceived, then it's definitely more difficult for them to confidently present their pitches in a room full of men. She challenges her colleagues to step up and also prepares them to take centre stage while she moves backstage. Talk about passing on the mike here!
Contrary to this, we have a South Delhi elite family as Radhika's to-be in-laws. Dolly, her to-be mother-in-law represents all things that maintain her social status, from ugly diamonds to a Mughal-themed wedding ceremony where her son will be the crowned prince. Radhika bends to every whim of Dolly irrespective of the discomfort she feels at her presence, at her emphasis on ugly diamonds being more respectable than a financially independent woman.
Riva Razdan builds a complete picture of elite society, the corporate world for women in India, as well as the contrast in the perception of Mumbai and Delhi. I could have lived without the names of many-many brands and BMWs but okay, if the story so demands.
Naani Diaries: Men Do Not Steal The Spotlight
Another praiseworthy characteristic of the book is that it showcases that men can be protective of women, wanting to take care of their needs, without being possessive and being aware of their boundaries. This is exemplified in the characters of Birdy, passed down to Zain, and contradicted in the character of Kabir. Again, a plethora of men come in with different character traits so as to not generalise or add to any stereotype.
Men are shown as supportive of women, as companions, and as business associates, but not knights in shining armour. They do not steal the spotlight from women in the story. They are likable and endearing. There also are characters that make you want to throw the book at their faces.
Plenty of Reflection and Discomfort!
There were moments in the texts when I began to cringe – moments when I felt, are we still talking about women being desperate for a man's attention at this age? Such moments were quickly followed by Radhika's observations. She is aware that some actions are cringe-y and yet, she flows with them. This isn't an ignorant heroine, this is a heroine who is figuring things out. She is aware, she constantly uses her agency to do what she believes to be the right thing to have a successful marriage.
Radhika and Mangala have a dicey relationship, as do Mangala and Gayatri. All this is based on Radhika and Mangala's perception of Gayatri's marriage. Mangala has seen the marriage as she was growing up, and Radhika read about the initial encounter of Gayatri with Jairaj Anand in Gayatri's diary — giving the novel its title The Naani Diaries.
Conclusion
The Naani Diaries surprised me considering I was so away from the contemporary popular fiction of India, especially love stories. I am glad that despite certain predictability, it still managed to deviate from the end that looked promising in the beginning. There's a certain satisfaction, a knowing one, in the end.
Have you read this contemporary popular fiction? What are favourite modern romance reads? Drop a comment below and let us know!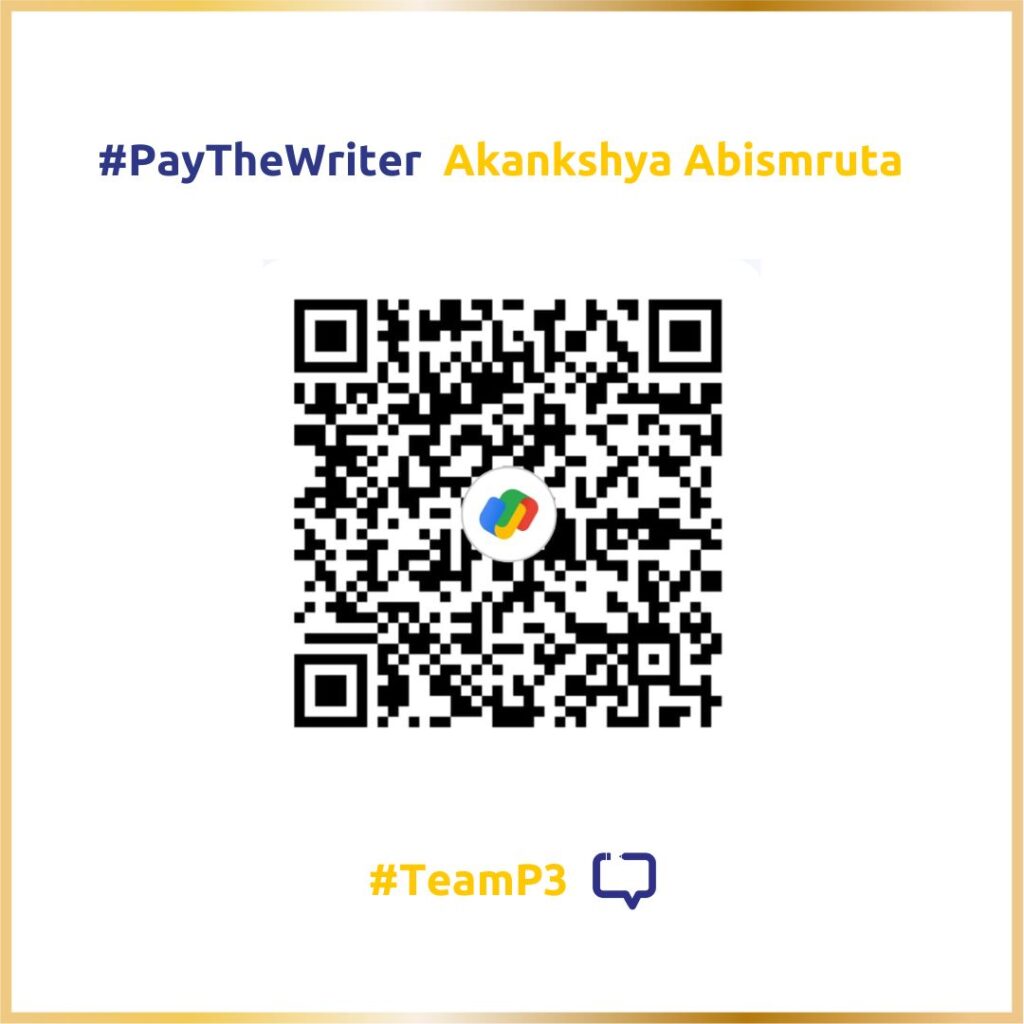 As part of our effort to compensate our writers better, we at Purple Pencil Project have launched the #PayTheWriter initiative, where readers can directly show support and appreciation for our wonderful team.
Scan or upload this image on your UPI app, and show them the love 😀