Canato Jimo, author of the recently-released picture book Snip, tells us how he made one.
The beauty of a wordless picture book is the possibility of an endless imagination. It makes children read closely, with thoughtful eye. It pushes them as readers, to summarise, make inferences, interpret and evaluate visual information, ask questions, and make connections, without a written aid.
Last month, Pratham Books published a picture book, Snip, written and illustrated by Canato Jimo. The 16-page book explores the story of two good-for-nothing siblings from the North-East.
Jimo grew up in a small town called Zunheboto in Nagaland. Currently based in Delhi, he admired children's book illustrations even as a kid. Growing up with a lot of folk tales and stories, all the comics and books he read—it taught him about his culture and the power of regional stories.
In 2017, when he was a final-year student at the National Institute of Design in Ahmedabad, he was asked to look at a very broad theme of 'diversity' for his graduation project, focusing on narratives from his culture.
He was interning with Pratham Books, Delhi, at the time, where there was inspiration all around him. That's when he decided to work on Snip.
The making of a story
"While researching for the project, I found out that there were little or no books from the North-East that reflected the everyday normal lives. Almost all the children's picture books were folktales or were related to attires and festivals," says Jimo, now an art director at Pratham Books. He was looking for a relatable yet familiar theme. "I chose the universal theme of mischief, in this case misadventures around haircuts, and told the story from my perspective."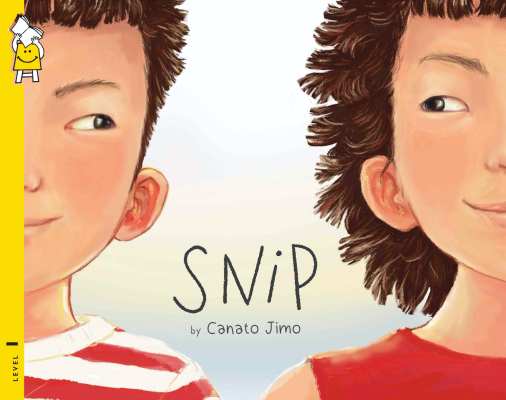 He was clear that he wanted the book to tell an engaging story and not make it about any issue. While he did set it in Nagaland, with the environment inspired by his childhood memories, they were, incidental, and not the focus. "As a wordless book, if at all the unfamiliar in the book seeks for an answer, I thought it would be a great way to start a conversation about the diverse world we live in."
The art of the story
With mischief as the theme, he did explore a lot of ideas. "The haircut stood out, something almost all of us have done as a kid. I thought of spinning an adventure story around it."
One distinct thing about the book that borrows from his childhood is the space and freedom he grew up with. "The whole story happens without adult supervision. In today's urban setting, this space and freedom for kids is limited, with very little space for kids to be themselves."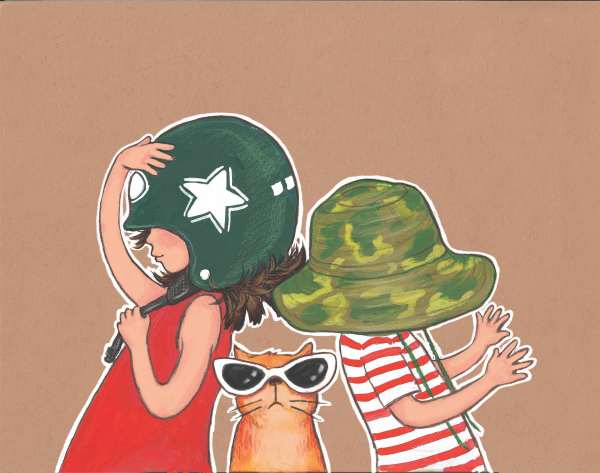 Once he had a theme in place, he created a storyboard for the book and discussed his idea with the editors at Pratham Books. "During that process, it became clear that it could work perfectly well for a wordless book." Ask him what kind of stories then, work for this format, and he says that stories that are action, movement and expression-driven work well.
But more than whether something fits or doesn't, it's more about the approach to the idea. "I am an illustrator first, and that's why perhaps, I visually approached the idea first. With text, I would have taken a totally different visual approach. So as an author-illustrator, it was easier for me to decide on the direction."
The rest of the process was easy since he already had the narrative sequence in place. But did he face any challenges? "The one challenge was to be able to say as much with the limited space and page count, at the same time not morphing into a comic book, with too many sequential boxes." That would also mean keeping each page interesting enough to create the anticipation of flipping it and finding out what happens next.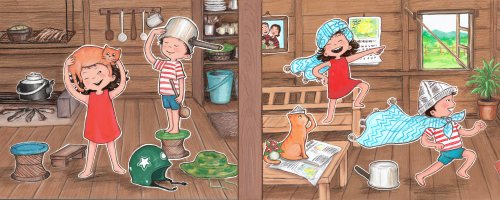 Do wordless picture books have a limited readership? A big fan of these himself, Jimo, who follows the works of authors like David Wiesner and Shaun Tan, says, "Their works are not at all limiting, audience-wise."
Not just for the children
He likes to believe that a story is a story for whoever is willing to read it, be it wordless or written text. "I think the gap between adult and children's literature is becoming smaller, and that's the way it should be." The responses from both children and adults have been good. He has received a lot of feedback from adult readers of how they could totally relate to it, followed by vivid recollections of their childhoods, filled with similar misadventures.
Kids learn how to retell a story in their own words, which encourages creativity, imagination, language play, and vocabulary development. And this helps their visual thinking, adding context to images. "It is really interesting and heart-warming as a creator when you hear different versions of your story, or a certain detail gets picked up from the book and talked about in ways you haven't really thought of. I think that is the beauty of wordless books—the possibility of endless stories."
Ask him to pick an existing tale to illustrate into a wordless picture book, he says it would have to be Alice in Wonderland. Jimo is currently working on a collaborative project with Ogin Nayam, an illustrator from Arunachal Pradesh. They plan to create a book on monsters, inspired by the monster stories they both grew up with.

Read some more
While you check the book out, here are other wordless picture books by Indian authors to look out for your children:
Ammama's Sari: Niveditha Subramaniam's book on a grandmother's upcycling project, when her saree has a hole in it.
Ammachi's Glasses: Priya Kuriyan spins a hilarious tale on what happens when a grandmother misplaces her glasses one day.
Flutterfly: Niveditha Subramaniam's story follows a butterfly that goes around sitting everywhere while the characters wonder what it is.
Round and Round Books: This set of books written by Deepa Balsavar is cyclical, with no beginning, end, and neither the first or last page.
Gappu Can't Dance: This wordless version created by Pallavi Krishnan, original written by Menaka Raman, is about a grade one student who cannot dance and discovers the joy of the art.
The Weightlifting Princess: A tale about a princess who is eager to win a famous weightlifting contest, by Pallavi Krishnan (original by Sowmya Rajendran).
The Little Red String: A story of two kids who find the leftover red string used by their grandmother to knit, to be the most useful thing in the house by Madhumita Srivastava.
The author of this piece is: Nidhi Choksi, the girl with an insatiable appetite for all details, who reads anything and everything legible till the darkest hours, consumes the Internet like a leech, loves the pop in popcorn and pop culture, writes for a living and draws, paints, and doodles for a peace of mind.