Unni R is a Kerala-based Indian short-story writer and screenwriter, known for his work in Malayalam literature and Malayalam cinema. He's the recipient of the Kerala State Film Award for Best Screenplay for the film Charlie (2015).
His notable literary works include Kaalinaadakam, Leela, Kottayam 17, Bahujeevitham, Oru Bhayankara Kaamukan. A collection of his short stories have been translated, in One Hell of a Lover. Another translation, The Cock is the Culprit, is due to release in August 2020.
We caught up with him for an interview over email. Excerpts:
Your real name is Jayachandran Parameswaran Nair and you use Unni R as your stage name/pseudonym. What is the backstory behind this name?
Unni R: There is no caste term attached to my full name. It is there only in my father's name. Jayachandran Parameswaran Nair is there only in my passport. I am just P. Jayachandran. Unni is my pet name and Ilike it better than the other. As the famous Cartoonist Unni is there in Kerala, I got the first letter of my mother's name- Radhamma as my initial.
You write both short stories and screenplays. Which do you like writing better? How do you juggle between the two formats?
Unni R: Short story and Screen play are different in the process of ecriture and experience. I find delight in both. While writing short stories, the question of success or failure never troubles me, where as screen plays are always tied up with thoughts about commercial success, novelty and distinctiveness of the plot.
What general dos and don'ts do you strictly follow while writing in both formats?
Unni R: Short stories require the precision and exactitude of an arrow shot. Scripting for cinema ultimately aims at a commercial product and I do not follow the format of the short story. It is impossible to transfer certain metaphors from the locale of the story to the screen as both inhabit mutually exclusive domains. Once you realize this, what is left for us to do is to create a script for the film from the story.
The reading experience which the story provides is entirely different from its visual impact. Word and the spectacle are vastly different. We experience both visually. But there are words which cannot be visualized and visuals impossible to be written. I try to maintain this distinction.
When you first get an idea, what form does it take?
Unni R: The form often depends on the idea generated and the intention to express it differently. I think of several formats and fix on a style that would provide a new reading experience.
How do you decide which format it is better suited to?
Unni R: I think I can probably assess it based on my long years of extensive reading experience.
I have grown up on the poems of Vyloppilly Sreedhara Menon and the stories of Karoor and Thakazhi.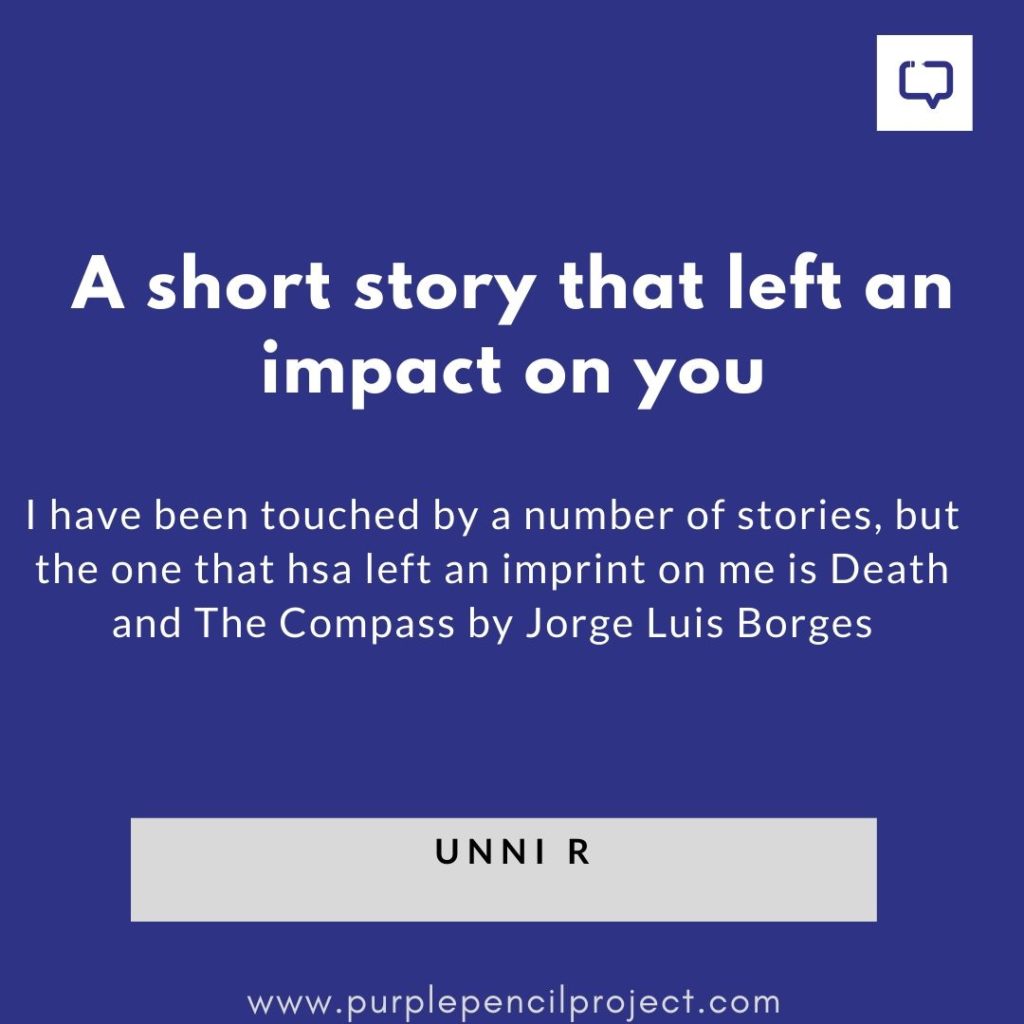 I would recommend contemporary Malayalam writers like NS Madhavan, Paul Zacharia and M. Mukundan as 'must read'.
Malayalam Literature has a rich heritage and a vast readership. What translations would you recommend for the uninitiated, who want to get better acquainted with Malayalam literary texts?
Unni R: Translations of MT Vasudevan Nair and Thakazhi Sivasankara Pillai address two different aspects of Kerala locale. Along with them I would also recommend M.Mukundan and of course OV Vijayan.
Which books you think should definitely be translated into other languages to reach readers outside the Malayalam community?
Unni R: I think that the works of Pattathuvila Kanuakaran and Methill Radhakrishnan must reach a wider readership through translations. I consider Methil as the most 'modern' writer in Kerala in terms of his sensibility and craft.
For your first short story collection, 'Ozhivudivasathe Kali', you received the Kerala Sahithya Academy Geetha Hiranyan Endowment, Anganam-E.P. Sushama Endowment and Thomas Mundasseri Award. What changes in your subsequent book sales and your recognition as a writer did you observe?
Unni R: I received the E.P Sushama endowment award for my first short story collection Ozhivudivasathe Kali. It is true that the award contributed quite remarkably to boost the confidence of a writer still at his early years of writing career.
Recently One Hell of a Lover was shortlisted for the Atta Galatta Prize and it might have contributed to my name being familiar to some English readers too. These are of course good for the market and increased sales of the book.
But again as I reiterate, a discerning reader is any writer's greatest hope and aim.
How important is winning such literary titles to you?
Unni R: Awards bring in public attention and the recognition for creative work is good even though it is not part of the original scheme of why I write.
The awards might have brought visibility to my work and would have probably led to an increase in sales. But for any writer, it is better to have a few enlightened readers than his work selling a million copies .
'Ozhivudivasathe Kali' was adapted to the screen and won the 46th Kerala State Award for Best Film in 2015. Looking back, what do you wish could have been done differently in the movie adaptation?
Unni R: Story and cinema are discursively different as genres/ media. So I sincerely believe that the cinematic adaptations of my stories have shown justice to the medium and have come out well. Ozhivudivasathe Kali was made into a movie by Sanal Kumar Sasidharan. It had won Kerala State award for the Best film in 2015 and had won acclaim in IFFK and Mumbai Film Festival. It is indicative of the fact that the movie adaptation had done its worthy part. I do not believe that anything could have been done better.
As a screenwriter yourself, what are your views on the eternal, unresolvable argument of 'books are better than their movies?'
Unni R: I love books more than cinema. That is a perspective personal to me. Cinema is a more popular medium and more accessible to people. With one's eyes open, one can see any movie of Bela Tarr. But I believe readers are a minority and reading is an intimate experience which requires as much patience as a love of letters. It is a sojourn like that of the writer's and hence I prefer that journey to cinema.
You started out as a sub-editor in the Karpooram Weekly. What has your journey from sub-editor to author and screenwriter been like?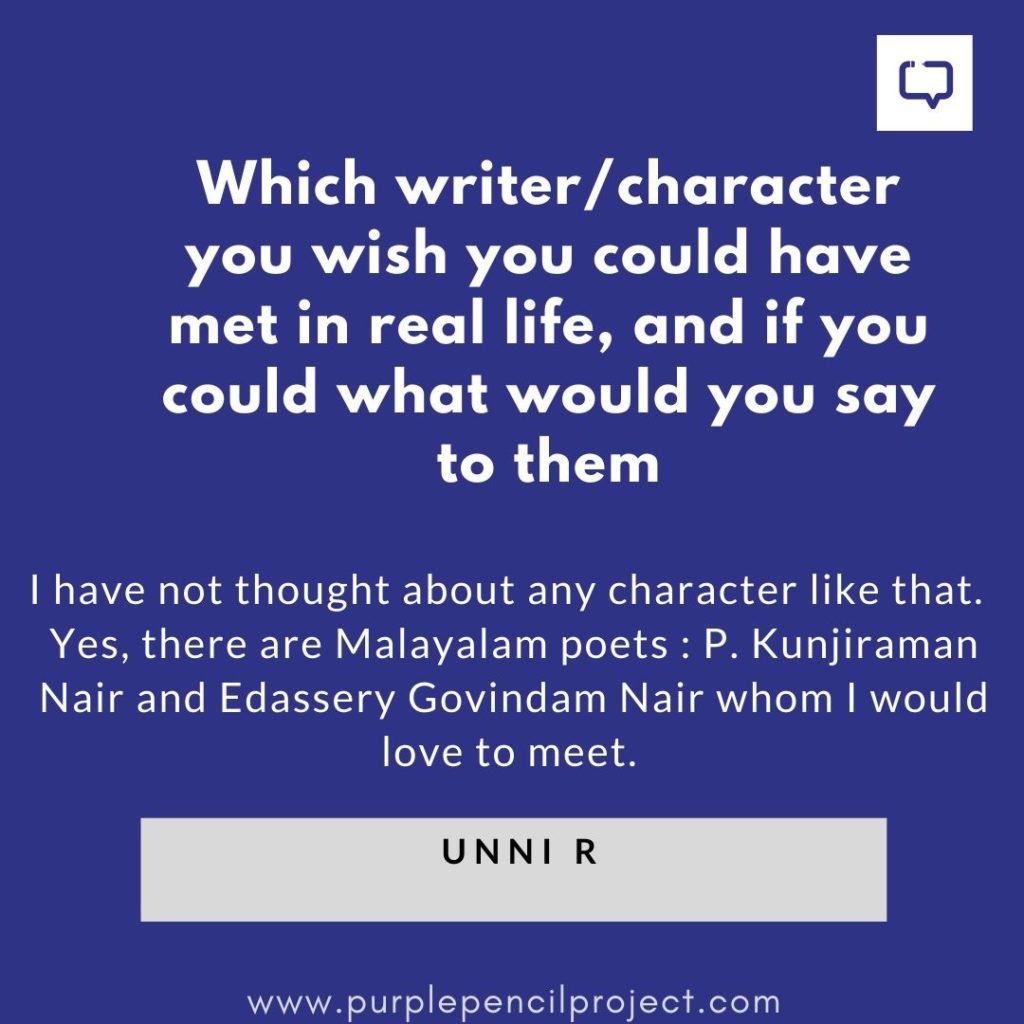 The job of the Sub Editor was for subsistence. But writing stories was a more passionate affair and the matters of money never figured in that. The shift to Screen plays was also in search of better material conditions of life. The job as a sub editor kept me close to the world of letters.
I had also spent some time as a producer in Asianet. Being an author is not a job for me. It is concerned with an intimate aspect of who I am. The journey from the sub editor to the Screen writer was never an easy one as you can very well guess. But being an author, I feel is a constant which cannot be equated with either of them.
My journey as an author probably started from my childhood steeped in stories of the village where I grew up, tales recounted by my mother and grand mother, enriched by the country side and its diverse characters. I enjoy all these diverse experiences offered by life's journey and get on hassle free, I suppose.
What advice would you give to aspiring writers trying to make it?
Unni R: I have neither taken advice from any one in matters of writing nor do I believe in giving some.
The screenplays for the movie adaptation of 'Prathi Poovan Kozhi' based on your story, 'Sankadam', and 'Leela', have been written by you. How did you decide what scenes to retain and what not to?
Unni R:
Such scene selections are made with the cinema in mind as to what it requires and what it doesn't. A story need not be represented in a cinema per se. Cinema is not the literal translation of the story.
In the Scene selection process, one is never alone as in the case of writing a story. It is the result of team work. In selecting scenes, the metaphors that could be translated visually are apprehended and identified and consequently not all aspects get transferred. We may add or delete some elements taking into account what the movie demands. As I said earlier, it is never a singular decision. Instead it involves several sensibilities.
Do you read in languages other than Malayalam?
Unni R: Kerala has a commendable early history of translation and it is noteworthy that people like Swadeshabhimani Ramakrishna Pillai had even written a biography of Karl Marx as early as 1912.
Translations of the works of Kafka, Thomas Mann etc had appeared in Malayalam in the 1950s. I have read these translations in the early years and later it extended to works by British, and Latin American and European authors, all in English. Thomas Berhard, Russell Edson and W.G Sebald have all been read like that.
How can writers use the power of the word to bring about socio-cultural changes?
Unni R: I agree that History has proved that the word has the power to alter the world and many writers have paid the price for the same with their lives.
But for me a writer's task is to be expressive rather than prescriptive.
Many of your works are based in rural settings. How do you capture this background with such expertise?
Unni R: It is because I grew up in a village in Kottayam in Kerala. It is possible that the rural life which was an integral part of my lived experience of childhood could impact my representation of it in stories.
Can you share the origin stories behind your famous short stories, 'Kaalinaadakam', 'Leela', and 'Kottayam 17'?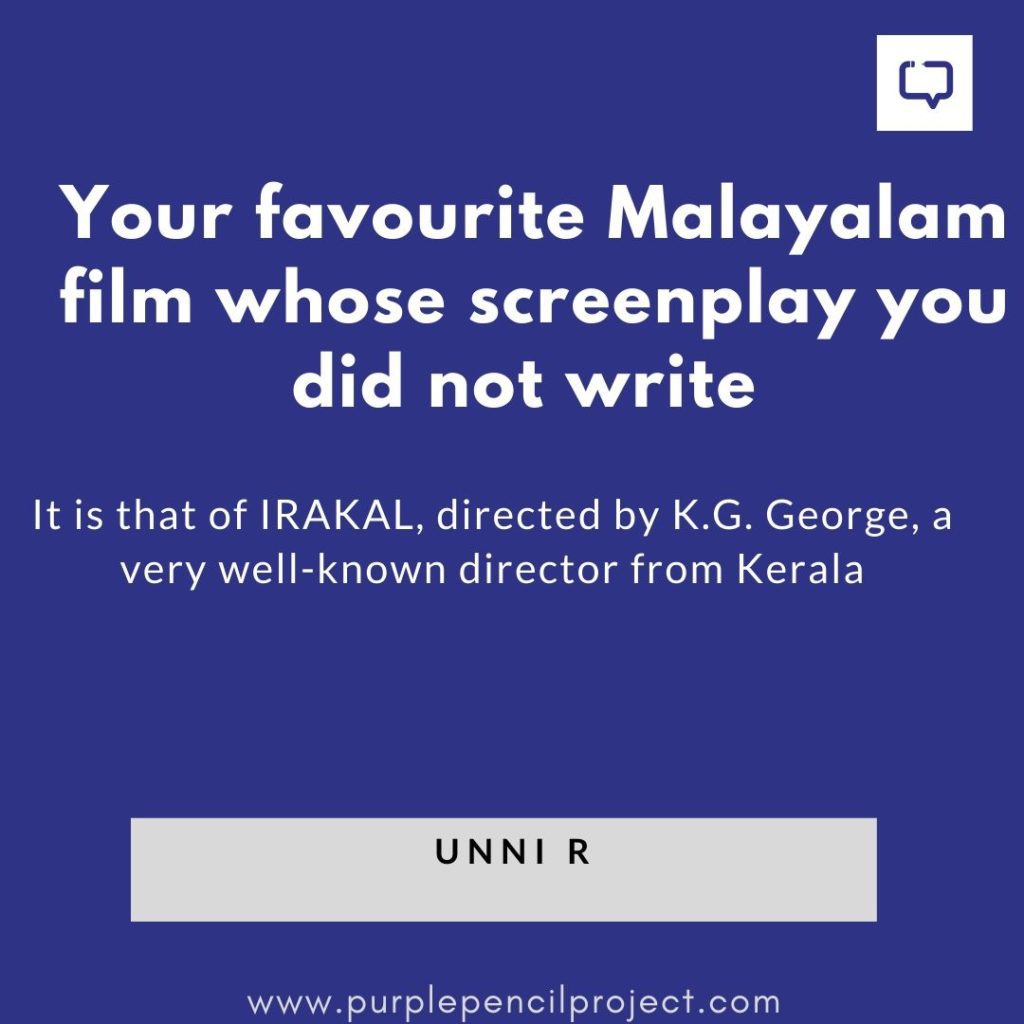 Unni R: Kottayam 17 is the pincode of my native place Kudamaloor. The Kudamaloor church was built by the Chembakassery King who did it as an offering so that his childless dry life will flower through an offspring. The story is built against the background of this church where a childless man feels pity for the statue of baby Jesus drenching in the rain and takes it home to keep him from catching cold and fever. Leela is the wild fantasy of a man to make love to a girl at the trunk of an elephant and the search for the elephant and the girl who occupy the central point of this fantasy.The origin of Kalinadakam is given in the next answer.
How did the ideas for these stories first come to you?
Unni R: As Foucault would say, the search for historical origins could be lowly and depressive and I believe the search for origins itself is a myth. But still I would say that Kaalinaadakam' is an effort to look at the persona of Kali Amma, deemed to be the wife of Sree Narayana Guru, the great social Reformer of Kerala, one of the foremost figures of Kerala Renaissance.
It was believed that Guru left her to embark on his spiritual journey and this fear of the female body is visible even in the writings of Guru. Kaali Naadakaom is an attempt to visualize and represent this marginalized figure who has been written out of history.
How long do you usually take to write a story? What time management tactics have helped you write and organize your ideas better?
Unni R: I do neither write as per time table nor believe that writing is a time bound process. For me every activity that I like to do, say reading, watching movies or even doing nothing is part of the creative process.
Are you currently working on anything?
Unni R: I am currently engaged in studies regarding Gandhi and Ambedkar.