Krishna Manavalli is a professor in the department of English at Karnatak University, Dharwad. She is a literary critic and translator who works in both English and Kannada. In her long and brilliant academic career in the US and India, Krishna has worked on multiple areas such as contemporary British literature, South Asian writing, postcolonial studies, feminism, cultural studies and translations. Krishna is also a member of the English advisory board of the Sahitya Akademi, and is on many academic and university administrative boards in the state. Krishna has received the 2019 Karnataka Sahitya Academy award for her translation of Karimayi.
Could you walk us through your journey; how you chose to be a professor, writer and translator?
Krishna Manavalli: I grew up in cosmopolitan Bangalore and have always lived among many languages. My mother-tongue is Telugu; Kannada is the State language; and then there was always English, both at home and in social circles.
My love for English literature comes from my grandfather Nanjunda Rao, and for Kannada literature from my uncle, the critic K R Nagaraj. Translation was something I naturally gravitated towards when I pursued my higher studies in literature.
My Guru, the internationally acclaimed sarod maestro, and literary and cultural critic Pt Rajeev Taranathji shaped my thinking and literary sensibility. His is the best translation of Kambar I have ever read. His brilliant translation of Kambar's play Jokumaraswamy is my model. My aim to achieve that seamlessness and fluidity in all my translations.
I have travelled and lived across several Indian locations, and did my PhD and started my academic career in the States; which made me think about how Indian writing becomes visible in the global context and also how it gets disseminated.
This led me to think about the politics of translation; who gets translated into English? How many writers from the marginal caste and class locations in India find this international limelight? How is the canon of global literatures formed in the West? Why is it that only a few writers get enshrined in this global/South Asian literary canon?
I see translation as a creative endeavour. Like music. You must soak yourself in a raga for a long time before you can start singing it creatively, yet being connected to the whole tradition of singing that raga. I have learnt sarod for 10 years. And therefore, it is the musical metaphor that best expresses my attitude towards translation. I soak myself in the oeuvre of a writer before I begin translating a writer's work. Then, I get a sense of the idiom and the vision that marks the writer's works. And when I translate there is always a creative way of rendering it in a language and cultural medium which is foreign to it.
You seem to have a close relationship with Kambar's works, you have translated so many of his writings. What is it about his work that draws you?
Krishna Manavalli: I grew up reading Kambar's works. The twentieth century "nayva" movement in Kannada literature was influenced by European modernism. U R Ananthamurthy, Gopalakrishna Adiga, Girish Karnad and others drew upon the major themes of modernism like sterility and spiritual degeneration in the society, search for individual redemption, existential angst etc.
But Kambar took a path different from his peers. He moved towards the native, folk, and collective ethos. His versitality fascinated me; he has worked in almost all genres from poetry to drama, novel, criticism, film. I was always drawn to the music and rhythm of the folk language he uses. That's why I decided to work with his art.
After Karimayi, I translated his novel, Shivana Dangura (Speaking Tiger 2017); recently my translations of his two plays Rishyashringa and Mahmoud Gawan has been published (Two Plays; Penguin Random House) too.
Speaking about Karimayi, how did you come to pick this book? Was it the theme, or is there a more personal connection you have with the book?
Krishna Manavalli: When I returned to India, after several years of studying and teaching in the US, I reconnected with Kambar and his works. Karimayi was one of his earlier novels, so I thought to start with it.
The archetypal mother myth is at the heart of all Kambar's writing. This gender aspect is also another thing that drew me to the novel.
Karimayi won the Karnataka State Sahitya Academy award for the best translation.
What were the challenges specific to translating Karimayi? Were there portions where you were stuck?
Krishna Manavalli: Overall, the rhythms of the folk Kannada that Kambar uses are difficult to translate. But a challenge that is exhilarating!
I carefully avoided the orientalist attitude and exoticism, but still tried to bring out the flavour of the folk Kannada and the mythopoeic imagination.
Are there things that were left out in the final edit of Karimayi but you would have liked included?
Krishna Manavalli: No! The Seagull Books editor did a stellar job. I am truly grateful to the series editor Arunava Sinha, Naveen Kishore and Sunandini Bannerjee.
Which are some of the other Kannada writers you would wish to translate?
Triveni, Siddalingiah, Jayanth Kaikini and Vasudhendra to name a few!
The last few years has seen an increased spotlight on translation – have you seen a change in how you work is viewed, compensated for, etc?
Krishna Manavalli: As the English Advisory Board Member of the Central Sahitya Akademi, I know the tremendous work the Akademi is doing to promote translations of works from Indian languages into English and also from one Indian language into another.
Now, many big publishers like Penguin pay 50-50 to author and translator of the work. Even critics are increasingly aware of how important the translator's role is.
Could you recommend some other good translations of Kannada novels to our readers?
Kusumabale of Devanuru Mahadeva (translated by Susan Daniel) Mohanaswamy of Vasudhendra (translated by Rashmi Terdal)
Are you working on anything currently?
Krishna Manavalli: I am working on translation children's folk literature [plays and short stories of Kambar], a monograph on Kambar [for National School of Drama, New Delhi] and also the collected Works of Rajeev Taranath [on literature, aesthetics, and culture] for the Sahitya Akademi
***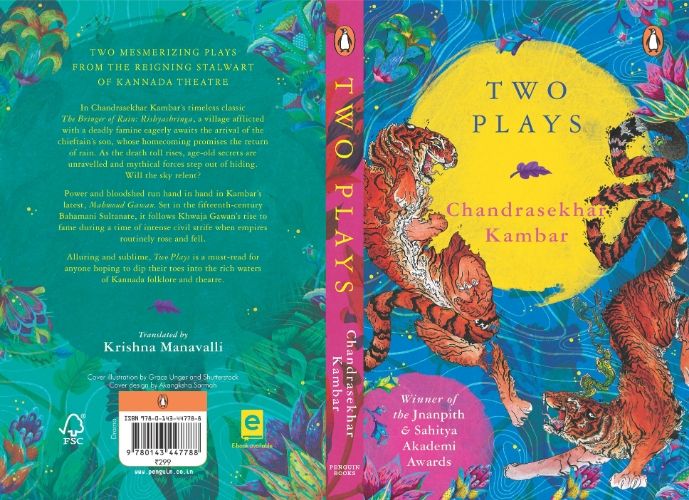 In Chandrasekhar Kambar's timeless classic The Bringer of Rain: Rishyashringa, a village afflicted with a deadly famine eagerly awaits the arrival of the chieftain's son, whose homecoming promises the return of rain. As the death toll rises, age-old secrets are unravelled and mythical forces step out of hiding. Will the sky relent?

Power and bloodshed run hand in hand in Kambar's latest, Mahmoud Gawan. Set in the fifteenth-century Bahamani Sultanate, it follows Gawan's rise to fame during a time of intense civil strife when empires routinely rose and fell.

Alluring and sublime, Two Plays is a must-read for anyone hoping to dip their toes into the rich waters of Kannada folklore and theatre.
Buy the book from an independent bookstore if possible. You can see the list of bookstores open, here.
If not, support us by using this Amazon link.
***
Feature Image Courtesy: Indian Languages Festival by the India Habitat Center