History is often restrained to the textbooks and occasional documentaries in our country, which is a shame considering how much material there is for literature and art to explore. And it's books like Indira that are essential to bridge that gap. Joining a fictional narrative with the thread of real-life events, Devapriya creates a beautiful story that keeps your nose inside the book throughout.
We encourage you to buy books from a local bookstore. If that is not possible, please use the links on the page and support us. Thank you.
Why You Should Read Indira
How much do you really know about Indira Gandhi, the first (and so far, the only) woman prime minister in the history of India, outside her notable achievements and failures? What was it like to grow up as the daughter of Jawaharlal Nehru? What was it like to talk through letters with her father in prison? Indira is a concoction of various stories that paint the life of Indira Gandhi in style.
"The very fact that there are so many unread books means there is so much happiness in the future that we have not yet tasted."

Best Quotes from Indira by Devapriya Roy
But it wouldn't be as good a book as it is were it not for the two narratives that run parallelly. Before you read the life of Indira Priyadarshani, you glimpse the life of the character Indira Thapa who's been assigned to write an essay on her name by her favorite teacher. As the story proceeds, she gets to explore the life of her namesake in vivid detail. And so do we, the reader.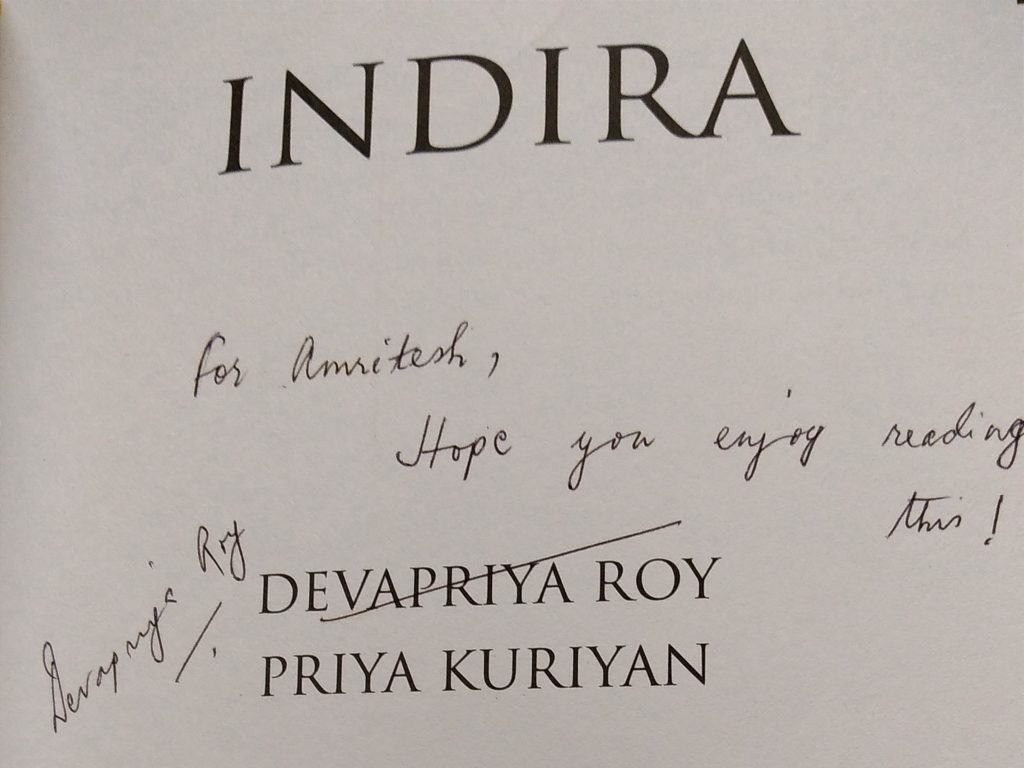 The story is filled with a sprinkling of Hindi words that bring out the flavor of the locale Indira is set in. One after another, as young Indira searches for new stories, we keep getting glimpses into different parts of old Indira's life. Complementing Roy's story are Priya Kuriyan's gorgeous illustrations that serve to bring out the Indian-ness of the story even better.
Might Come Across As A Hagiography
One thing might, however, be off-putting for some. While creating a narrative that brings forth the unseen and the unknown of Indira's life, it also sidetracks all the wrongs carried out by her. Even the Emergency isn't treated as the assault against democracy that it was. If a holistic, nuanced perspective is what you seek from this biography, you might not find it here.
"It has come down to two contenders; the 70-year-old Gandhian Morarji Desai, and Indira Gandhi, the 49-year-old Information and Broadcasting Minister in Shastri's cabinet."

Best Quotes from Indira by Devapriya Roy
Whether you wish to introduce Indira Gandhi to your children or read a graphic novel the next weekend, Indira is the perfect book to pick!
Final Thoughts
If you want to immerse yourself in a picturesque story that provides you an intimate glimpse of India's first and only woman prime minister, Indira is a great book to pick up on any given day. While those looking for a more nuanced portrayal might be disappointed, it's the perfect book to serve as an introduction to Indira Gandhi and her life. The little touches of the local language and the illustrations only serve to further make it an engrossing experience.