Mitra Phukan is a writer, translator, columnist and trained classical vocalist who lives in Guwahati, Assam. Her published works include four children's books, a biography, two novels—The Collector's Wife and A Monsoon of Music—and a collection comprising fifty of her newspaper columns, titled Guwahati Gaze. In addition, her short stories have appeared in various journals. Her works have been translated into several Indian and European languages.
Excerpts from an interview conducted earlier in 2020:
Could you walk us through your journey; how you chose to be a writer, translator and vocalist?
Mitra Phukan: My parents were both writers …my mother wrote fiction, in Assamese, my father science based pieces. Several of my uncles wrote, too, as did my grandfather. It was something that many in our family did. So I took to writing small pieces first, for various publications, got prizes, and was encouraged to take it further. I'm loving the journey!
We were all also avid readers. We had all kinds of books at home, in Assamese, Bangla, English. Our library cards were well utilized We were scolded for reading too much …just as children are scolded today for being addicted to the screen!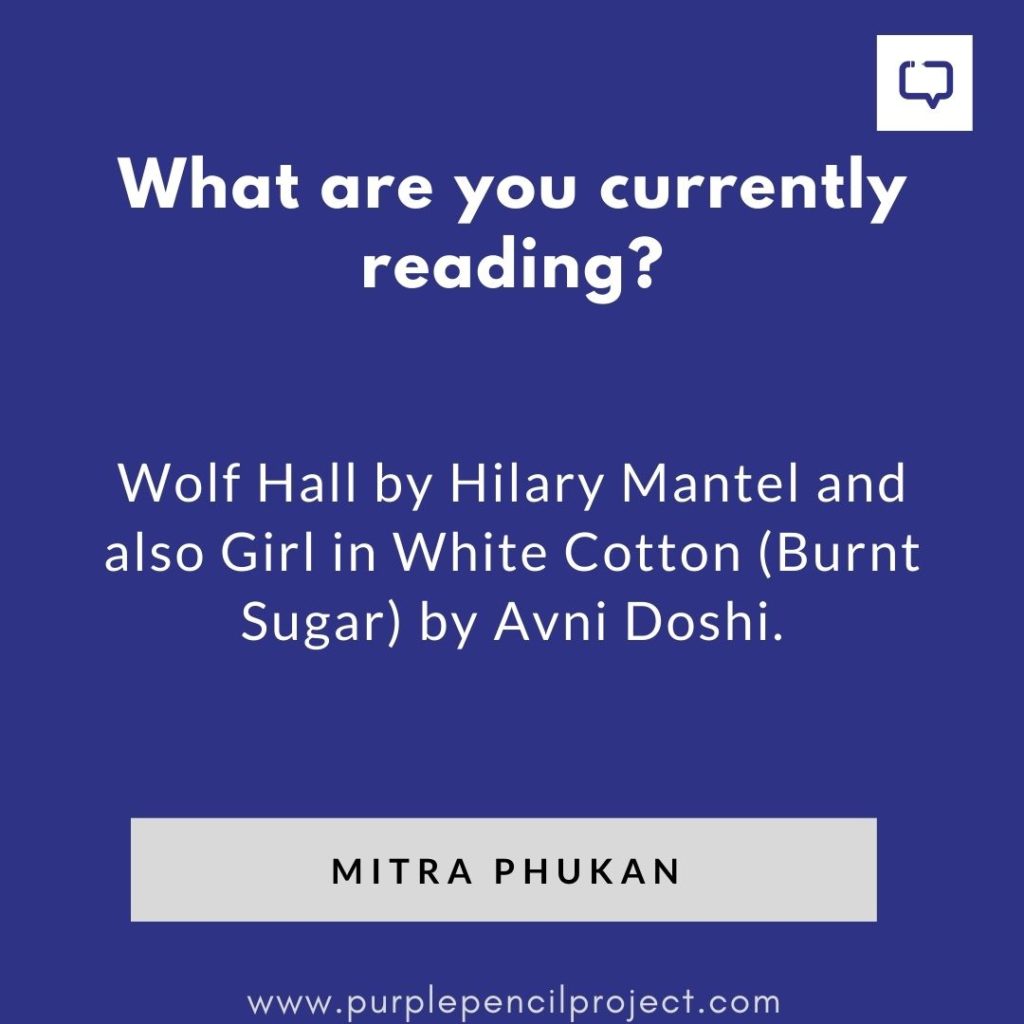 Music has been a part of me for a long time. I remember my first harmonium at the age of five …I was so thrilled, I remember playing with it like a toy, but of course I had a regular teacher too, with simple lessons. We were in Bihar at the time. I still have the tablas that were custom made there. We lived in different places around the globe because of my father's job, but music and riyaz was always with me. Once back in India again, my parents sought out teachers for me …I was fortunate to get some of the best in our region. I loved performing, live as well as the recordings, I loved making melody, I loved delving into a Raag and creating aural pleasure.
These days I don't perform publicly, but I enjoy writing about music, and its practitioners, and of course listening all the time. Having formally learnt music has deepened my understanding of the art.

You have written on a wide range of categories, some of them being biographies, novels, short-story collections and children's books.
A. What influences you to write on such a wide range?
Mitra Phukan: I enjoy writing different kinds of books.
My children's books belong to a time when my own children were young, and I was immersed in raising them. Not that I wrote about my own children as such, but I was connected to how young children think and act. Now that they are grown, I find I cannot write for children any more, and I am sad. I would love to, but the inspiration is not there.
The biography was a commissioned work that I agreed to do, because it was about R G Baruah, a person I truly admired. He is called the Architect of Modern Assam. I interviewed a lot of people close to him, and read secondary sources. I had interacted with him for about two years before he passed away, so my own impressions were also there. I read up about how things were in Assam while he was growing up, when he started life. I loved writing about him. The book has also been translated into Assamese, which really gladdened me.
The fiction I write, novels and short stories come from a different part of my mind…I value the act of creating characters, devising incidents to take the story forward. I love setting out a point of view in a nuanced manner, in real life settings. I love to show life as I see it, through the lens of my own individuality.
While a novel takes me years, a short story can be completed in a month or so. But there is a marination period for each work before that, in my mind, which can go on for weeks or months.
My columns are topical and address a different readership, since they are in a local paper, "The Assam Tribune", and before that, "The Sentinel", which reach the innermost rural areas. Often, the readers are first generation learners of English. I am careful to keep my language accessible, though my ideas can be complex.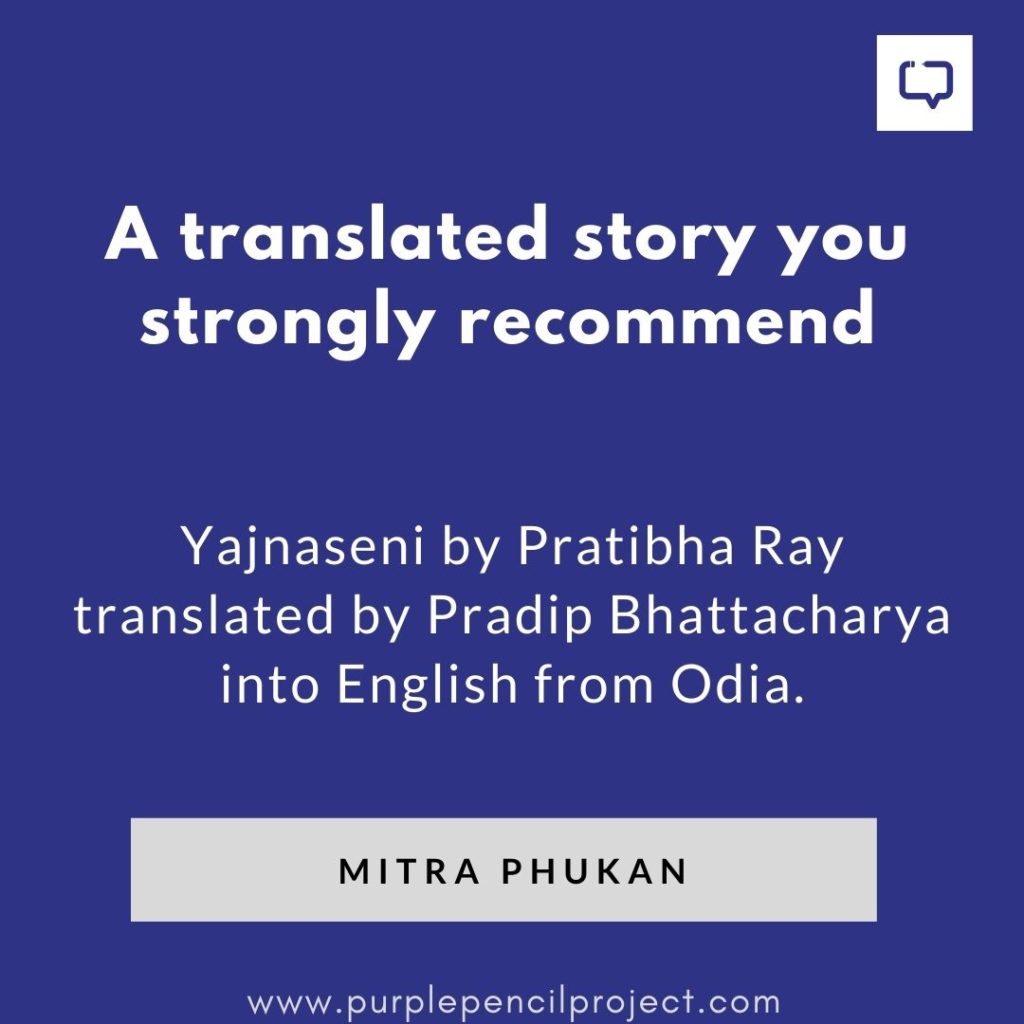 I also write a lot about translation, on music, about the current social situation, though I resist writing about politics directly.
B. How do methodologies and research processes vary?
Mitra Phukan: Oh yes of course. For "The Collector's Wife" I made copious notes of conversations I overheard, of my own thoughts. I also kept newspaper clippings of the incidents, the killings and kidnappings and extortions that were happening all around at the time.
We were all affected in different ways. What was unforgettable for me was the atmosphere of terror all around, and I tried to put some of that in.
For "A Monsoon of Music" I spoke to a lot of practicing musicians, which I was already doing of course, and listened to their fascinating stories. A lot of it was from my own experience. Some of their stories spilled over into some of the short stories in "A Full Night's Thievery." These short stories also have their roots in observed incidents, characters, and are of course then coloured by imagination.
"The Tabla Player" takes off from a story I heard about a well known musician who was so immersed in his music that he neglected to take his wife to hospital for delivery. She gave birth in their drawing room…their story ended well, but I have visualized mine differently.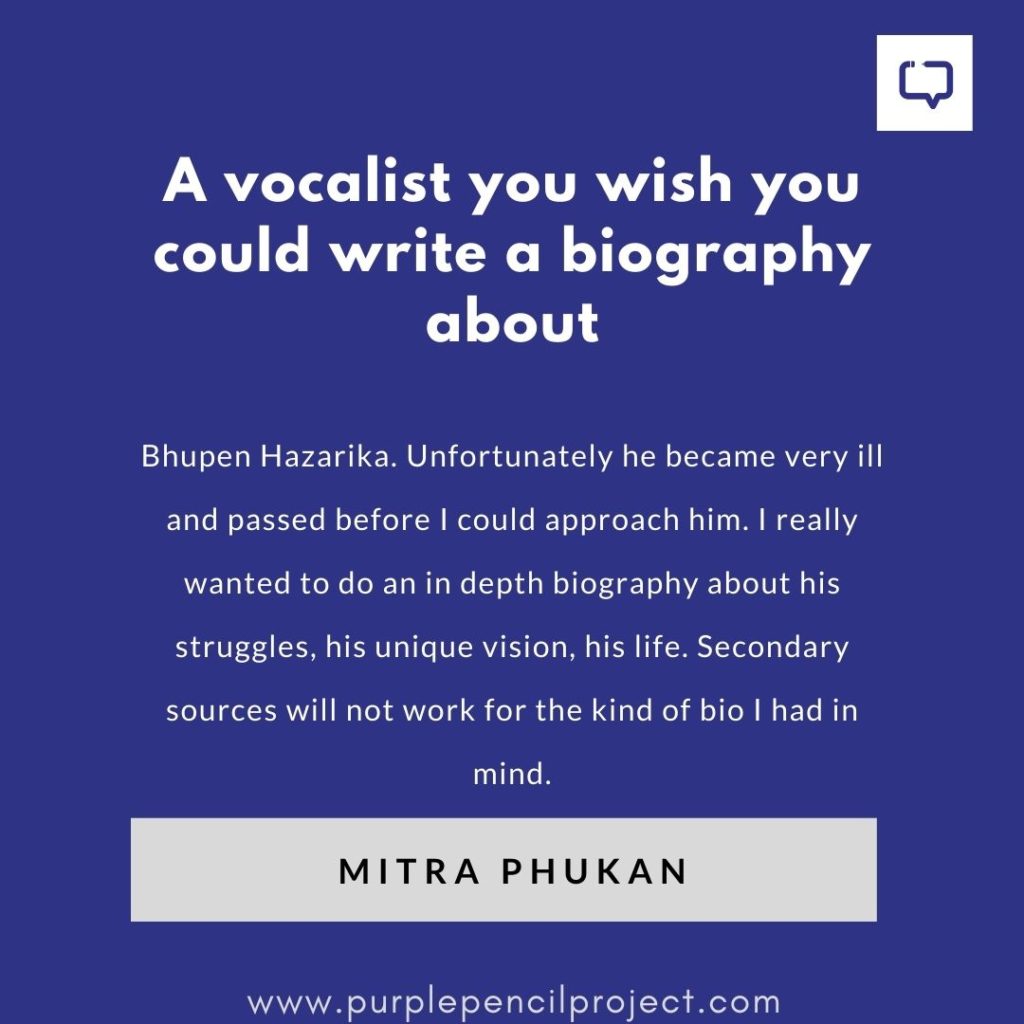 I enjoy writing different kinds of stories. The murder mystery "Poison in the Paan" I wrote in Speaking Tiger's collection "She Stoops to Kill" activated some Agatha Christie-loving part of my brain, and I really relished it! It also has a background of music.
Your title 'A Full Night's Thievery' is one of its kind. It takes place in the personal spaces of people, music around them, and explores the range of human emotions: what inspired you to write such a collection?
Mitra Phukan: To put it simply : people. It was my response to the reactions of people to situations they faced. The neglected wife responds by making herself indispensable to the family. The wife of a man killed in a bomb blast responds, after the first numbing grief, by deciding to act against some goons who have robbed her on the road. It is her way of bringing some kind of justice back to a world gone mad. The father whose son is critically injured responds by giving up his beloved musical instrument, in the belief that this sacrifice is what is required to make the son recover.
These people are all part of my imagination. But the situations are realistic, though not real. Their responses are what I feel they would do, though I may not agree with their actions. A few women in the stories are seemingly passive. But through their powerlessness, within the boundaries of what is "allowed" to them, they manage to get their own way, subtly, and over time. This perhaps is my own personality speaking.
What do you think is the contemporary translation scenario in India like?
A. What do you think is the common myth around translations?
Mitra Phukan: A very common and enduring myth is that anybody who knows a bit of the target language can translate fiction, non fiction, poetry. I find this distressing, because frankly it has led to a lot of very bad translations.
Translation is not a mechanical act, not something a robot could do. It is creative. It means choosing words, understanding the writer's style and intent, understanding what is not spoken, the silences, and transferring these to another language, another culture in such a way that it all makes sense to another reader. 
B. What do you think is generally missed while comprehending translations, as a reader?
Mitra Phukan: Sometimes motivations of characters are missed, why people act in certain ways. This is probably because of cultural differences. I find that it is especially difficult to put across such things as the social boundaries which makes people, especially women act, or not act, in particular ways. These are taken for granted and not explained in our texts, but need a contextual placing in the translations. Also missed are the significances of festivals, traditions, and so on.
You have translated a very prominent work, that is now titled as Blossoms in the Graveyard in English (written originally by Jyanpeeth Awardee Birendra Kumar Bhattacharyya as "Kobor Aru Phool"), how did you pick this title to translate? Would you like to share your experience with the book, as a translator?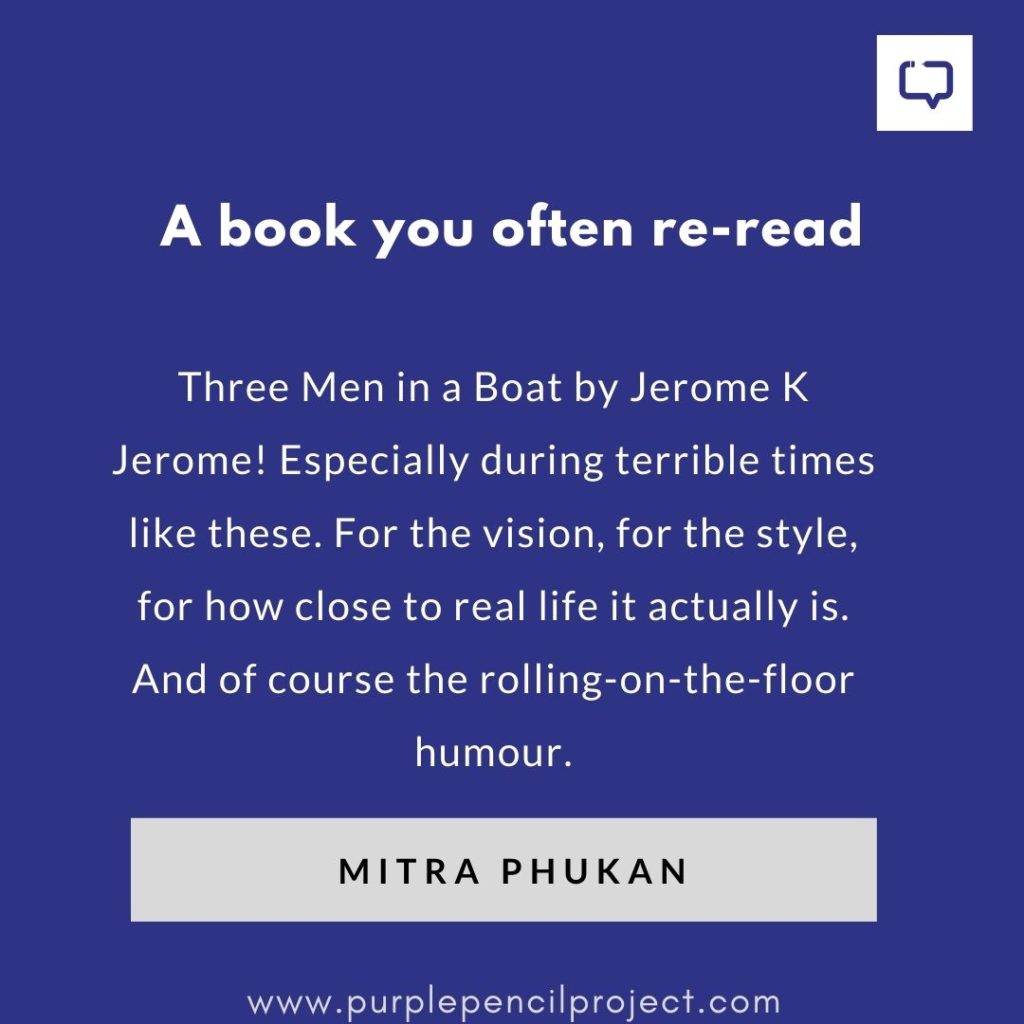 Mitra Phukan: I have always greatly admired Birendra Kumar Bhattacharyya's works. So when I was requested by the BKB Trust to translate this book, I agreed immediately.
The book relates the experiences of Meher, a young girl living in a village in what was then East Pakistan, during the days of her country's fight for independence. In many ways, Meher's journey parallels that of her country's, as tragedy after tragedy befall her. Yet she emerges, stronger, and with an independence of spirit that she did not have before.
It is a moving story, told with delicacy and great empathy. Meher's growth is beautifully portrayed. The writer's language is evocative yet simple, and this was a challenge to put across. Also, there was the fact that several languages are used in the book. There is the actual narrative, in Assamese. But there is also a lot of Bangla, and Urdu. There is also English, but used usually ironically, which too was a challenge to portray. I did not want to use different fonts for different languages, as I find it distracting. And yet I had to convey that a particular dialogue was in Urdu, say, or Bangla.
What would you like to recommend to the amateur translators and students of Comparative literature out there?
Mitra Phukan: I can only speak from my own experience as a translator and writer.
For translators …revise, revise, revise. Translations require many more revisions than original work does.
Also, one has to take care that the final reads smoothly in the target language. Sometimes what comes across is stilted and strained. If there is no equivalent word, use a phrase, or a qualifying sentence.
Are there any authors who have inspired you to write, or are there authors you strongly admire?
Mitra Phukan: Oh, so many. Every time I read a new author whom I like, whose style I like, and their choice of subject matter, this happens!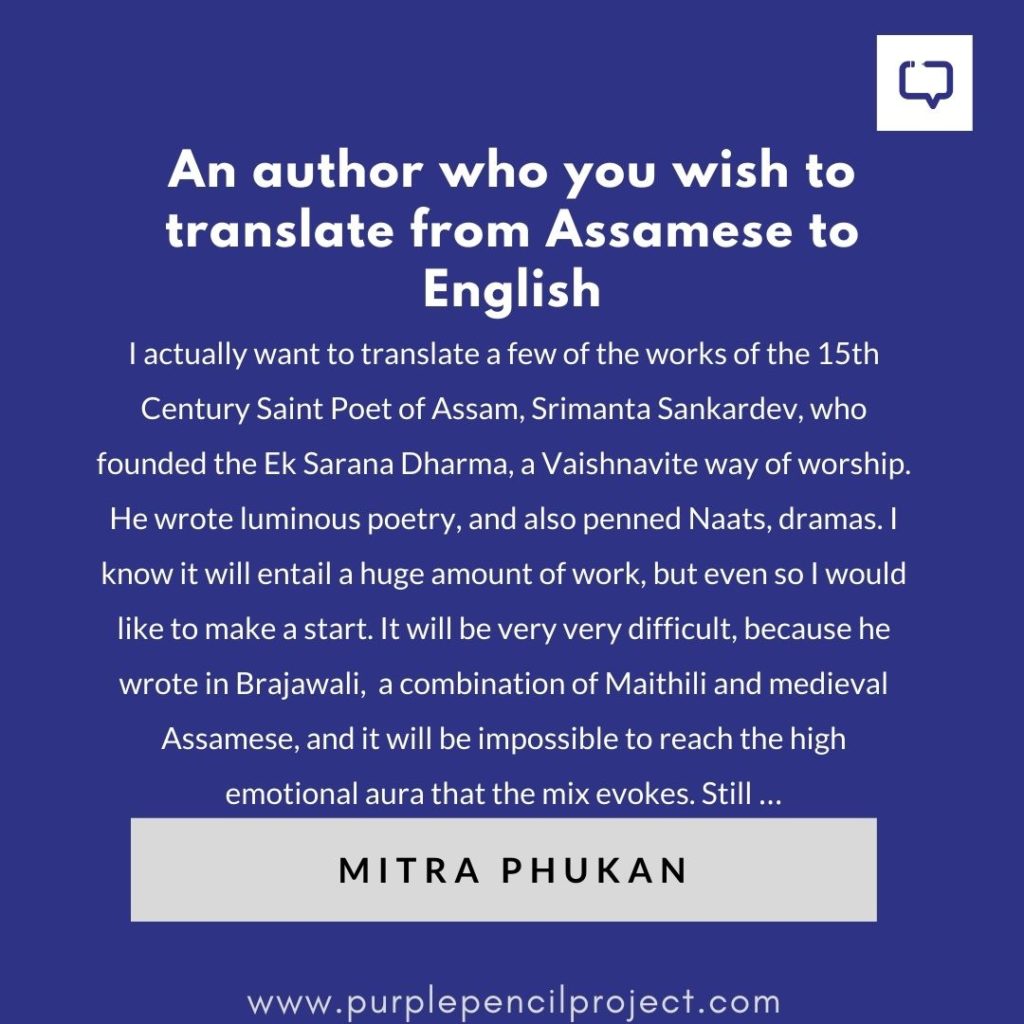 But at this point in my life I love Tagore most, I think. For so many reasons. His language, his philosophy, his humanism, his love of nature, his understanding of human nature, his compassion. The largeness of his heart, the fact that his writings are so universal, and not dated at all, with a contemporary sensibility. Also for his huge literary output, and the variety of genres he worked in, so beautifully.
But I have realized that in the end, every writer has to find her own voice.
Would you like to recommend a few books (both in Assamese, and as translations from Assamese to English) to the readers out there?
1.The Cavern and Other Stories by Bhabendra Nath Saikia, trans. by Dhirendra Nath Bezboruah
2. On a Wing and a Prayer by Arun Sarma, trans by Maitreyee Siddhanta Chakravarty
3. Pages Stained with Blood by Indira Goswami trans Pradip Acharya
4. The Man from Chinnamasta by Indira Goswami trans by Prashant Goswami.
5. The Collected Works of Homen Borgohain, trans by Pradiptya Borgohain
6. Mrityunjoy by Birendra Kumar Bhattacharjee, trans by Dhirendra Nath Bezbaruah.
7. Felanee by Arupa Patangia Kalita, trans by Dipika Phukan
Are you working on anything currently?
Mitra Phukan: Multiple projects. A novel, a translation, then I am editing a collection of Assamese authors I have put together in translation, some requested articles, my column …I like the variety my writing allows me!
---
We encourage you to buy books from a local bookstore. If that is not possible, please use the links on the page and support us. Thank you.