Let one thing be known; most contemporary Indian fiction (in English) is a waste of paper. It is written in 'simple' English, as if literature is nothing but a textbook that everyone has to understand, that everyone must follow without any effort, to be a part of the 'I read' rat race. It does not explore unique genres like horror or styles like surrealism, it does not play with language or add to it. It exists. Perhaps there is a need to write a lot of bad books, as a country, before we get to the good bits.
We encourage you to buy books from a local bookstore. If that is not possible, please use the links on the page and support us. Thank you.
For this reason, I do not easily pick a book from an Indian author easily. So when I found The Princes, by Manohar Malgonkar, lying on my bookshelf, I was surprised. It had to have been really cheap.
The book written by an author who was born in 1913 and died in 2010, who was Indian royalty before independence, who was fond of princely activities like game hunting, is the story of the Begwad Prince Abhayraj III as his life went from the future Maharaja of the Begwad to the last Maharaja, as Indian achieved independence and all princely states became a part of India.
It chronicles his life in vivid detail, from his childhood that includes horse-riding and learning to be a 'gentlemen' by the English tutor, to falling in love with Minnie, to enrolling in the army for WWII, to his marriage, his mother's quest for freedom and her move to Pakistan, and eventually, his father's refusal to be the last king, to be the one to end history.
It is overall a fantastic account of how the princes and their people battled issues of loyalty, tradition and pride against the rising tide of democracy, and how the integration might not have been as smooth as we all study in the textbooks.
Abhayraj is the narrator of this novel that tries his best to be objective; both the king's outrageous personal expenses and the people's, especially the Bhils', love for the king are given equal footage. You see the romance of the princely life; the family treasure, partaking in continuing history, brocade turbans and colleges for princes, concubines and bastards, of colourful fanfare and tiger-hunts, of the people being able to talk about problems and grievances to someone visible and available. You also see how it was unfair to the likes of Charudutt and Kanakchand and to people in the bastis.
The book tackles a lot – the caste system, the position of women in that long-ago world of pre-independence, of a young man finding his way outside the shadow of the luxury, of war. It talks about an India that is rarely if ever, discussed in mainstream discourse. Everyone reads about the freedom struggle, but no one mentions or even thinks about such large populations who saw their way of life change without a moment's notice, kings who actively encouraged the British occupancy of India to safeguard their own territories.
As fascinating as it is, this book is stuck, much like Abhayraj's father, in time. And I mean this literally. No matter how fast you read, no matter how rich the language (that doesn't italicise words of Indian origin) and how well-etched the world of bygone times, each page turns slowly in your hand, like the dry leaf of a lazy afternoon in a time when life was calm, peaceful, stagnant and you find yourself hoping 'to just be done with it'. Much like how the Indian princes and kings felt about entering the Union.
I read the book in a month, and around that time I saw Baahubali 2: The Conclusion, an Indian film, set in medieval times, in Mahishmati, a fictitious kingdom and the good prince Amarendra Baahubali. It is a powerful film, featuring a demi-god hero that does no wrong. As such, the kingly fever was high. This book, then, became a reminder of how unfair monarchy can be, and how it is important to balance power where governance is concerned.
But it leaves you with questions: is democracy that equaliser? Was it the right choice for a new and diverse nation like ours?
Maybe the Queen and her subjects can answer this one for us.
Pick it up if you have time. Wait till you retire and have nothing else to do. In any case, keep it on your bookshelf. It looks good up there.
Favourite Quote
To me it was something of a sacrilege to falsify the past; to whitewash it was to render it sterile.
Recommended Age Group: Strictly read it if you're free. It will look good if you greying and curled up in an armchair, or read it with someone who has real-life stories to tell about the time. Catch hold of them, grandparents, right now!
*Feature Image Courtesy: AbeBooks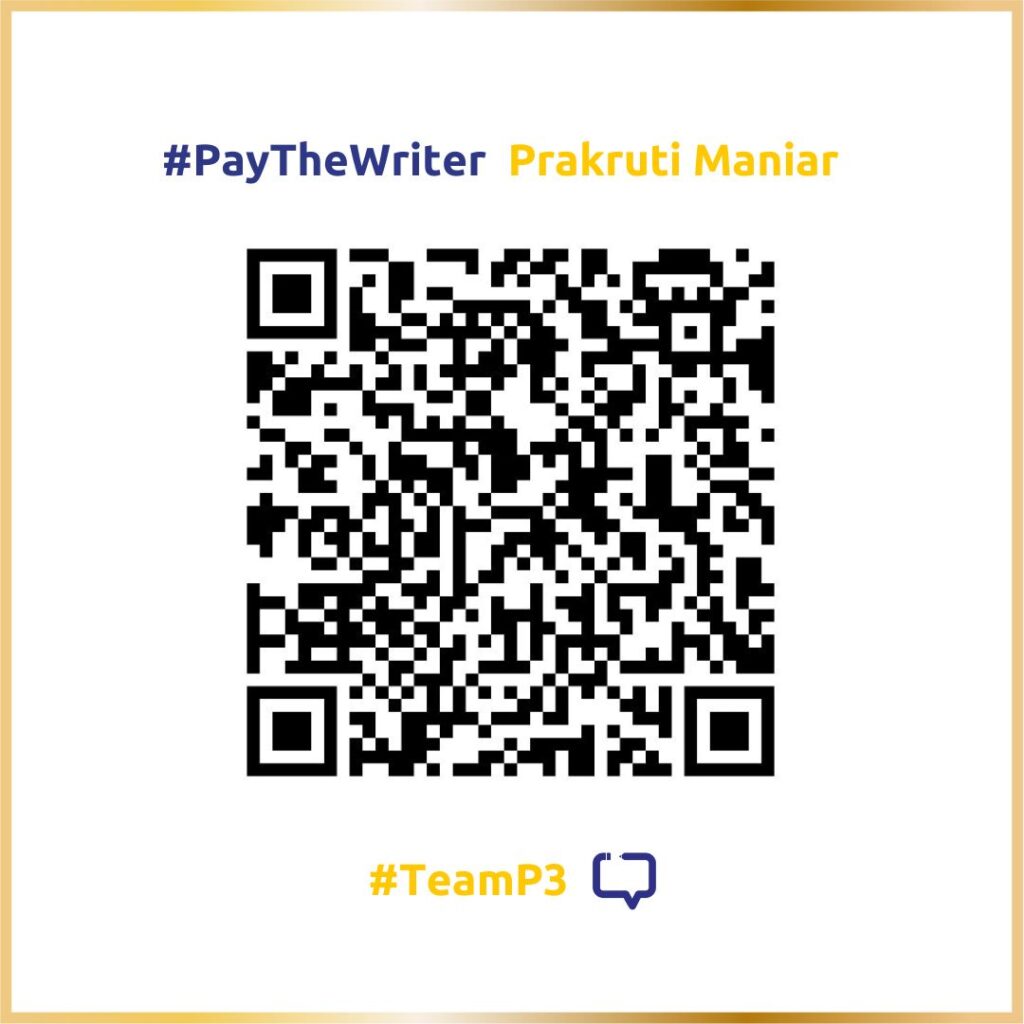 As part of our effort to compensate our writers better, we at Purple Pencil Project have launched the #PayTheWriter initiative, where readers can directly show support and appreciation for our wonderful team.
Scan or upload this image on your UPI app, and show them the love 😀