What could man do when even Gods were helpless drunk with desire, desire that Devadasis were adept in kindling and keeping ablaze in bodies of men who sought them?
Amrapali, declared as a nagarvadhu, is the earliest known devadasi in recorded history. Dedicated to a temple, married to its deity, devadasis were meant to spend their life devoting themselves to worship, temple rituals and performance of arts (dance). Over time, however, they slipped into prostitution serving rich patrons and upper classes who largely controlled the temple affairs.
Did these Devadasis take pride in their way of life or did they want to break free from the shackles of this tradition? Set in the 1920s, in the temple town of Thanjavur, Gitanjali Kolanad's Girl made of Gold, a historical fiction with mystery at its heart, attempts to answer this question.
Plot Points
Nagaveni, the matriarch of the devadasi household, has high hopes from Kanaka, her daughter, a young girl soon to turn 16. She is confident that Kanaka's golden complexion, her unparalleled beauty and polite manners, her exemplary Bharatanatyam skills, her dimpled smile would fetch her 'royal' patronage.
Kanaka is never late for the first puja at dawn in the Shiva temple but she doesn't turn up one fine day. The clearly upset priest starts the rituals instead with Nagaveni. He is taken aback at the miraculous appearance of a small golden statue of a girl right at the base of the lingam during the puja inside the sanctum. Everyone believes that Kanaka has become one with the Lord, a true devadasi, except Subbu, the priest's limp nephew.
How can a girl turn into a statue? What were Nagaveni or her elder daughter, Ratna hiding? Did Ratna's mostly mute daughter Durga who stayed glued to Kanaka have the answer to her whereabouts? Subbu vows to find out what happened to Kanaka, his special friend and confidante. The needle of suspicion points towards the highly affluent, local zamindar Vallabendran.
Vallabendran, the patron for Nagaveni in his young days, easily switches his attention over years to Ratna making her his mistress. Nearly impotent and quite old now, he unscrupulously lusts after Kanaka too and is steadfast in becoming her patron. But fate cleverly inserts his son Indra (who returns to the town after completing his college education in England) between him and Kanaka.
We also infer that Subbu's father Pasupati who was the temple priest earlier abandoned his family eight years back. Subbu holds his insensitive, complaining mother Brhadambal responsible for his disappearance.
The families of devadasis, zamindar and priest, their lives intertwined, serve as three dimensions in space into which the story of Kanaka's disappearance gradually unfolds, a jigsaw puzzle we readers need to piece together from POV s of multiple characters.
An artist, a storyteller
"How do you keep a man wanting more? You make him wait. You say no and then yes, yes and then no." says Nagaveni.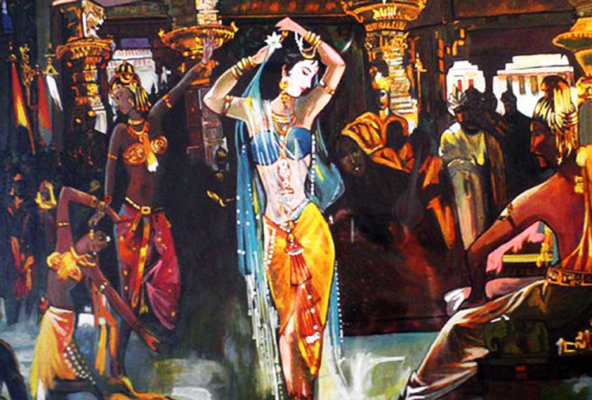 Likewise, the author keeps the reader waiting for details, disclosing them in measured doses. A man's corpse spotted in the dense jungle between the temple's back wall and river and a woman's body recovered from a well crank up suspense. Incorporating twists at critical junctures, the author makes the reader erase and reconnect dots differently.
A Bharatanatyam exponent, she uses different forms of storytelling quite like expressions used in dance – river's flow, lion's glance, frog's hop and a flower garland.

Thumbs Up
Be it in highlighting the difference in the way Brahmin women wore sarees, different from the low caste women and devadasis or in describing the temple architecture, the author's attention to detail is impeccable which stems from her keen research as mentioned in the afterword.

The author writes about the society where wives and devadasis knew of each other's existence in a man's life with a certain conviction as revealed by the quote:
'Don't you know the proverb "A loving girl is no good for marriage; a girl for marriage is no good for loving?"'
She explores many themes through her well defined characters. Through Janardana, Vallabendran's brother-in-law, she lends a voice to the suppressed desires in those with different sexual proclivities. Through Indra who receives his education abroad in England, she symbolises modern outlook and scientific temper that heralds change. She touches upon the issue of race too highlighting the opinion Englishmen had of Indians. Through Vallabendran, she presents a patriarchal mindset, the insurmountable clout and egoism of the rich, upper class.
The then prevalent superstitions, sorcery techniques practiced, snippets from mythology revolving around Rahu, Arunan, Ahalya and King Ila, even little astrology are sprinkled through the story that is heaped with erotica and rich in intrigue.
Thumbs down
Tamil terms like karpu, davani, muram, pey and Bharatanatyam terms like padam, javali, thatta adavu, thattakali, aramandi, arangetram though enrich the context may leave a void in reader's understanding without a glossary in the end.
The women propel the narrative steadily, but the author's repetitive portrayal of them as mere objects of desire leaves a bitter aftertaste. The highly non-linear narrative too turns cumbersome more than engrossing at places. Tighter editing would have made the read more crisp.
Best Quotes
Conclusion
Desire that singes one from within, soothes too upon fulfillment. Pearls strung together tightly truly adorn the neck but also threaten as a noose. Gitanjali Kolanad convincingly portrays this paradox in Girl made of Gold, a thriller with few loose ends, a moving story of a girl's pursuit for love and freedom.
Rating – 3.5
Our Rating System
* – Don't bother.
** – Borrow it if you must, use it as a travel companion.  
***– Make a purchase. Maybe an online purchase, or a kindle purchase. But buy it, encourage it.
**** – Go to a bookstore and buy it. Pay those extra bucks.
*****–Buy a hardback and show it off in your bookshelf! And then wait for a signed anniversary edition and buy that too.
We encourage you to buy Girl Made of Gold from your local bookstore as far as possible. If not, please use the links above and support us. Thank you.

---