Her Stories is a set of eight stories by eight eminent Bengali women writers translated by Sanjukta Dasgupta. It is a collection of short fiction centred around women, where some reconcile with and some fiercely resist patriarchy.
We encourage you to buy books from a local bookstore. If that is not possible, please use the links on the page and support us. Thank you.
The unique thing about Her Stories is that each story is preceded by a brief introduction and a short interview of the respective author that's highly insightful and brings to the fore their journey as a writer. As an anthology that juxtaposes four women writers born in colonial India with four born in independent India, Her Stories effectively represents the impact Bengali women writers had in 20th-century Indian literature.
Spotlight: Authors
In times when men were dominant storytellers and women were considered lucky if literate enough to read, these women writers wielded their pens to lend a voice to others like them. Their written word is like a baton of power passed on to herald a change in the mindset. They sowed the seeds of change and today women and fiction are terms we easily correlate. This is why Her Stories with interviews of these eight veteran writers is an attractive read.
It is interesting to note that Ashapurna Devi was a self-taught woman whose lack of formal education did not stop her from penning over 1000 short stories and 189 novels. In the interview, her son Sushant Gupta reveals how she prioritized household chores overwriting and was a spontaneous writer. He says:
She had no fixed hours for writing. She wrote when and where she could. Often, we were struck by her readiness to stop her writing anytime someone called her, then resume it immediately as if there had been no interruption.
Mahasweta Devi's firebrand writing is intent on raising awareness about class, tribe, caste, gender and identity issues.
Nabanita Deb Sen weighs her privileges against challenges and states that though being born into a family of voracious readers, taught by Buddhadeva Bose, and Sudhindranath Dutt and with a degree from Harvard University shaped her writing career with predictable ease, her life as a single working mother in Kolkata, raising two daughters and tending to her ailing mother posed many challenges.
Bani Basu, a professor of English at Howrah's Girls College, asserts the importance of one's mother tongue for unbridled creativity and feels short story format is highly challenging for the concentration it involves.
Have you met…
Joya Mitra and Minakshi Sen? Each talk about how their fiction is grounded in facts. Their four-year term in jail during the volatile 70s famous for Naxalite activism served as a brainchild for their writing. Joya Mitra's Hanyamaan and Minakshi Sen's Jeler Bhetor Jail are highly sensitive and important works that emerged as a result.
While Joyo Mitra who started out as a poet, now writes creative and non-fictional prose her inspiration being Alice Walker, Mahasweta Devi and Shankha Ghosh, Minakshi Sen, a professor of Physiology in Tripura college claims she is a lazy writer who writes on impulse and admits to a writing block post her husbands' sudden demise.
Suchitra Bhattacharya whose many popular works have inspired movies states that her very supportive family help her juggle office work, creative writing and household chores with ease.
Anita Agnihotri (Chattopadhyay), a part of the IAS since 1980, mentions that her high-profile job allows her to travel to distant nooks of the country and meet people who inspire her creative writing. She started as a child writer with her poems published in Sandesh edited by Lila Mazumdar and Satyajit Ray.
Her Stories: Of, For and By Women
Her Stories begins with Opium by Ashapurna Devi. As the title suggests, it is the story of an addict – a woman addicted to the emotional security and sexual pleasure her marriage offers, so much that she fails to see the insults inflicted on her at her husband's home. When her father rescues her from her plight, she is unmoored and fervently appeals to her husband to take her back.
Mahasweta Devi's Chinta narrates the story of a crime a poor domestic help commits in an effort to earn her place back in her village from where she was ousted, and reunite with her son.
Can a woman glorify motherhood when her dignity is assailed? Will she celebrate the news of her conception for which she fervently prayed when she gets to know her husband is an infidel? This question forms the premise of the Surrogate picked from Nabanita Deb Sen's Seeta Theke Shuroo.
In Bani Basu's Quintuplets, one of my favourites in the collection, five school friends reunite after several years, in middle age. Having walked arduous paths in their lives, they together pledge to support each other letting their sisterhood resurrect them.
Joya Mitra's From the Heart of Darkness set in rural West Bengal valorizes maternal instincts as a formidable opponent to societal oppression. It describes a mother's fight to ensure her daughters escape the plight she suffered over years.
Minakshi Sen's autobiographical Face is a prisoner's quest for a little tenderness and humanity while serving her time.
Suchitra Bhattacharya's Good Woman, Bad Woman deftly and sensitively talks about the issue of marital rape and reminds us of the double standards of Indian society which persist till the day, a strong favourite from the collection.
Finally, Anita Agnihotri Chattopadhyay's The Drowned Man with a political backdrop lays bare how gender and religion can be exploited for personal gains and how a man's education has very little to do with the way he treats women.
Favourite Quote:
Ria, the prostitute and rape victim tells Urmi, the wife of the lawyer fighting her case – (from the story Good Woman, Bad Woman)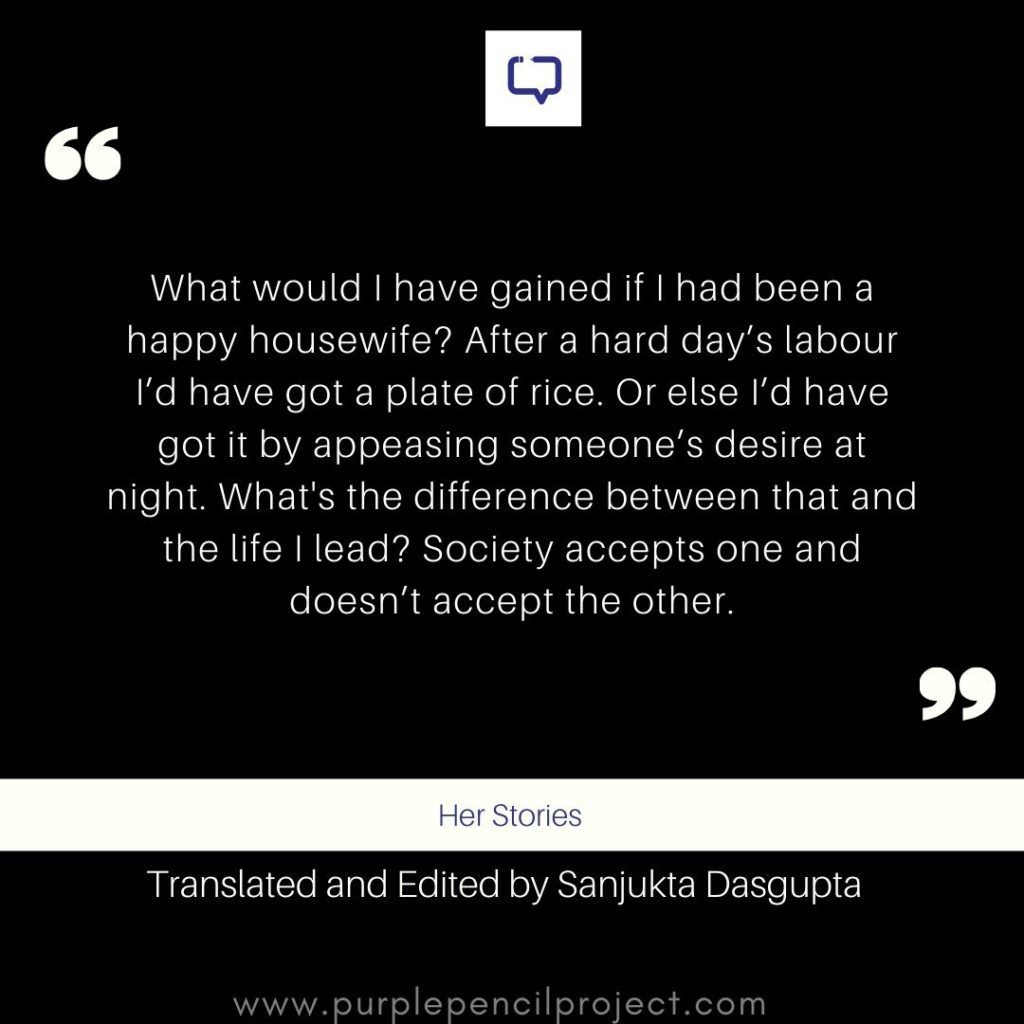 Conclusion
Neil Gaiman is credited to have said:
Short stories are tiny windows into other worlds and other minds and other dreams.
And stories of women are windows to multiple truths of the society we live in. Mahasweta Devi in the preface of her book Swanirbachito Shreshtha Golpo says:
All the stories here are the stories of the people and stories of how they have contributed to the onward march of history. Which of these stories have ended?
This truth, that our stories of women have not changed and the march has not ended, makes Her Stories an important addition to the repertoire of women's writing. The translation by Sanjukta Dasgupta is good, making Her Stories, a favourable starting point to know some of the renowned Indian women authors of the 20th century.
The Kindle ecopy had a lot of editing errors and duplicate in-line phrases. For instance, 'mind' instead of 'maid', Begali instead of Bengali, and others which dampens the reading experience. Therefore, the physical copy (paperback) of the book which lacks the above issues is preferable.
Final Verdict: 3.5* – An online copy of this anthology by Srishti Publishers is available for free for Kindle Unlimited subscribers.
Further Reading Suggestions: