Some new names and some old, some popular choices and some critically-loved. 2018 was an exciting year for Indian literature, a time when the reading, writing and publishing community took the spotlight and this list of award-winning books tries to present the stars of the year of Indian literature.
Here is a quick roundup of the works (poetry, fiction and non-fiction) that won. We are only considering awards already given, and not those prizes for which shortlists or long lists have been released. We have also tried to look for awards beyond English fiction and if you know of any, please reach out to us and we will include it.
The JCB Prize for Literature 2018
We open with what has now become the most glittering prize in Indian Literature. Held over an evening of cocktails, with several elements of fanfare, the inaugural and (monetarily) the biggest prize of the year went to Benyamin's Jasmine Days, translated from Malayalam by Shahnaz Habib.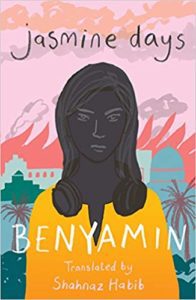 Published by Juggernaut Books, it tells the story Sameera Parvin, a young radio jockey from Pakistan who immigrates to an unnamed city in the Middle East and witnesses the Arab Spring of 2011.
New India Foundation Prize 2018
The New India Foundation announces an annual Book Prize titled "Kamaladevi Chattopadhyay NIF Book Prize" for the best non-fiction book on modern/contemporary India. However, there are no restrictions on the writer's nationality.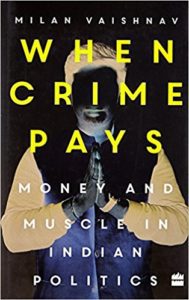 This year's award, announced in October at the Bangalore Literature Festival, went to Milan Vaishnav for his book, When Crime Pays, which takes a look at the electoral market works and why voters are so easy to forget politicians' crimes.
The Jnanpith Award 2018 
Earlier in December, Amitav Ghosh was announced as the winner of this year's, the 54ht Jnanpith Award, the writer of English to have done so. The award is given by the Bharatiya Jnanpith, a literary research organisation based in New Delhi, for 'outstanding contribution to literature'.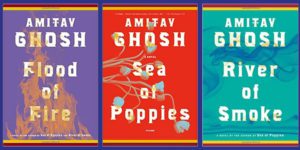 Ghosh's vast body of work, often influenced by his academic background as historian and social anthropologist, includes, The Shadow Lines, The Ibis Trilogy, The Circle of Reason, The Calcutta Chromosome, The Glass Palace and The Hungry Tide.
Nrupatunga Award 
The Nrupatunga award is given to celebrate excellence in Kannada literature by the Kannada Sahitya Parishad. This year, it was awarded to novelist Dr S.L. Bhyrappa.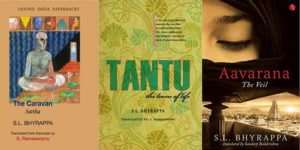 His vast oeuvre of work include such words Saskshi: The Witness, Avarana The Veil, Tantu: The Loom of Life, Sartha: The Caravan, Parva, Vanshavriksha, Kaath, Mandra and several others. You can buy his books here.
CK Prahalad Best Business Book Award
Subroto Bagchi's book Sell: The Art, the Science, the Witchcraft won this year's CK Prahalad Best Business Book Award. As the name suggests, it about the art of selling; whether ideas, products or deals, through stories and anecdotes from Bagchi's own experiences.
Reviewers have called it an essential book read even for those not in sales and marketing and credited it with opening up the very meaning of 'selling' and 'sales', deeming it as essential to every professional field.
Neev Children's Literature Awards 
The Neev Literature Festival was instituted in 2017 to highlight the growing body of children's literature that is coming out in the country. This year, they also came out with the Neev Children's Literature Awards, and recognised books from three categories – picture books, young readers and young adult.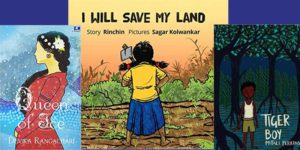 The winners were:
I Will Save My Land, written by Rinchin and published by Tulika Books, is a picture book, the story of a young girl Mati whose plot of land is threatened by a coal mine.
Under the Young Reader category, Mitali Perkins' Tiger Boy, the story of a young boy's quest to find a missing cub, published by Duckbill.
For all the Young Adults, there is Devika Rangachari's Queen of Ice, which charts the journey of Didda the queen, set against the backdrop of 10th century Kashmir, mixing fact and fiction to bring a heroic tale.
Pampa Award 
The Pampa Award, established by the Government of Karnataka in 1987, was this year awarded (for 2017) to poet K S Nissar Ahmed. It is given to writers for their lifetime contribution to Kannada literature.
You can find his poetry at Sangam House.
Mathrubhumi Literary Award 
The 2018 Mathrubhumi Award went to writer N S Madhavan, for his contributions to Malayalam Literature, which include works such as Chulaimedile Savangal (Corpses of Chulaimedu), Pancha Kanyakakal (Five Virgins) and Lanthanbatheriyile Luthiniyakal (Litanies of Dutch Battery).
He is primarily known for his short stories, one of which, Blue Pencil (translated by the author), was published in The Wire in 2017. You can also find his short story in this collection of classic Malayalam short stories by Penguin.
Luminous Lummer Dai Literary Award 
The Luminous Lummer Dai Literary Award, constituted by the Arunachal Pradesh Literary Society in 2017 was this year given to writer and poet Dr Jogendra Nath.
Valayar Rama Varma Literary Prize  

K.V. Mohankumar's novel Ushnarashi-Karappurathinte Ithihasam won the 42nd Vayalar Rama Varma Literary Prize. It is based on the Punnapra-Vayalar struggle, a communist uprising of 1946.
"Ushnarashi is a work in which past, present and the future gel seamlessly. The book is set around the Punnapra-Vayalar struggle. But it looks at that time from the viewpoint of the present generation. The writer has approached it from a historian's neutral viewpoint. The novel also touches upon the Paris Commune, the Bolshevik Revolution and Maoism. He brings a poetic touch to his writing, yet retains simplicity," said M R Thampan, part of the three-member jury that selected the winner, in an article in The Hindu.
Shakti Bhatt First book Award  
The Shakti Bhatt First Book Award was set up by the Shakti Bhatt Foundation in 2008 to encourage new writers from the subcontinent. This year, it went to Sujatha Gidla's Ants Among Elephants – An Untouchable Family and the Making of Modern India.
Ants Among Elephants is the story of Gidla's family, untouchables, from pre-Independence to 70 years after it. It is a story of caste in India and the effect it has on Indian life.
Big Little Book Award
Yet another award for children's literature, though restricted to the Kannada language. This year, the Big Little Book Award went to Nagesh Hegde. While English translations of his books are not available, you can buy the Kannada versions here.
Assam Valley Literary Award
Yeshe Dorjee Thongchi, Rita Chowdhury and Sananta Tanty won the Assam Valley Literary Award this year, all eminent writers from the North-East. Thongchi is an acclaimed author, Chowdhury is currently the director of the National Book Trust and an Assamese novelist while Tanty is an Assamese poet from Odia.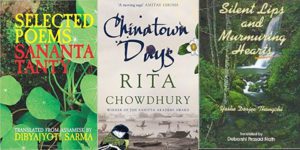 While they were awarded for their overall contribution to literature in the North-East, you can read:
YD Thongchi: Silent Lips, Murmuring Hearts
Rita Chowdhury: Chinatown Days
Sananta Tanty: Selected Poems
Atta-Galatta Bangalore Literature Festival Award 
The Atta Galatta-Bangalore Literature Festival Book Prize was founded two years ago, the prize recognises works of both fiction and non-fiction.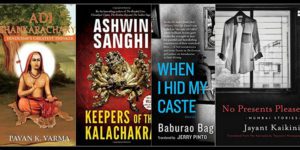 Winners of the fiction category were:
Jayant Kaikini's No Presents Please, translated from the Kannada by Tejaswini Niranjana
Baburao Bagul's When I Hid My Caste, translated from the Marathi by Jerry Pinto.
Pavan Varma's biographical Adi Shankaracharya: Hinduism's Greatest Thinker won in the non-fiction category, and Ashwin Sanghi's mythological thriller Keepers of the Kalachakra was given the Popular Choice Award.
Kalinga International Literary Award 2018 
At the fifth edition of the Kalinga International Literary Festival, held in June 2018, the awards given out were:
Kalinga Sahitya Samma was Padmaja Pal, an Odia writer known for her works such as Muhansanja. The Kalinga International Literary Award was given to Amish Tripathi. Buy his latest work, Sita: Warrior of Mithila here. And lastly, Nirupama Rao received the Kalinga Karubaki Award (for women writers).
The Dhahan Prize for Punjabi Literature 
The Dhahan Prize is awarded annually to the best book of fiction published in either Gurmukhi or Shahmukhi scripts.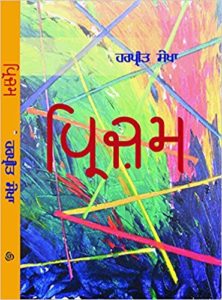 This year, it was given to:
Baldev Singh, for Sooraj Dee Ankh (Sun's Eye).
Nasir Baloch for Jhootha Saacha Koi Na (Everything's Gone), a collection of short stories.
Harpreet Sekha for Prism, a collection of short stories.
Romain Rolland Literary Prize 
The French Institute in India announced the Romain Rolland Literary Prize in December 2017, which was to be awarded to a translation of a French work into any Indian language, including English.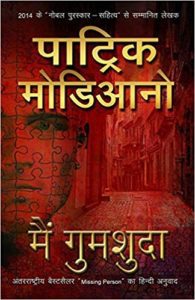 The winner, announced at the Jaipur Literature Festival 2018, was Main Gumshuda, Hindi translation of the French 'Rue des boutiques obscures' by Patrick Modiano. Main Gumshuda was published by Rajpal & Sons and translated by Monica Singh, and is the story of a detective in search of the truth of his past.
Crossword Book Awards  
The Crossword Book Awards popular and jury awards in fiction, non-fiction, business & management, biography and more genres.
The 2018 winners included:
Popular fiction: The Boy Who Loved by Durjoy Dutta
Popular non-fiction: Three Thousand Stitches by Sudha Murty
Business & Management: Catalyst by  Chandramouli Venkatesan
Biography: The Perils of being Moderately Famous by Soha Ali Khan
Health & Fitness: You've Lost Weight by Sarita Davare and Sanjeev Kapoor
Children: Looking for Rainbow by Ruskin Bond 
The jury awards had a few predictable winners including:
Jasmine Days by Benyamin
Leila by Prayag Akbar which is also going to be made into a film by Netfix.
Unbroken By Nandhika Nambi
Dreamers: How Young Indians Are Changing The World by Snigdha Poonam
Tata Literature Live Awards
The Tata Literature Festival, each year, gives out several unique awards including the Poet Laureate Award and the Publisher of the Year Award. This year's recipient's included:
Jayanta Mahapatra was awarded the Tata Steel Literature Live! Poet Laureate for 2018. Read his books Hesitant Light, Sky Without Sky, or a collection of his poems, The Lie of Dawns to know him better.
The Tata Literature Live! Lifetime Achievement Award went to Mark Tully, author of such works as Amritsar: Mrs Gandhi's Last Battle, No Full Stops in India, Non Stop India, Heart of India, India's Unending Journey, among others.
The Business Book of the Year Award went to James Crabtree for The Billionaire Raj, a stellar read that 'documents the struggle between equality and privilege playing out at the heart of this emerging superpower'.
The First Book Award went to Shubhangi Swarup for her debut, Latitudes of Longing.
The Book of the Year Award went to Anuradha Roy's All the Lives We Never Lived.
The Sultan Padamsee Award, for playwrights, went to Bettina Gracias for her play Watching You and Sneh Sapru for her play Hello Farmaish.
And finally, the Publisher of the Year Award went to Harper Collins.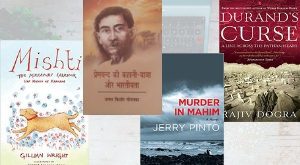 In the third edition of the literary awards, the the REC-VoW awards this year went to:
Mishti the Mirzapuri Labrador by Gilligan Wright: Children's/Young Adult
प्रेमचंद की कहानी यात्रा और भारतीयता by Kamal Kishore Goynka: Hindi Non-Fiction
Durand's Curse: A Line Across the Pathan Heart by Rajiv Dogra: English Non-Fiction
Murder in Mahim by Jerry Pinto: English Fiction
Kamala Das Poetry Award 
Given by Women Empowered India, a group that 'offers poetry readings, panel discussions and structured empowerment programs', the inaugural Kamala Das Poetry Award was given to Anna Sujatha Mathai, poet from Kerala, whose works include The Attic of Night, Mother's Veena and Other Poems. Read this wonderful article in The Hindu to understand her works better.
Jayadev National Poetry Prize 
Announced in 2017, the first Jayadev National Poetry Prize went to Hindi Poet Vishnu Khare for his collection Aur Anya Kavitayen.
Saraswati Samman 
The Saraswati Samman, for Gujarati literature, was awarded to Shitanshu Yashchandra, poet, playwright, translator and academic. He was chosen for his collection of poems Vakhar.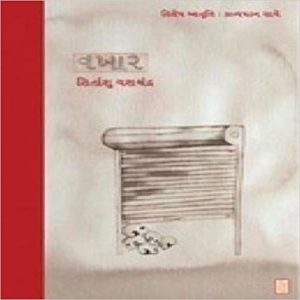 His other two collections of poetry include Odysseusnu Halesu and Jatayu.
FICCI Publishing Awards  
The Federation of Indian Chambers of Commerce and Industry gave the Book of the Year award to Sahitya Akademi for Nagaphani Van ka Itihas, written originally in Tamil by writer-poet Vairmuthu Ramasamy.
Besides these (yes, there are more), there were Padma awards given out for the field of literature and education while the Sahitya Akademi too awards writers from each state.
Compiling this list has reminded me of how much awesome literature I missed reading last year. 2019, with its many book adaptations, awaited-book releases and this obvious backlog, is going to be a hectic one!
Are you ready?