When you hear the word 'story' what comes to your mind? A picture book? An enchanted castle? A bonfire night with your friends, sharing ghost stories? Your grandparents' voice? A ballad or a poem?
Stories has become a near-cliche buzzword today, but the truth, as Yuval Noah Narari says in Sapiens, is that our world is based on the stories we share. Through the simple mechanics of talking about life-forms doing things and going through a series of events, we have built our entire history.
To celebrate this art, of not just storytelling but of story-sharing, is the main aim of the Udaipur Tales – International Storytelling Festival, organised by Udaipur Tales. onWriting caught up with its creative director Rananjay Singh, in the middle of last minute light and sound preparations and co-ordinating with the various artists, to understand what the audience can expect from the second edition of the festival, how such a festival comes together and the special care taken to design it. 
Tales by the lake
Even before Singh mentioned it, I thought the city was a natural destination for such an event. Its lakes, skies and the aesthetic of the venue itself is befitting. "That's true, but there are other challenges to be dealt with," says Singh.
One of them was creating a sense of intimacy. "Last year, the capacity of the venue was a couple of hundred people. But this year it is in the thousands. Our first challenge was to design the venue that maintained it, with more space and people," says Singh.
So there are three performance stages constructed for the festival and the venue is designed to look like a village, complete with a bazaar full of stalls of handicraft items, an aaram ghar (rest house), a community dining experience and a space to just intermingle. "The stage is for the performer. But the real magic of stories happens when everyone, the teller and the listener, are talking over food, drinks, or just lazying around. " There are also 'street' performances, around which he expects everyone to gather. "We have created pockets for interaction."
The other challenge was to make sure that the audience was not overburdened. "It is easy for people to get distracted. We have broken the performances into morning and evening sessions, and left time for sufficient breaks, so there is least motive to wander away. I want to just catch the audience and not let them go!"
On the line-up for this year
The audience will get to witness several folktales and types of storytelling forms. This includes a tale from the Mewad region, a political satire, a murder mystery, a series of short stories based on Ismat Chugtai and Begum Akhtar. There will be folk styles from Uttar Pradesh and Bihar, a musical Dastangoi and stories performed from Hindustani Literature by Jashn-E-Qalam. There is a Bhutanese folktale performer, Russian tales for children and even a band from Britain. Most stories will be in Hindi and English, some in Marathi. "Because it is a smaller town, we need that balance between the two. And these two languages are relatable to a larger number of people."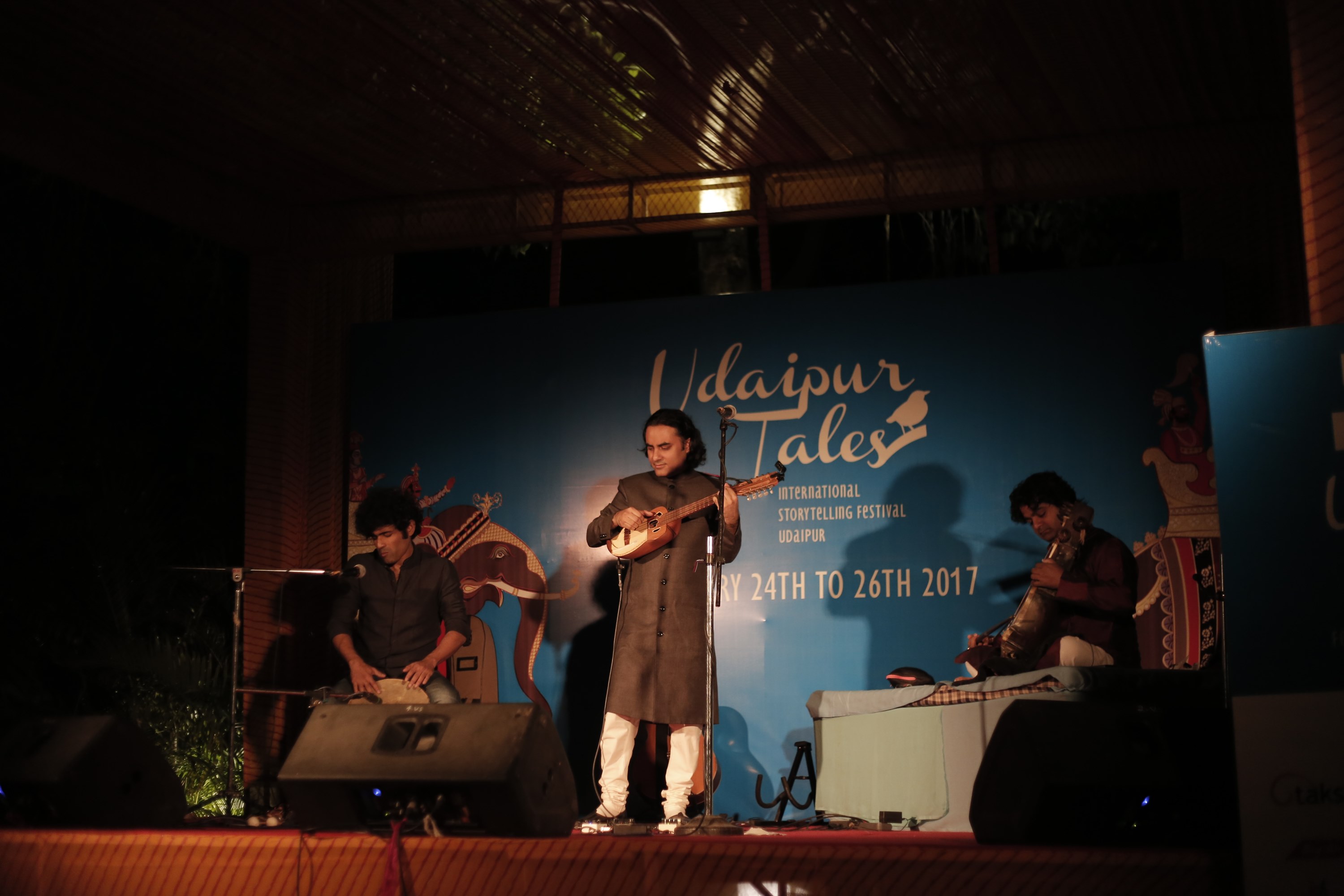 "I am looking forward to the children's performances the most. Their preparation, complete with props, was impressive last year!"
For all those attending the festival, Singh has a tip. "These storytellers, especially the folk artists, have a really soft voice. Just be silent, listen to their stories, enjoy the view of the mountains and the lake, and be there everyday. By the third day, this will be your home and your space." And of course, carry your sweaters and cardigans for the northern winter!
The Udaipur Tales – International Storytelling Festival will take place at Park Exotica, Udaipur from November 30 to December 2. You can find the tickets here.