Not all vessels are meant to hold water, some are for allowing water to seep away. Haruko trailed a finger over the photograph, "Broken things are precious too."
What is Kintsugi?
Kintsugi is the Japanese art of mending broken pottery with gold and rightly the name chosen for this book which talks about lives of broken souls and their mending ways.
Just like the cracked bowl the characters in the book never return to their old selves completely, but they own their brokenness to move forward healing "in their capacity". Anukrti Upadyay, who made a stunning debut in English last year with the twin novellas Daura and Bhaunri, through her lucid writing, etches out a few stories of heart break, with a poignancy that the ripples of their breakages resonate within the reader.
The Stories
Kintsugi proceeds in such a way that each of the characters come to the spotlight in their story but at the same time remain an important, presence in the other stories. I absolutely loved the way the book transported me to the places and moods through which characters travelled.
Haruko is a foreign student of Korean-Japanese origin who comes to Jaipur to learn the art of Indian jewellery making from the Sunars in Johari Bazaar.
"Sunar's do not teach jewellery making to their women. It is surprising that they agreed to teach you …perhaps because you are a foreigner," she is told, when she visits the first place.
Then there is Leela, a headstrong girl who belongs to the community of Sunars, is deprived of the right to take up her father's gaddi in spite of being talented, just because she is a girl. Her story speaks about the struggle for her rights against deep-rooted patriarchy.
We meet Prakash in Jaipur, an orthopaedic surgeon who is stuck in his past and falters at mending himself. The friendship between the naïve Yuri, the rebellious Meera, and Hajime, brings alive the complexities as well as the fragility of human relations.
In one of the most striking stories, Kintsugi atalks about Borneo, the turtle island in the Sulu sea, a place where turtles travel from all over the world to lay eggs. The allegories about the turtle and other inhabitants of the island were beautiful and thought provoking.
Literary Merits
Upadhyay has weaved the stories of the people beautifully and the loss and longing that come with love.
But Upadhyay buils a world with intricate details; from food flavours to hospitality customs, and most prominently, the craft of jewellery making. So we read about engraving, enamelling its type, the customs of jewellery making and more, which truly makes the story jump out of the pages.
There are several one-liners to take home, which immediately grow on the reader.
"We have these blind spots, all of us sometimes we run across one and forget everything for a while".
Kintsugi shifts from India to Japan and back, but is written in a leisurely way, and allows the reader to settle and enjoy both worlds.
Theme-tackle
The women of Kintsugi are strong, with a sense of conviction, and distinct personalities. Each has their own way of moving on and adapting. There is a melancholy in their stories which one can relate to, a freedom in their actions we aspire, and a revival which is comforting.
Kintsugi speaks to many of our social realities; patriarchy, homophobia, loneliness and struggle for acceptance. Without being overpowering, these topics are dealt in a hard-hitting way.
The only thing I wished for was a little more clarity of the true feelings of the characters at the end. If you like closed endings, this book is not for you; much like life, the stories end at a point of indecision, and the readers are left to choose the after life of these stories.
Favorite quote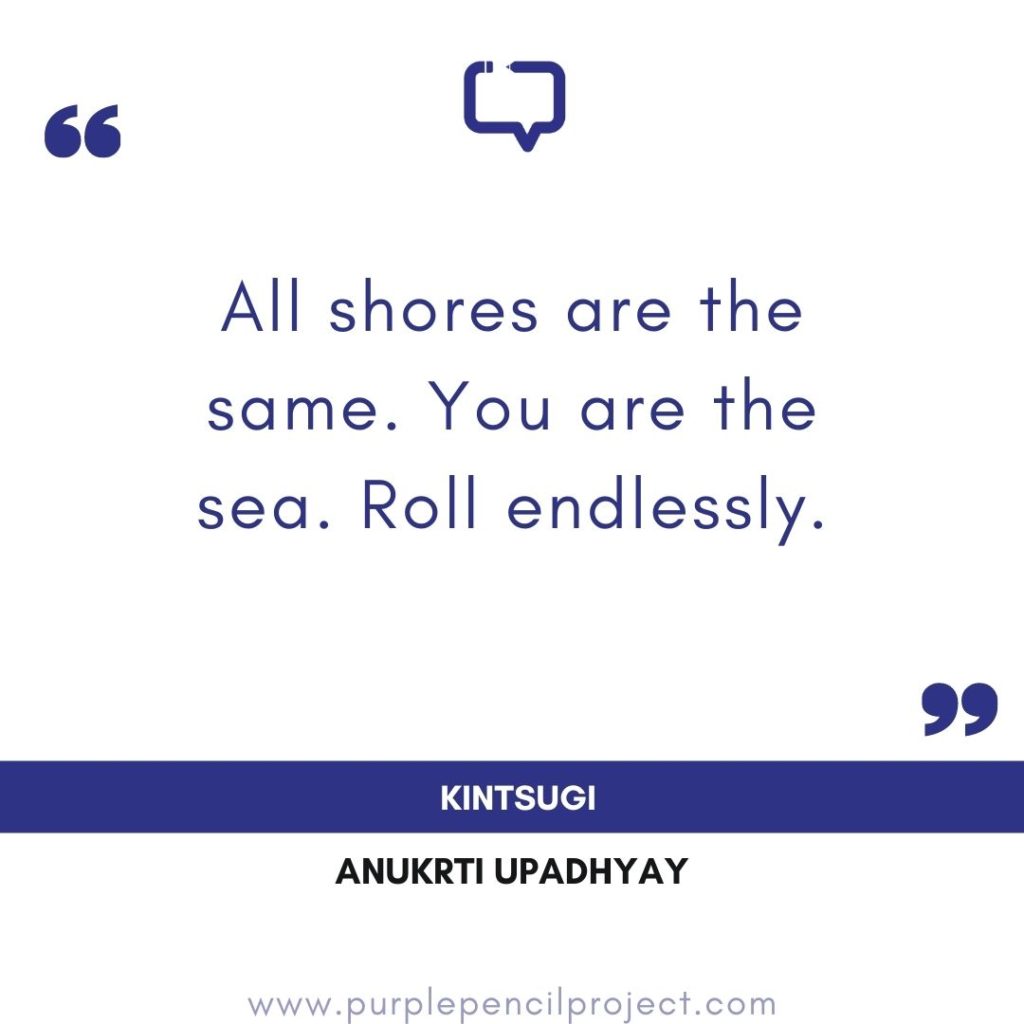 Final Verdict: I thoroughly enjoyed this emotional, eloquent book and gave it a 4/5.
Our Rating System
* – Don't bother.
** – Borrow it if you must, use it as a travel companion.  
***– Make a purchase. Maybe an online purchase, or a kindle purchase. But buy it, encourage it.
**** – Go to a bookstore and buy it. Pay those extra bucks.
*****–Buy a hardback and show it off in your bookshelf! And then wait for a signed anniversary edition and buy that too.
---
We encourage you to buy the book from your local bookstore as far as possible. If not, please use this link and support us. Thank you.
---