On a cold winter morning in Dum Dum, poets, professors, publishers and authors gathered for the first ever bilingual literary fest of Kolkata, Ethos Literary fest, organized by the Ethos Literary Journal and powered by Hawakal Publishers. It aimed to rejoice poetry and poetic discussion in both English and Bangla, and to celebrate the independent presses. What's more interesting is the inclusive nature of the fest. In the words of ELF,  "It is about time India had a literary festival that celebrated female writers, writers from the LGBTQ communities, and the independent presses that work so hard to give voice to the writers that need to be heard."
  
The festival was inaugurated by Gautam Benegal, award-winning animator, author, and social commentator and Sanjukta Dasgupta, Dean, Faculty of Arts, University of Calcutta, and also a translator, critic, and poet.
The first day of sessions opened with a panel discussion on the trends of English poetry in Calcutta, where Amit Shankar Saha mentioned how poetry addas had always existed in Kolkata but it was not acknowledged outside Bengal.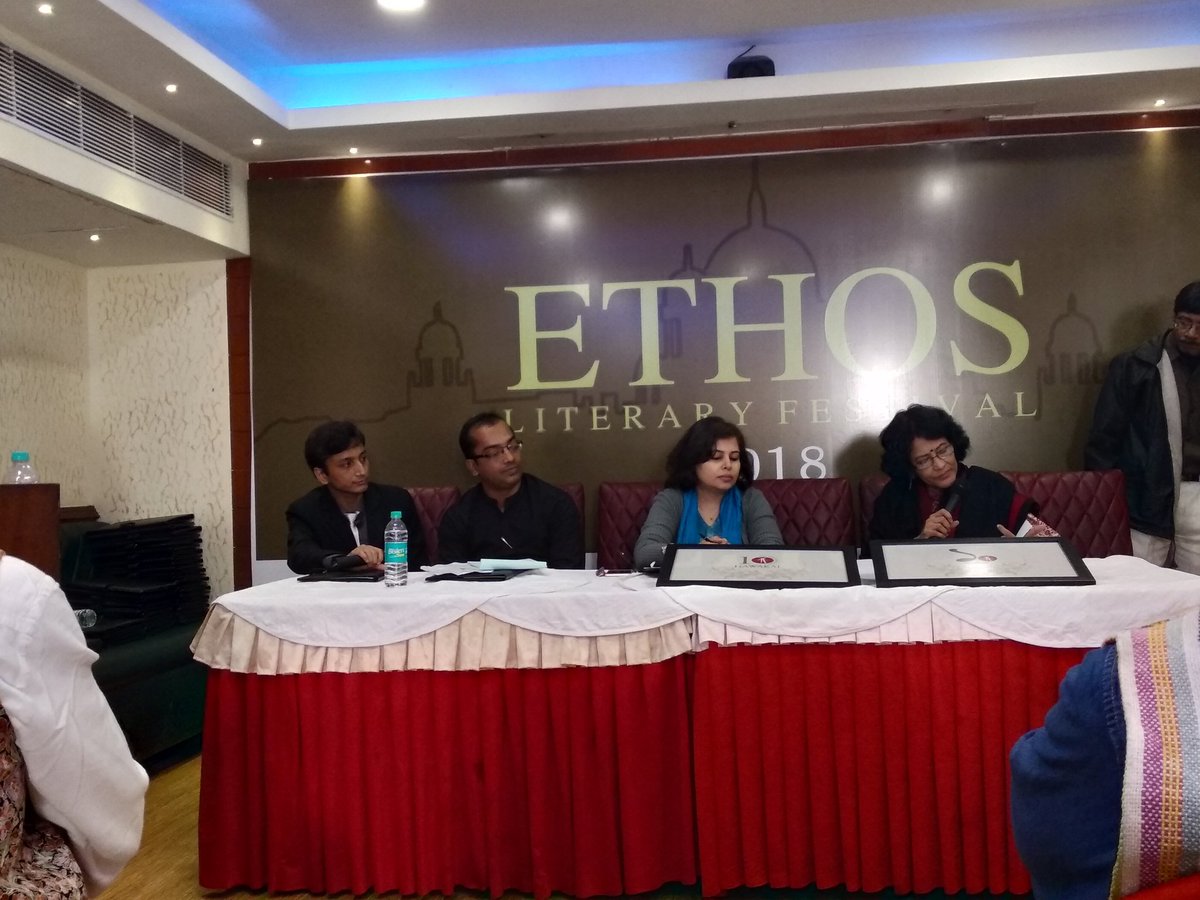 Mallika Bhaumik added that "we have in fact, cured from the post colonial hangover and moved into an era where we are using some words from our mother tongue, and giving them a homely touch." Everyone agreed that the culture of poetry had arrived in Calcutta. 
This conclusion was of note, as the day that unraveled proved the panelists right. Subsequent sessions explored the many facets of poetry, from their form to their role and the language of their voice, as also the politics that influence it. 
"We speak the same tongue, yet when we travel, reach other districts and cross borders, we see that although we are united by our mother tongue yet there is something different with the way we speak," discussed a panel in Bangla on the differences in our language.
Linda Ashok spoke how poets are astronomers, "exploring the space within, as astronomers do outside", subtly introducing us to poets who use scientific terms in their poetry in a way that it doesn't really feel alien. She ended her speech with a tip for those who felt limited by their jobs. "As poets, we can also use words from our profession and give new expression the poetry we write."  
Her insightful session was followed by discussion on the role of the interviewers in profiling authors, and a Bangla session on how a writer's political awareness influences their writing, which charged the environment up, as all political discussions do. 
Post a typical Bengali lunch of rice, lentils, chhana'r dalna, vegetables and fried potatoes, came Gopal Lahiri and Paresh Tiwari's much-awaited session on the Haiku and Haibun, and their prospects in India, tracing the journey of the Haiku since Rabindranath Tagore first translated them to how the meaning of the form has changed.
The day progressed quickly, with discussions on the rise of entertainment and the decline of mysticism in poetry, on poetry written by writers from the North-East, on how their poetry was different because of their experiences, shaped by a sense of alienation from the rest of the country, and on the direction that Indian English poetry was headed in, which was, 'a march towards resistance'.
There were two books launched, one by Arnab Saha and the other by Sufia Khatoon, poems were read in both English and Bengali to much applause from the crowd, and hot tea was had as this the inaugural edition of the Ethos Literary Festival concluded its first day.