Sharanya Manivannan's Incantations over Water: A graphic novel that submerges into the deep blue oceans of diasporic longing and folklore. Meet Ila – a mermaid of the Indian Ocean, retelling narratives of war and trauma, myth and lore.
There is a magic that thrives in the waters of the Earth's wombs. We may have let it in, on a sunlit beach.
In our gravitations of grief born of human wars – personal and political, we seek healing. There is healing in the salve of myth, storytelling and ancient wisdom of imagined and real living creatures. Entering the world of Incantations over Water, a graphic novel by Sharanya Manivannan allows you to learn that magic, feeling that grief and healing.
Narrative
Ila is a mythical mermaid, named after the island – Ilankai, the Tamil name for Sri Lanka. She conjures lyrical tales through the oceanic depths of this graphic novel. The story begins in an older timeline. A wounded pearl diver is sung to safety by female shark charmers. The graphic novel commences with magic – the saved pearl diver spits pearls. Ila begins with this premise. She narrates her memories of love and longings for companionship. In a "seductive soliloquy", she speaks to the diasporic Tamil woman who has come to the Kallady lagoon in search of her song.
Each chapter retells a story (not "the" story, Ila is careful to warn us). She begins with mermaid lore. Ila speaks of her own name and origins. Manivannan dedicates an entire chapter to the mythical and real sea creatures with whom Ila shares a home. The ancient mermaid revisits human wars and natural disasters that she has seen in her years within the ocean depths. She seems to know the diasporic Tamil woman's grief and search for matrilineal heritage.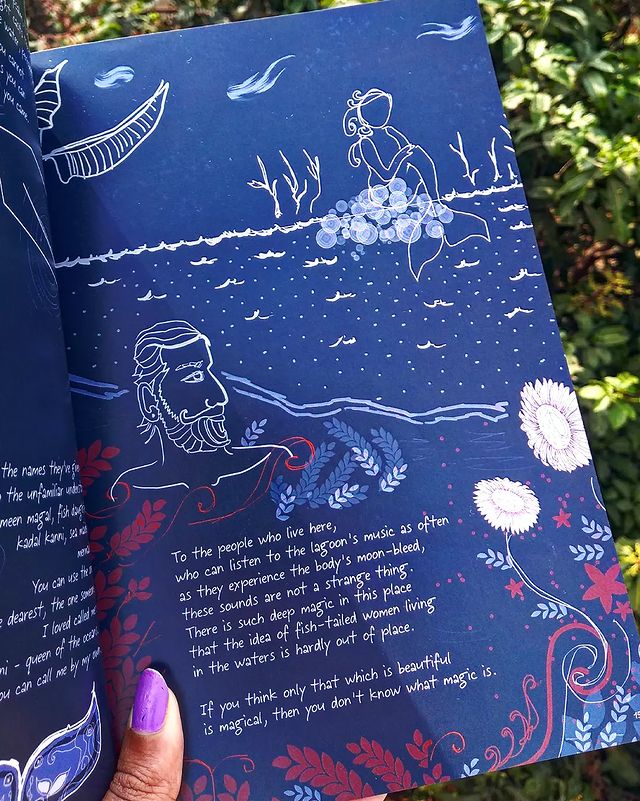 Ila is wise and her non-linear narrative is kind but curt. While she is loving, she is sensitive to the faults of human violence and vitriol. There is an interweaving of personal memories and histories of human and mythical encounters. Several kinds of magic, inspired by insights from her long life, appear in these stories. There is love and human longing. Magic of stars and the motion of seas. Magic spilt in pain – from losing loved ones at war, from the loss of romantic love. And from the loss of lands, once called home. The most profound magic is the ones Manivannan writes, through Ila: "rituals cast in neumenic underlight…crossroads…the uprooting…the re-embroideries…" Almost like a dream, sublime experiences of love and longing, find a new vision of healing through this underwater novel.
Diasporic Longing
Sharanya Manivannan, the author and illustrator of this graphic novel, belongs to the Sri Lankan Tamil diaspora. Maivannan's family was displaced from this land because of the civil war. In this essay, she explains that her search for answers led her to the mermaid myths of Mattakalappu (also known as Batticaloa), an island near Sri Lanka. This led to the creation of Ila.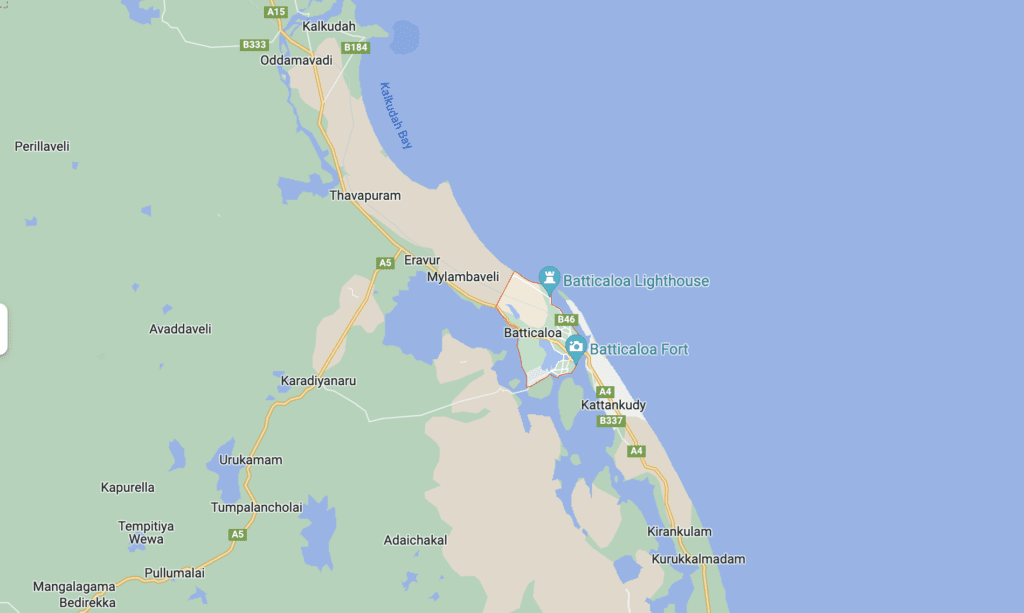 Ila mentions the Sri Lankan civil war that raged from 1983 to 2009, many times. The losses incurred by the diaspora, because of the genocide are palpable. The graphic narrative reclaims a connection to this lost land and cultural heritage. Ila asks questions about the numbers lost. The grief of tears from survivors and victims dot the pages. A queerness surrounds the relationship between Ila and the woman in search of her. Her bond with the ancient mermaid forms the invisible roots she seeks. In many ways, it answers her prayers and words her grief and longing.
Both Ila and the diasporic Tamil woman seek solace in the constant tide of the sea overlooking the unnecessary bloodshed and lost lives.
Myths and Mermaids
Ila presents the reader and the woman who listens to her with the lore of mermaids. She tells the story of Suvarnamaccha, from Indian mythology, and retells the narrative of The Little Mermaid. There are also narratives of mer-tales from South Korea, Singapore, Europe and West Asia. In her picture book for children, Mermaids in the Moonlight, Manivannan details many more such stories. The Ila duology creates a feminist tale of mythological inheritance, across generations.
Ila has warnings and insight – into tides, magic, birthright and terror. There are various allusions to blood – of wars, disaster, accidents, love, longing, and the bloodshed of heartstrings. As a mermaid, Ila claims a voice through mythical storytelling. The culture of the fisherfolk of Batticaloa, their folklore around mermaids, and mythical encounters inform her narrative. In using myth, she manipulates our (human) nature to question the history of war. She holds us accountable for ravaging nature and human lives.
Inscriptions and Illustrations
Manivannan's writing cuts deep. Like blood returning to the surface, it is dotted with truths wrapped in sublime prose. A reader stumbles and finds themselves carefully held by her words. Somewhat like an echo, the art in this graphic novel mirrors these words – reflects the life in them. Manivannan uses various transcultural motifs to demonstrate the echoes of human suffering everywhere. She locates this within the real and the magical, within the geopolitics of the East and the West.
Her research for this graphic novel spanned four years. Many references make their way into the text. There is a retelling of Suvarnamacha and Hanuman. Several records of oceanic flora, and fauna, both mythical and real shape her writing and illustration. In one instance, there is a reference to The Pieta, on two different canvases. On one of them, Manivannan refers to the myth of the Goddess Manimegala who brings a young woman to safety on the island where Ila dwells. On another, a woman carries an injured one out of a war zone.
A Graphic Novel: Where colours have their own language
Gold, various shades of blue and red, swell in the dark blue pages of the books, to illustrate sea creatures, blood and love. There is a golden Suvarnamachha and shell-like forms enclosing the words on some pages. The cover page has an Ila enclosed within the map of Ilankai. There are replicas of arches in Batticaloa that have mermaid carvings. Both the graphic novel and the picture book for children contain a recurring illustration of a generation of women embodying human and mermaid forms. The novel is therefore a memorial to the grief of histories and the matrilineage of women who bear their scars and stories. Art becomes a homage to these influences, a dialogue in continuation.
Best Quotes
I like the idea that we wanted quietude and kept to ourselves, but to be human and mortal is more complicated than that. I am, of course, neither and both.
This place is hard to transcribe even if it lets you on.
The lines waver like heat mirages.

Incantations Over Water, 36
It's alright, sometimes but only sometimes, to console yourself in selfish ways, for terrors that resist telling or truths that evanesce like sea spray when uttered.

Incantations Over Water, 106
It is not a story that never happened or one that never will, because this water I breathe in carries it in its composition.

Incantations Over Water, 114
Conclusion
Don't go searching for truth in visible forms within the womb-like pages of this graphic novel. Know that truth is in the formlessness of the deep. And that there is magic in the million forms across the living worlds. Finally, that healing is in every retelling of a story. Especially the ones told with love and longing, containing dregs of old pain and suffering.