World Television Day falls on November 21 every year and this time, we have chosen to highlight it by celebrating #AdaptationWeek on our social media.
While adaptations have gained traction over the last 5 years, with the success of shows like Game of Thrones, the concept is not new, and neither is the regularity. Indian regional cinema has long looked to books for stories to bring to the screen, and today, we look at a few such examples.
Read on to find a list of Indian films adapted from books: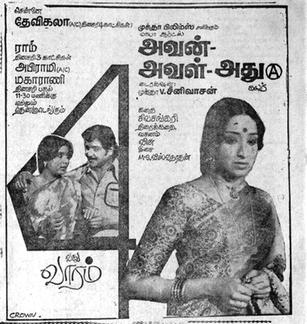 Starting with Avan Aval Adhu, it is a 1980 Indian Tamil film dealing with the then-groundbreaking issue of surrogate pregnancy, directed by Muktha Srinivasan and produced by S. Sundar. The movie was based on the story Oru Singam Muyalaagirathu written by Sivasankari and the film was remade in Telugu as Samsaram Santhanam. It is said that though the movie was slightly different from the source book, the film was well received critically and commercially.
Ajantrik (known as The Unmechanical, The Mechanical Man or The Pathetic Fallacy) is a 1958 Indian Bengali film written and directed by revered parallel filmmaker Ritwik Ghatak. The film is adapted from a Bengali short story of the same name written by Subodh Ghosh. A comedy-drama film, Ajantrik is one of the earliest Indian films to portray an inanimate object, in this case an automobile, as a character in the story. It achieves this through the use of sounds recorded post-production to emphasize the car's bodily functions and movements. A tale of a lonely taxi driver Bimal's obsession for his dilapidated car, Jagaddal (literally meaning "immovable"); this film is a must watch. (Fans of Pixar, you will love this!)
One of the most famous novels in Punjabi literature "ਪਿੰਜਰ" (Pinjar) written by Amrita Pritam in 1950. Pinjar means skeleton. It is a story of a Hindu girl "Puro" who was abducted by a Muslim man Rashid, and when she managed to escape from Rashid, she goes back to her parents but they refuse to accept her.
She had no other choice but to go back to Rashid. When the partition of India took place, many girls met the same fate. Puro helps one such girl, named Laajo, who happened to be her brother's wife.
This novel was adapted for a Hindi movie named "Pinjar", in which Urmila Matondkar played the role of Puro, and Manoj Bajpai played the role of his abductor (and husband) Rashid. It was was released in 2003.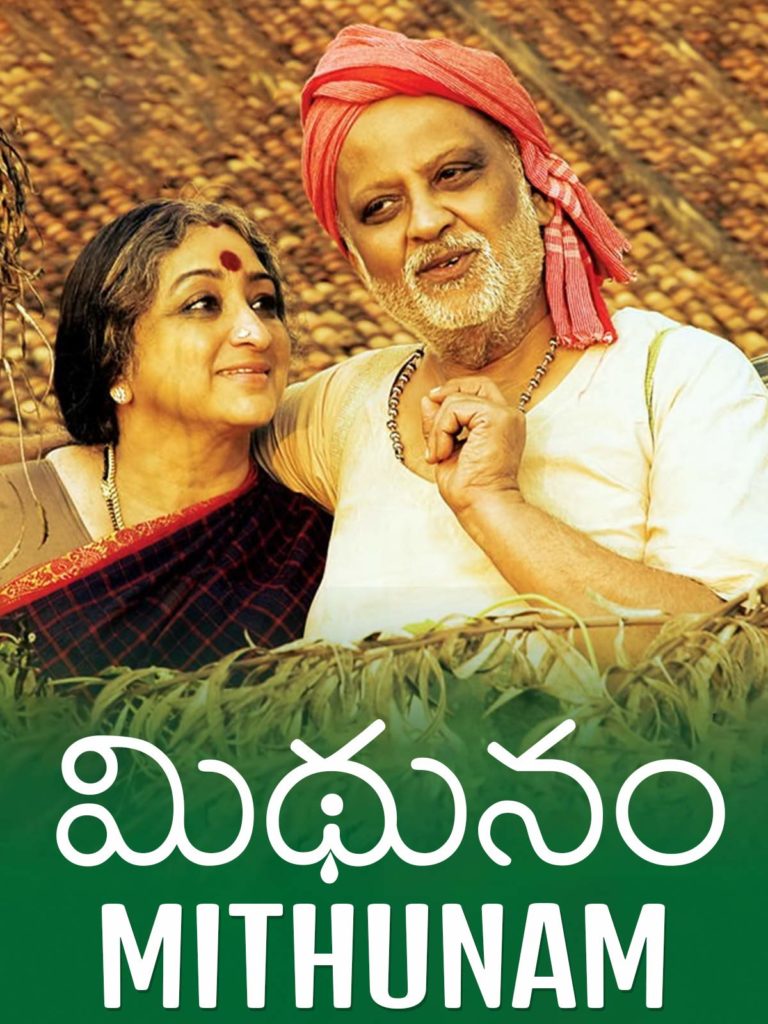 Mithunam is a 2012 Telugu drama film directed by Tanikella Bharani. It features S. P. Balasubrahmanyam and Lakshmi.
The film is based on a best selling Telugu novel of the same name, written by Sri Ramana.
Appadasu is a retired teacher who lives in his native village with his wife Buchchi Lakshmi. Both are senior citizens, and all of their children are living abroad, though instead of feeling lonely and insecure about their life, both Appadasu and Buchchi have their own share of romance happening. They treat each and every day as a special day and enjoy the moments. This relationship also has its share of ups and downs, and what life has in store for them forms the rest of the story.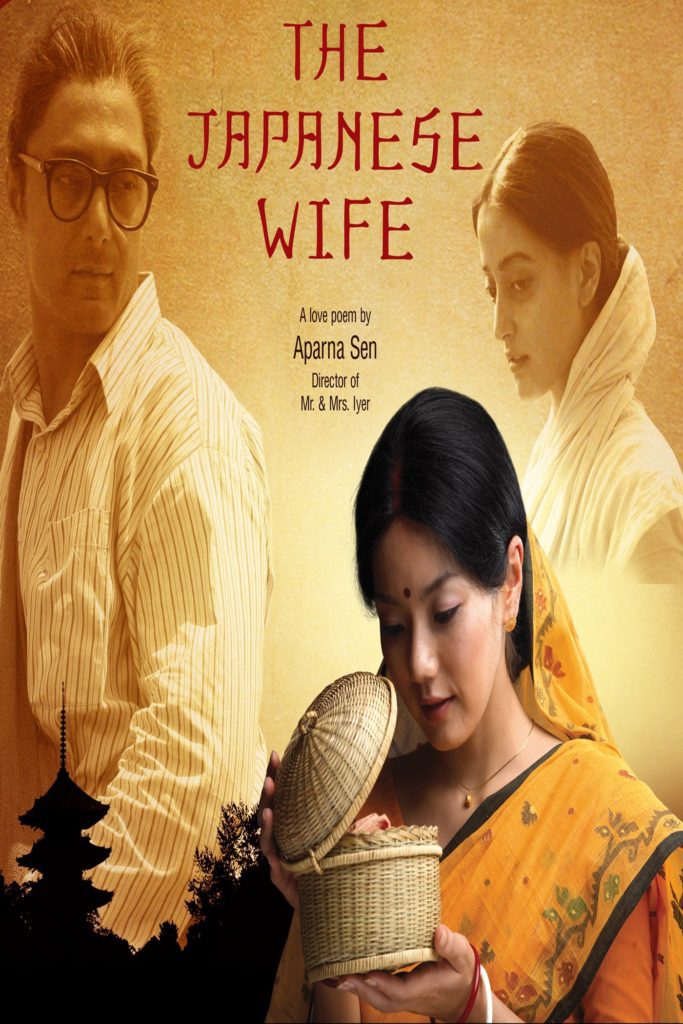 The Japanese Wife is a 2010 Indian-Japanese romantic drama film directed by Bengali filmmaker Aparna Sen. It stars Rahul Bose, Raima Sen and Moushumi Chatterjee, and Japanese actress Chigusa Takaku in the title role. It is in English, Bengali and Japanese.
This movie is based on the title story of The Japanese Wife and Other Stories by Bengali Indian author Kunal Basu, who writes from Oxford and is an engineer by training.
Sharapanjara (Cage of Arrows) is a 1971 Indian Kannada film directed by Puttanna Kanagal, based on a novel by Triveni of the same name.
This film is considered one of the finest Kannada movies to be made. Triveni's novel was richly visual and Puttanna not only stayed faithful to the novel on screen but also retained most of the novel's dialogues and credited Triveni for them. The film was later remade in Telugu as Krishnaveni (1974) starring Vanisri.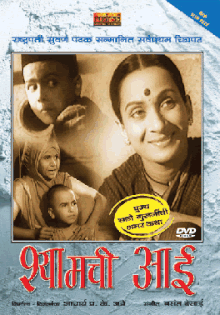 Shyamchi Aai (1953) is a Marathi film, directed by P.K. Atre. It is based on the book Shyamchi Aai written by Sane Guruji in Marathi.
The plot revolves around a boy called Shyam and his relationship with his mother. It unfolds the mother–son relationship and how he is taught to stick to his ideals and principles, even in the face of poverty. It is a tragic story that was acclaimed upon release.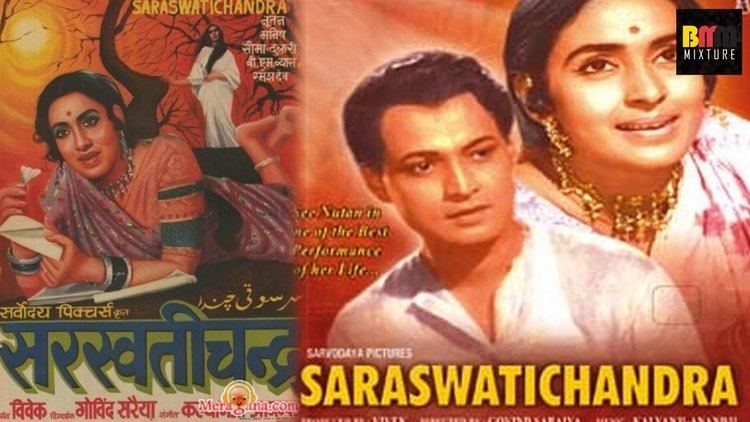 The film was based on Saraswatichandra, a Gujarati novel, by Govardhanram Madhavram Tripathi, set in 19th-century feudalism in India. The novel takes its title after the name of its protagonist.
It is acclaimed as one of the masterpiece of Gujarati literature. Though the novel was published in four parts, each part has a distinct thematic content, its own cast of characters and independent beginnings and ends.
Chemmeen is a popular Malayalm novel written by Thakazhi Sivasankara Pillai. It was the first Malayalam novel to have won the Sahitya Akademi award, back in the year 1957. The book was adapted into movie under the direction of veteran director Ramu Kariat in 1965. The movie received rave reviews for its excellence in technical and artistic aspects. It was a runaway hit among audience due to the stellar performance of the cast, and the exceptionally beautiful songs. The songs composed by Salil Chowdhury, with lyrics by Vayalar is till date a favourite for many. Movie received many National and International award and was listed amongst the 100 greatest Indian films by IBN live.
We encourage you to buy the book from your local bookstore as far as possible. If not, please use the links above and support us. Thank you.