When Purple Pencil Project asked me if I would review Breast Stories by Mahasweta Devi, I almost refused. What is there to say about Mahasweta Devi that has not been said before? What can I have anything to add? I come from a part of India where Mahasweta Devi is revered. I can't possibly critique her work, I thought. But it felt like as good a time as any to read and re-read, her works, and so, I said yes. I'm glad I did. 
We encourage you to buy books from a local bookstore. If that is not possible, please use the links on the page and support us. Thank you.
Breast Stories, published by Seagull Books, and translated into English by Gayatri Chakravorty Spivak contains three stories – Draupadi, Breast-Giver and Behind the Bodice. In typical Mahasweta Devi style, these stories explore the themes of caste and gender violence, patriarchy, and exploitation of the underprivileged, whether it's women or peasants or tribals. The collection also includes an introduction and an essay by Spivak.
The first story, Draupadi, is about a tribal woman who is a part of the Naxalite movement. Through this, Devi explores the oppression unleashed on women, especially tribal women, at the time. It focuses on the political, social, and sexual threats faced by the protagonist Draupadi.
Breast-Giver describes the life of Jashoda, a professional wet nurse who is looked after, and almost revered when she is able to work and provide milk, but is left to die a cruel, heartless death when her body finally rebels. The third one in the collection, Behind the Bodice, tells us about Gangor, a labourer whose beautiful, sensual breasts are photographed by a professional photographer. These photographs lead to a group of men finding Gangor and abusing her. The similarity in each of these stories is, of course, the breast, which becomes the means to comment on the oppression faced by women in society. 
The source and the story
Each of the stories is powerful in its own way. Devi makes liberal use of Indian texts and legends to make a deeper impact in her writing- each location, and each character name might have a deeper significance that only a close reading of the text can uncover. Draupadi, for example, is a character from the Mahabharata. It is ironic that the protagonist of this story is named Draupadi (or Dopdi, as she is called) especially when her actions are seen in contrast to the one scene in the Mahabharata Draupadi is most known for- the gambling scene where the Kauravas try to strip her. Similarly, in Breast-Giver, the protagonist is named Jashoda- the name of Lord Krishna's mother. In Behind the Bodice, Devi makes use of popular culture and lyrics from a popular 90s song to further highlight her point. The song is, of course, Choli Ke Peeche Kya Hai. 
I particularly love how Devi makes comments on social and political conditions casually- almost in a matter-of-fact manner, in the narrative. Her thoughts on the political climate of India, on the caste and class barriers, and on the prevalent patriarchy and misogyny, underline each of these stories. 
But, Devi's writing, and Spivak's translation, is also beautiful in its detail of description. One of my favourite passages is in the story Draupadi, as she tries to shake off someone who is following her, intent on not leading him back to her comrades. Each step, each second is vividly described. You can feel the panic, you hurry up when Dopdi does, you get a sense of walking.
Each of the stories is powerful and the thoughts and questions they leave you with are both uncomfortable and extremely important. A must-read. 
Favourite quote: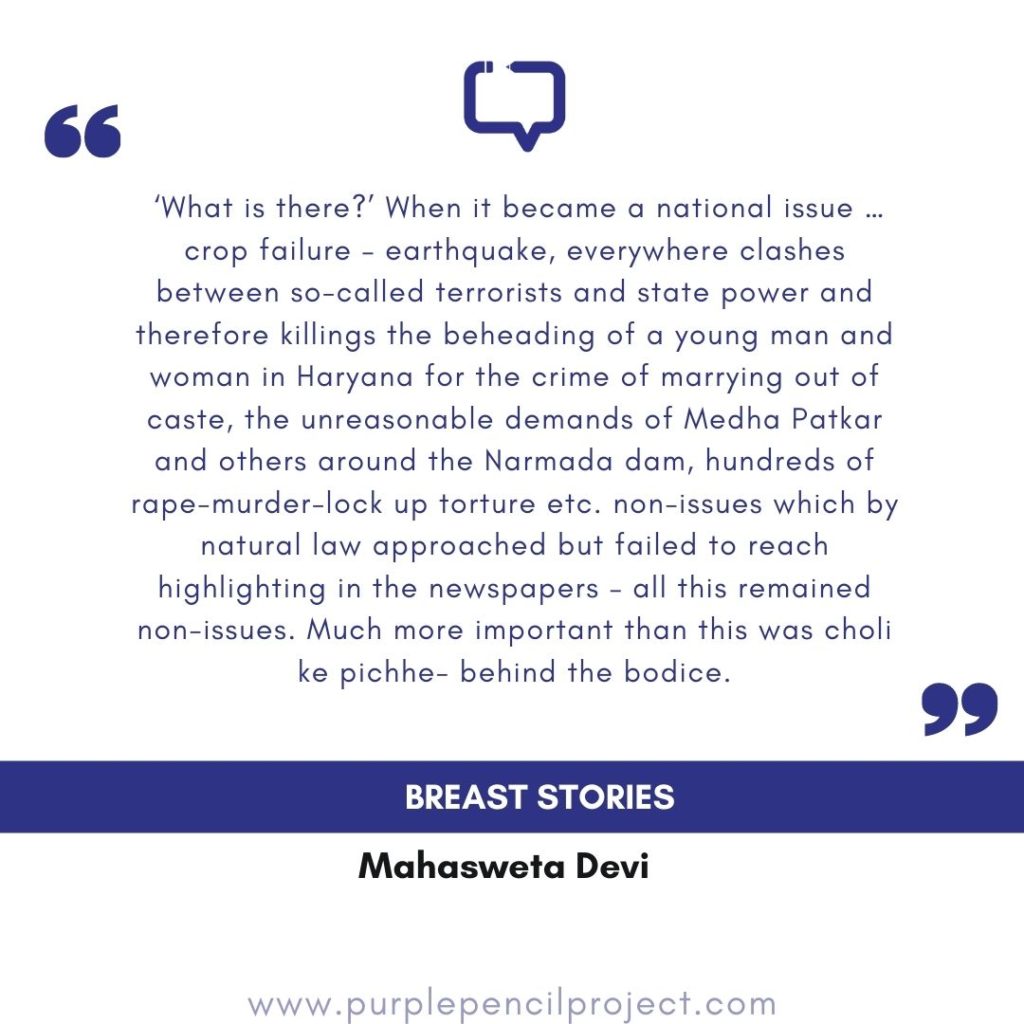 ---