Translated by Arunava Sinha
Not fantasy, not a murder mystery but the ordinary tale of a middle class man in search of employment is the last book I read in one sitting, no distractions. The Middleman, written by Mani Sankar Mukherjee, and translated by the nation's current favourite translator, Arunava Sinha, is an ordinary tale, gripping for the accuracy with which it captures not just life in Calcutta, but also the gaping flaws in the Indian education system, the Indian bureaucracy, and more.
It's strength lies in its straightforward simplicity which holds visceral truths within its words.
The cast
Leading the limited starcast that plays the role on this stage is Somnath Banerjee, a young graduate who like so many of his generation (and his friend Sukumar), is hunting for a job in the government sector.
Supporting him through this delay is his sister-in-law (elder brother's wife) Kamala, who plays the maternal role in his life (his mother having passed away). As Somnath (or Som) hunts for jobs, travelling sometimes by bus and sometimes by foot from Lalbazaar to Bagbazaar, and Jodhpur Park to Jadavpur Colony, it is his sister's unwavering support and belief that he will find success soon, that keeps his spirits from breaking.
Eventually, as he fails to find a job and wants to start out as a businessman, it is she who gives him the financial support needed to get a headstart.
Then there is Sukumar, the personification of everything that is wrong with state-education systems. His (and his family's) desperation, helplessness, his approach to the solution, and his insanity are some of the most beautiful scenes.
Som's father, his business partner, his brother all make appearances, but don't stay with you as these three do.
Rich array of themes
There are a lot of layers and tangents that The Middleman explores. In Sukumar's obsession with learning encyclopediac facts because he thinks that the more trivia you memorize, the better your chances at getting a job, is comical because it is tragically true. Take a look at this excerpt:
"[Your friend Sukumar] has gone wild, head full of tangled hair, unshaven face. He stopped my car near the post office and said, "I have an urgent question." I didn't recognize him until he introduced himself as your friend, I thought he really wanted to know something, but he asked, "What's the weight of the moon?" When I told him I didn't know he got angry and said, "I'm sure you do you won't tell me that's all.
I tried again to convince him that I did not know the weight of the moon but he exclaimed, "An officer in such a big company, but you don't know the weight of the moon? How is that possible?"
Then he muttered, "That's two marks gone."
Unemployment has been one of the unsovlable problems of independent India (as much as it has been for large parts of the world), and while in the last few years, the startup spiel has helped the urban youth, The Middleman points out the privilege associated with starting even a small trade business – Sukumar, who has to feed his family, simply cannot afford to take the risk that Somnath takes – and even Som has to take a morally uncomfortable step to make it as a businessman, which reveals the misogyny that was rampant and is still prevelant in business, traditionally the man's world.
Style and substance
Sinha's translation is incredible (among the best of his works, even though Chowringhee gets the greater attention). While I cannot speak of the original Bangla, I did watch the film adaptation in Bengali, and found nothing amiss linguistically. The rhythm and tone, the smell and flavour of a Calcutta summer from decades ago comes alive in those pages.
Perhaps because I grew up with the same worries, was educated in a similar system, that I loved this book so much. It expressed what I would not have been put into words, but I lived through, thought about and tried to fight.
For the very same reason, it's a book that is at once local and universal in its reading – while you may not understand Calcutta's streets, and not follow through with some of the bureaucracy, the feelings of being a 'fresher', unequipped for any job, are still accurate. This makes it a classic you should not miss.
Favourite Quote: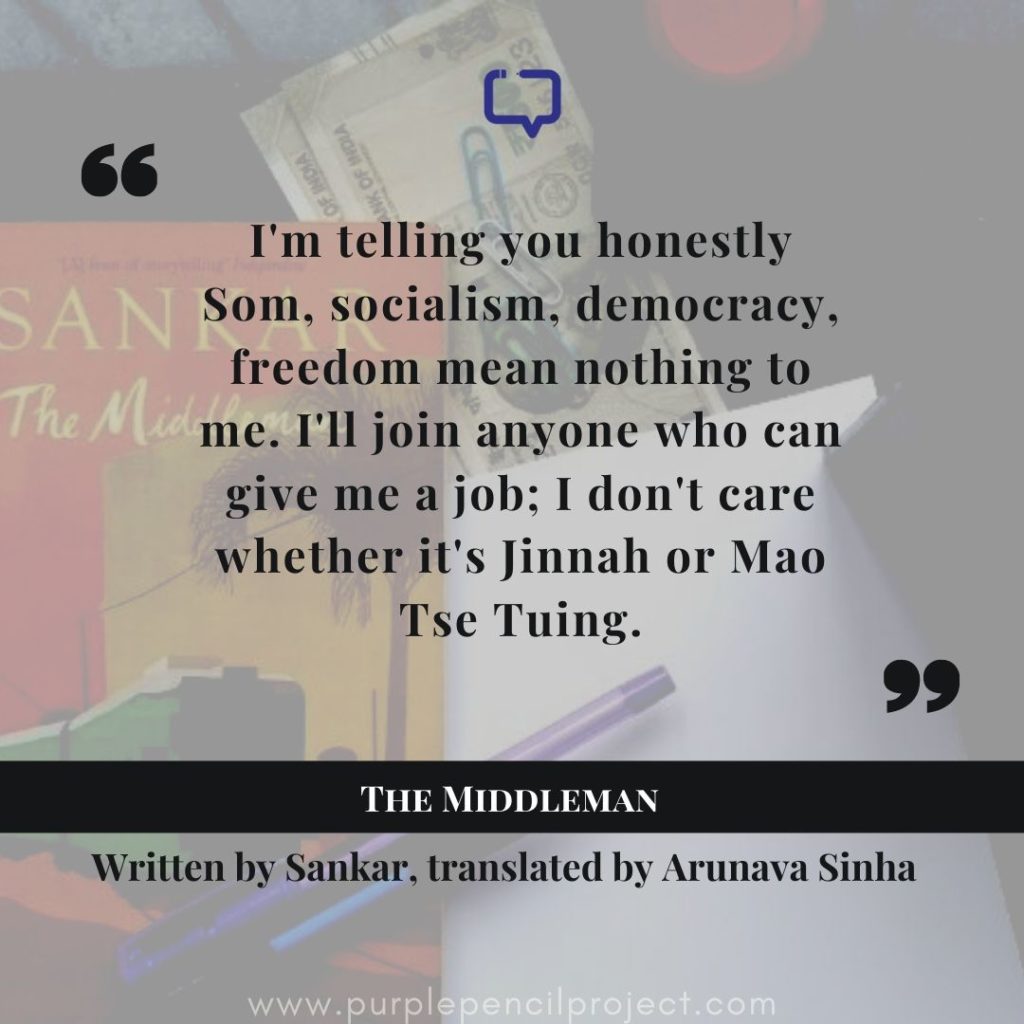 Final Verdict: 4.5/5. It's the perfect book, and I only take away half a point simply because the story is too real to return to (that privilege is reserved for escapist literature).
If you like this you should:
Watch the other two films, which alongwith Jan Aranya, which formed Satyajit Ray's Calcutta Trilogy.
You can buy the book here.
---