Mala Kumar is the author of over 40 picturebooks for children including Up the Mountains of India, Crazy Mazy Maths Puzzles, I Want that One, Paper Play, Happy Maths series, Rupaiya Paisa Series, Sir M Visvesvaraya: The Man Who Built Dams, Bridges and a Nation, among many others. She will be attending the Bookaroo Children's Literature Festival 2022 at Vadodara, and taking two sessions on 20th November. Check out the full schedule here.
Excerpts from an interview.
How excited are you to return to Bookaroo? What are you most looking forward to at the festival?
Mala Kumar: A festival with children and books– I can't think of a more exciting situation for a children's writer! I'm always thrilled to see things from the point of view of children and I can't wait to hear what they have to say about the mountains of India. Curiosity breeds thought and action!
Also looking forward to meeting fellow book creators and see their excellent work.
To write for kids as you have aged; how do you keep the wonder alive? Especially in a world that's constantly throwing one tragedy after another at ourselves, how do you keep the sense of magic within you, and in your languages, to be able to write stories for the young ones?
Mala Kumar: Fortunately, the world continues to be a fascinating place, full of amazing life and pulsating thoughts. We learn so much each day, and hence the older one gets the more there is to wonder about, isn't it? Many of the tragedies that we read about are caused by humans not learning from nature, not respecting nature.
When I see a seed pod splutter, or a dragonfly shimmering in the sunlight, I can't stop myself from wanting a child to see this magic too, and that is what propels me to write.
Do you read a lot of children's books or prefer to step out of that genre as a reader? Does doing one or the other help?
Mala Kumar: I am not able to read as much as I would like to. Reading helps one understand different points of view, different worlds that you haven't stepped into, and yes, for writers it also causes some heartache…why did I not think of writing about that!!! I do prefer to mix and match. My current reading pile includes one children's book, one adult fiction, one non-fiction, and one P. G Wodehouse.
How early or late is it to introduce issues of importance – social and civic right, climate crisis for instance – to kids? As an author, you effectively compete with the internet, the technological devices. Is that a challenge you deal with consciously?
Mala Kumar: It is never too early to introduce concepts if done sensibly and without moralising.
As someone who has written and edited picture books for very young readers, I do know that it is possible to introduce a concept, say rainwater harvesting, without mentioning the words conservation, water harvesting or recycling!
Technological devices are magnetic, yes, and it is difficult to wean children (and definitely adults!) from them, but they make great supplementary tools. Recently, I smiled with wonder as a three-and-a-half-year old, who was watching a narration of Eric Carle's 'A Very Hungry Caterpillar', asked for the TV to be paused. She then ferreted in her book shelf, got two versions of the the book — a cloth one for babies, and a board book — lined them up in front of the TV, and then continued with the narration! One medium teaching her how to 'read' using the other medium!
Speaking of Mala the reader, what are some of your own memories of childhood stories? Some favourite reads you remember?
Mala Kumar: I did not grow up surrounded by children's books, actually, but was fortunate enough to be around very entertaining storytellers in the form of parents, grandparents, uncles, and cousins. There was one ghost story in particular narrated every night by my cousin during a summer vacation which started with a ghost floating up the stairs to where five kids were sleeping. And then…I don't know the rest of the story, because at this point, I'd always shut my ears and eyes tight, and bury my head under the pillow.
What are some of your favourite books of this year? Are you currently writing something?
Mala Kumar: Bijal Vachcharajani's 'Savi and the Memory Keeper' and Menaka Raman's 'Loki Takes Guard'. Both authors happen to be my good friends too, and former colleagues. Also Jimmy Kimmel's 'The Serious Goose' and Tom Fletcher's 'There's a Dragon in your Book', illustrated by Greg Abbot.
Yes, I'm working on two books for children, one of which is a commissioned nonfiction.
***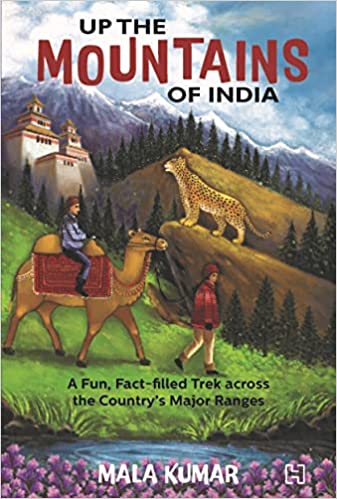 Description:
How did a whale go up the Himalayas? Where would you find a spider shaped like the Sorting Hat in Harry Potter stories? On which peaks and slopes can you find both snow and coffee beans sometimes? Up which hill is the observatory that helped to sight a super-Neptune-sized planet?
Put on your climbing boots to find out hundreds of fascinating facts about our country's best-known mountain ranges – the Himalayas, the Trans-Himalayas, the Aravallis, the Vindhyas, the Satpuras, the North-east mountains, the Eastern Ghats and the Western Ghats. Find out how each range was formed, discover the plants, trees and wildlife on them, and do your bit to save them from getting destroyed. Meet amazing communities who live in harmony with nature even now. Clap for the scientists who look under rocks and into tree holes for new species of flora and fauna. And once you have worked up an appetite, the yummy dishes of the hills will fill you right up (bamboo biryani, anyone?).
From ice stupas and battles in the snow to floating schools and Titanosaurus eggs, from wool gatherers and medicine makers to the fastest diving bird and a tiger that could win the 'Best Dad' award – this book, filled with photos and illustrations, will take you on an exciting climb up and down the mountains of India.