It's a new month, a new week, a new financial year and with it, come a new line-up of literary events across India that we think you will enjoy.
Event Name: Deciphering Poetry
What's it about: A poetry reading and gathering, a one of its kind initiative in northern Mumbai.
Location: Vasai Fort (Fort Bassein), Vasai
Dates: 7 April 2019, 8 AM
Registration and tickets: Just show up! Look up Nadeem Rvk or reach out to him on Arvitekture on Instagram
For: Poetry enthusiasts who miss out because Bandra/Andheri pose travel problems!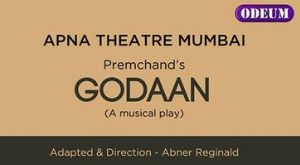 Event Name: Godaan
What's it about: A musical play on Premchand's story.
Location: Odeum, Andheri West
Dates: 6 April 2019, 7 PM to 8 PM
Registration and tickets: Rs 250. Book online, here.
For: Anyone who likes Premchand, or has heard about him. And for theatre-enthusiasts, of course.
Event Name: Marathi Poetry Open Mic
What's it about: A poetry open mic in Marathi, open to poets and audience.
Location: QTube Cafe, Bandra West
Dates: 10 April 2019, 6:30 PM to 9:30 PM
Registration and tickets: Entry is free. For queries to perform and to register, call on 9773906532 ,9870224006
For: The experience of expression in another language, besides readers and writers who use Marathi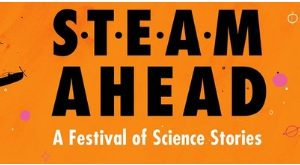 Event Name: STEAM Ahead
What's it about: A festival of science stories, co-hosted by Pratham Books, which will see authors conduct a story-telling session that involves science, math, environment, architecture and more.
Location: Dr Bhau Daji Lad Museum, Byculla
Dates: 12 April 2019, 10:30 AM to 2:30 PM
Registration and tickets: Museum ticket cost. Pre-registration using this form.
For: 4-13 year-olds. We would advise parents to take their children regardless of interest, as it could open up a whole new world to them.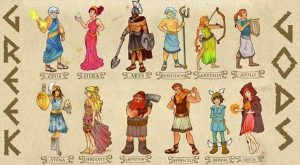 Event Name: Roman & Greek Civilization workshop for kids
What's it about: A two-day weekend workshop to introduce children from 8-13 years to the myths and stories, Gods and Goddesses of the Greek and Roman civilization.
Location: FunScienceClub, Dadar
Dates: 20-21 April, 2019, 4PM to 7 PM each day
Registration and tickets: Call 9819580259 to register
For: Children with an interest in history and mythology. If they like the Mahabharata, if they read Percy Jackson and other similar stories.
Event Name: Mehfil #25
What's it about: An Evening of Verses in Hindustani
Location: Lahe Lahe, East Bangalore
Dates: 21 April 2019, 5 PM to 7 PM
Registration and tickets: Rs 100. Book here.
For:  Poetry lovers who are open to new languages.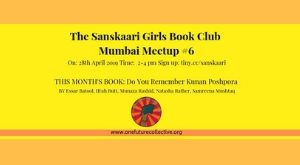 Event Name: The Sanskaari Girls Book Club Mumbai Meetup
What's it about: Discussion of Do You Remember by Kunan Poshpara, published by Zubaan Books. It tells the story of a 1991 case of mass rape by soldiers of the Indian army.
Location: 91Springboard, Andheri East
Dates: 28 April 2019, 2 PM to 4 PM
Registration and tickets: Entry is free. Sign up using the form here.
For: Feminists. Those who want to talk about and understand society, change, social movements, the cases of abuse, the history injustice in Kashmir and more.