It was Family Matters' cover that first caught my eye. Years later, I found that it had been clicked by the multi-faceted Sooni Taraporevala, borrowed from her book Parsis, a Photographic Journey. But standing in front of the Indian Fiction section, surrounded by tall, ochre walls of nameless books – the photograph was everything I wanted to be doing on a disarmingly normal day; when I was older, and hopefully, much wiser. I was fourteen when I first read Rohinton Mistry's, Family Matters. I scarcely understood it, but the aftertaste lingered – enough to remind me to pick it up again the next year – when I was fifteen. 
We encourage you to buy books from a local bookstore. If that is not possible, please use the links on the page and support us. Thank you.
Looking into Matters of the Family and the Heart
Unsurprisingly, Family Matters is a story about two families, tied together by an ageing Parsi professor battling Parkinson's and the demons of his lost love. Nariman Vakeel is a widower and a reluctant father to two of his three children. His family is strewn across dilapidated buildings in a city that is on the brink of plastic surgery.
The Contractors, his stepchildren – who took neither his last name nor his feeble attempts to make amends, live with him in a seven-bedroom apartment that has more doors shut than open. It's the home their mother lived and died in – they have nowhere else to go, and no one else to be with. I imagine the sofa upholstery would have a thin sheet of dust – fallen with careless disarray. I can almost hear Coomy Contractor snap back – I am just one woman, in this big house! How much can I do?
Jal, her quieter, gentler brother would agree – generously, to quell her tears. Professor Vakeel can only sigh – too afraid to do anything else. 
At first glance, it looks like Roxanna Chenoy has sidestepped this decay. As Nariman Vakeel's own daughter and third child, she also inherited his sharp intuition – sensing trouble, before it even starts to brew. With her young family, she lives in a flat bustling with sound – the cooker's high whistle, reminding her that her mutton stew is ready and sometimes her husband's raised voice – ushering their sons in for a bath.
The house creaks under the weight of the family – too little to hold them all; acknowledged only at night, along with the day's other frustrations. Yezad – her love, her prince and her other half, is also a mortal man. When you look closely, you'll see that Roxanna hasn't sidestepped the decay, after all – it's just, another's heart. 
In the telling of families, there is no magic. Family Matters isn't an exceptional story, and its beauty lies in its frank candour. Mistry weaves the novel out of stories taken from my life and the lives of others.
What he gave me in return is a peek into a world that's made up of people I had never met – so different in their language, and style – and so alike, with what kept them up at night. Sometimes, it's making the thinning slab of the Amul butter last till the end of the month; other times, it's about the perennial struggle of never being enough.
No matter where you are – the melancholic intimacy that you feel with the stories of loving, losing and mending, never really change.
Rohinton's Bombay: Lost & Found
Through the five hundred pages of Family Matters, Mistry also mourns the Bombay of his past. In Yezad's wistful yearning for his old home, his bitterness over the city's shifting landscape is apparent. Inexplicably, each character and their ancillaries live with one foot stuck still stuck behind – lamenting the loss of the fading Parsi glory and the British street names, their addresses boasted of.
Yezad is left unsettled, shuffling through the chai-hued photographs his boss had just handed him. Mr Kapoor was a fellow nomad – driving around in expensive cars, looking for the fabled camaraderie of Bombay. 
Many years later when I was making the same city my new home, I longed for the sepia-toned Bombay I had read about. I walked through Lamington Road, stopping at lone wrought iron gates, hoping to find a familiar name, engraved. I waited outside the Wadia Fire Temple, just like Yezad had – knowing too well, that walking in was not an option.
About a year ago, my taxi grunted to a halt on the side of a frail three-storied building. On a sudden, blistering afternoon, somewhere along Peddar Road, I had chanced upon my first find! I had never stopped thinking about Nariman Vakeel's family – and here I was, still tracing their steps through the vestiges of their old home. 
Timeless, in the World of Fleeting
I've read Family Matters more times than I can count. I remember lines, the page numbers to which they belong and the roads where all the great turns were taken.
And with every fresh reading, my eyes pry out new details – sometimes, at the cost of my shifting loyalties. But the inevitability is always the sense of loss, with which I put the book down. Be it fourteen, or twenty-four – the matters of this Parsi family, will always feel like my own.
Favourite Quote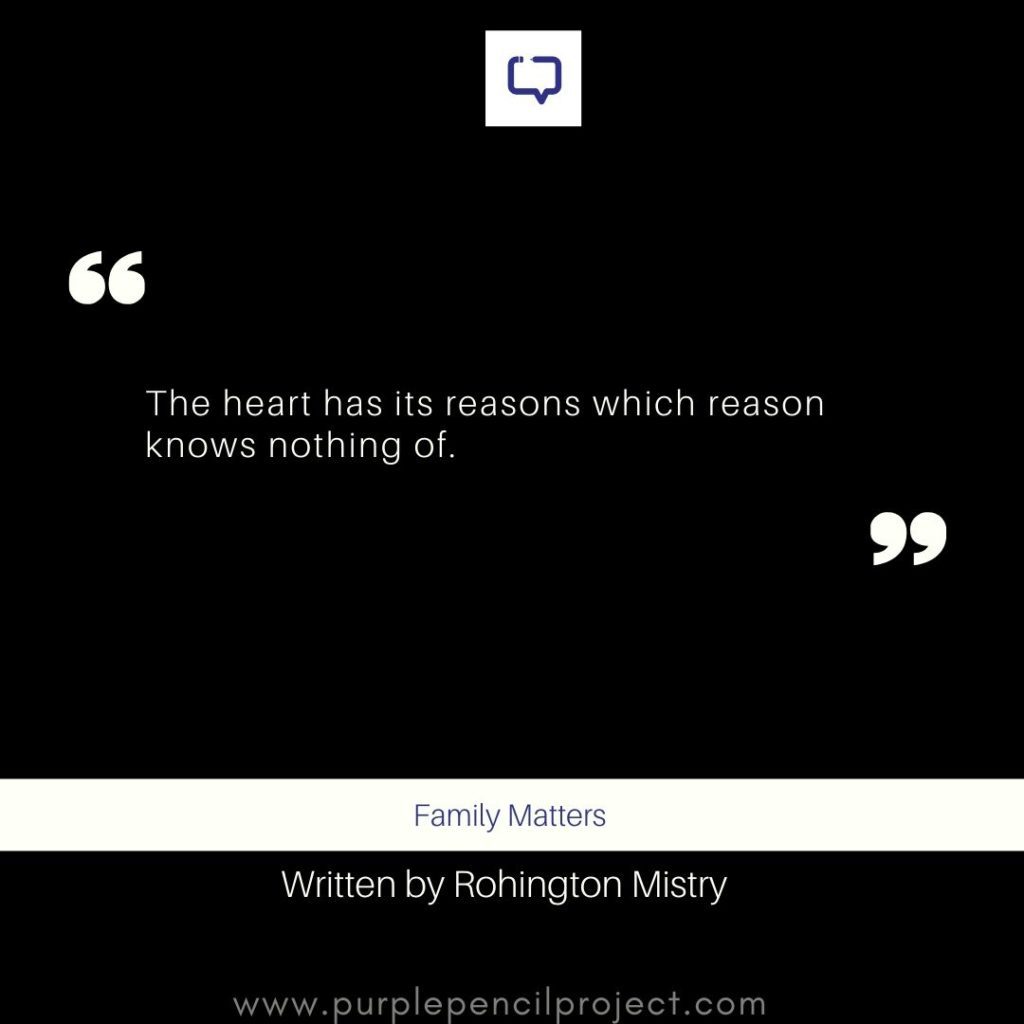 Final Verdict
I know a book has earned its place when with each page I read, I want to turn into a film and play all the characters myself. Family Matters is a must-read if you crave an immersive Indian family drama with a warm shawl of nostalgia.
Apart from Rohinton Mistry's other works like Tales from Ferozeshah Bagh, and Such a Long Journey, I think gliding to Jane Borges' Bombay Balchao right after Family Matters would be an interesting shift.
Readers could also find Jerry Pinto's Em and the Big Hoom, and Jaikant Kaikini's No Presents Please; Mumbai Stories, of a similar vein. Pick any of these, with a cup of chai and some crispy kheema cutlets, and you'll never realize how fast the day sped by.