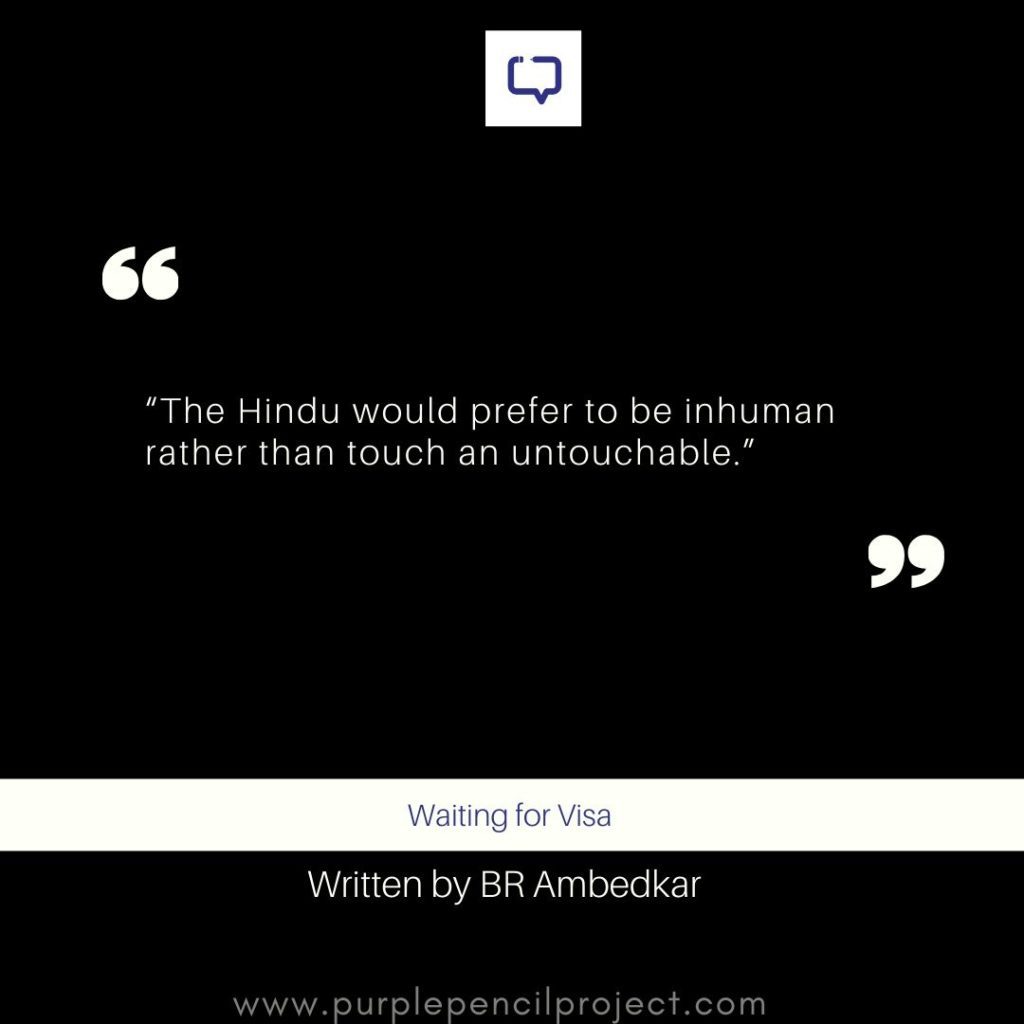 These words echoed, raising the flesh on my skin for several weeks after I finished reading Waiting for a Visa, Dr B.R. Ambedkar's autobiography. Attempting to read and re-read any possible narrative impacting Dalit Literature during this lockdown, I couldn't be more grateful to have zoomed in on this 20-page jewel on my Kindle. 
The first-person narration of Waiting for a Visa not only records the experiences of casteist discrimination that Ambedkar had suffered personally but also helps link them to the present-day caste prejudices in our society and the contribution that anti-caste movements have made to dismantle them.
Honesty is the heart of Waiting for a Visa, having even been written by Ambedkar in long-hand before going to the printer. It talks about specific cases of discrimination and then gives a general overview so that even when the stories are similar, their impact is unique – the way he narrates is almost having a one-on-one with the reader.
A data-driven approach accompanied by the depth of human emotions helps Ambedkar make an effective impact on the readers who'd not only be moved but also be able to use these scenarios to understand the conflicted history of independent India.
A lawyer's journey in his own words
Wrapped among six racy chapters narrating different experiences of discrimination, Ambedkar recalls every little detail of his feelings and compels the readers to visualize the pain that stayed with him for a very long time. Centuries-old biases are laid bare and the sincerity with which Ambedkar's emotions fill the pages is Waiting for Visa's biggest strength. 
Ambedkar describes his struggles both as a child as well as an adult to achieve basic yet indispensable things like water, shelter, food, travel, medical assistance and to some extent education and job too —the things we call 'essentials' today, especially in the time of this global pandemic. Ambedkar attempts to draw the reader's attention to the Dalit community's concern of fighting over an a-century-old battle to claim these amenities, and still being disappointed at several steps.
Education: A bare necessity
Waiting For Visa also talks about the idea of education in our country. While education has been an important tool for Ambedkar to challenge the caste Hindu society (comprising upper caste Hindus), the readers will find themselves internalizing the disappointments that Dalits experience even after pursuing quality degrees and getting good jobs. Moreover, in a few cases, Ambedkar shows that many 'well-educated' upper-caste Hindu doctors would rather risk the lives of their 'untouchable' patients than come in close contact with them.
Linking his own experience of having to let go of a job opportunity in Baroda to his caste identity barring him from claiming shelter in the city, he moves on to describe a similar kind of pain of another individual from a marginalized community.
A record and a memoir
Waiting for Visa is as much an autobiography as it is an intimate record of other members of the Dalit community, thus becoming more than a memoir of an individual.
Besides highlighting discrimination, he also points out and shines a light on acts of resistance. This speaks for Ambedkar's goal to empower Dalits who shouldn't be waiting for upper-caste Hindus to rescue them from their atrocities.
One of the most powerful examples is when Ambedkar led almost 10,000 Dalits during the Mahad Satyagraha and urged them to take up the fight for their right to drink clean water. Moving on, throughout his life, Ambedkar continued presenting ideas of reformation that focused on politicizing lower-caste individuals and women.
Conclusion
While reading Waiting for Visa, it may seem that some of the incidents are exactly the same. Instead of being repetitive, it reinforces the atrocities in the mind of the reader, making it a timeless read to understand casteism in India.
The book uncovers the continued struggle of transforming Hindu society. It not only challenges ongoing prejudices but also creates a dialogue, and even someone with a strong casteist way of life will be forced to question their beliefs. It's not for nothing that it's a prescribed reading at Columbia University!
The title Waiting for Visa captures the essence of the book and paints Ambedkar's anxiety and longing to get his identity 'sanctioned' by this ecosystem.
Favourite quote:
"Though my condition was pitiable I did not like to be pitied."
Watch this two-part series if you cannot find the book.