Strewn Flowers – Selected Hindi Poems is a treasure chest of poetry with English translations, including old and new, classic and vintage verses from 30 poets, both celebrated and obscure.
We encourage you to buy books from a local bookstore. If that is not possible, please use the links on the page and support us. Thank you.
Strewn Flowers comprises 51 poems from different eras on a variety of themes and topics categorised by chapter – Love and Passion, Wisdom, Harmony, Melancholia and Satire. Every category's cover page has an apt couplet by Kabir that sets the tone for what's to come. Every such cover page also has flowers sketched on the top and bottom of the page which complement the couplet.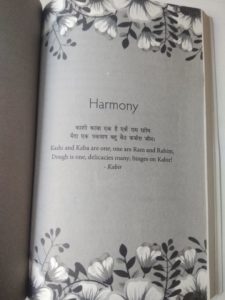 From Harivansh Rai Bachchan, Amrita Pritam, Dharmvir Bharti to Mahadevi Verma, Ramdhari Singh Dinkar and Sumitra Nandan Pant, this poetry collection has the best of Hindi poetry, with varying levels of language-difficulty.
Poems of Love and Passion
This category contains thirteen poems on themes like erotica, like in Ashok Vajpeyi's poems, which are brazen and decent (with respectful, dignified descriptions) at the same time, and portray age old ideals of shyness and 'lajja' of women in this aspect –
'Vah kaise kahegi han! Han kahenge uske anurakt netra….'.
The many forms of love, the use of clichés like rain, romance and many associated others are sub-themes. Harivansh Rai Bachchan captures the pathos of reminiscence perfectly, with his use of repetition and starting sentences in passive voice –
Tha gagan kadka ki chati mein tumhe maine chipaya tha….aa gayi barsaat, mujhko aaj phir ghere hue baadal.
Poems on Wisdom
This section's fifteen poems are great in Hindi and okay in English. Life advice is given in this Dushyant Kumar poem with honest frankness that will be appreciated –
Jaa tere swapna bade ho. Bhavna ki god se utarkar, jald pruthvi par chalna seekhen.
All the poems in this category are very philosophical in nature. The descriptions of human riots, fights and breakouts using onomatopoeia is hilarious and insightful of Bachchanji's creative mind –
Zamza san san, ghan-ghan-garjan, kokil-kujan, keki-krandan, akhbari duniya ki hulchul, sangram-sandhi, danga-fasad.
Poems on Harmony
The ten poems of this chapter have a knack for amazing, illustrative metaphors and mainly talk about harmony between nations, religions and regimes. Two lined couplets can be seen in this Gopaldas Neeraj poem, full of rich vocabulary –
Ab toh majhab koi aisa bhi chalaya jaye. Jisme insaan ko insaan banaya jaye.
Some poems are more about patching up and balance rather than harmony, like this poem of Sumitra Nandan Pant –
…..Raag dvesh ke, prakruti vikruti ke, yug yug ke ghavo ko dhove!
Melancholia
Eight exquisitely crafted verses that reflect sadness makes this category of the Hindi poems the most profound in this collection. Vinod Tiwari's poem tells us –
chashm-e-purnam bahi, bahi nab ahi, zindagi hai, rahi, rahi na rahi, tum toh keh lo jo tum ko kehna tha….mera kya hai, kahi, kahi na kahi.
Unfulfilled wishes are depicted in a heart wrenching manner by Bhagwati Sharan Verma –
….sach kehta hun, un sapno mein bhi tha mujhko vishwas kabhi.
Satire
In this short section of five poems, we have powerhouses like Sahir Ludhiyanvi and Ashok Anjum. Their use of satire to talk about society leaves a bittersweet after taste.
Sahir Ludhiyanvi's poem –
….Satya, Ahimsa sab bakwaas, tum bhi katil, hum bhi chor!
Most of these poems are about politics, politicians and ill-rooted patriotism.
Ashok Anjum indirectly says things in the negative to make his point, and his poem drips with sarcasm –
….Khursi hi apna lakshya maan! Kya rashtra dharam? Kya sanvidhaan?
Translation
In the preface, translator Pavitra Mohan credits the poets with changing his worldview of many things. He also admits to using the translator's liberty at times. How far the translator's liberty is advisable, I do not know, but it does seem subjective as it uplifts some poems, whereas does not seem to work at all in others. The translation is unable to capture the flavour or tone of most poems and is good in the sense that it uses suitable English words for its Hindi counterparts with some mistakes here and there. However, his choice of poems for this collection is commendable.
Book Cover
A subtle shade of yellow adorned with off-white and beige flowers on the top and bottom of the cover make for a pleasant view. A good book cover that sits in lieu with its theme and contents.
Favourite Quote
Voh gulab ke gamle mein, muskaan lagi hai….
Todkar pehen ana..!
Analysis and Conclusion
I did not like the fact that the poems were categorised theme wise, as it seems crude and very basic. Perhaps, interspersed or divided poet wise would have worked better. None of the poems have titles and it serves as a problem in identifying them.
Overall, it is a heartfelt collection full of strong imagery and vivid emotions that will make you forget your surroundings. Each poem highlights the theme under which it is placed in its own way – by way of philosophy, wordplay, metaphors, incidents and epiphanies. Rhyming, free verse, dialogue based, couplets and other types can be seen in this poetry book. For Hindi poetry lovers, it is a dream of well-articulated assortments, and for the uninitiated, 'it will allow them to peep in these alternate worlds and to delve in these alternate words', as enunciated by the translator in his preface.
It is also a good reckoner for those just starting to read Hindi poetry too.