You may or may not have heard of him, but you will have heard of the Khwaab Tanha Collective, a visual design initiative that brings Urdu poetry and literature to life. Shiraz Husain Usmani, its founder, emanates that very same poetic streak. His emails begin with a gentle, Hello Prakruti Sahiba and end with the equally graceful Shukriya, with the occasional Mauhtarma thrown in. The 33-year-old has a BFA and an MFA from the Faculty of Fine Arts of the Jamia Millia Islamia university in New Delhi.
Here, in this edited interview, he speaks about what it takes to design book covers, what goes behind the research and what should designers keep in mind when taking up projects.
How did you come to design book covers? Did you approach the publishing houses, or did they approach you?
While I was still in art college I started doing freelance, and during that time I not only illustrated for books and magazines but designed some book covers as well. It is not wrong to approach publishing houses, but  personally I have never initiated them. The thing is if you are producing decent amount of work and on the other side of desk, if there are people looking at it with an open mind, then some way or the other you get connected.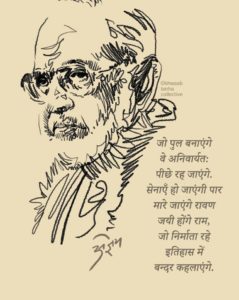 What is the process of designing the cover? Do you hear a synopsis of the story from the author or the publishing house? Or do you having discussions with them?
My process is time consuming and involves a decent research, from hearing synopsis of the story to discussions with publishing houses, even with the authors, depending on their availability. Sometimes, I read a part of the book again and again to let it grow on me. I don't just search for references on the internet, but also visit libraries (with my notebook of course!).
How long does a book cover take to design on an average? Do you have to give a few options at first and then it is zeroed in on?
If you are asking about the execution part then it depends on my mood and the book as well, there have been times I executed something in a day and then some works stretched for a week or so.
With a few publishing houses I give options, while some accept sketches. What I like is when editors realise the potential of a sketch and then allow me to build on it and finalise the idea.
Is there anything that sets apart designing book covers from designing for other platforms? What are the three tips you would give illustrators who would wish to design book covers?
It is true that one should not form an opinion on someone or something based purely on what is seen on the surface,  but we cannot deny the fact that a lot of people around the globe judge a book by its cover, which makes it an important part of the package. So, when you are designing a book cover, you understand the responsibility. Unlike a poster design, which is for an event and soon done with, a book and its cover have an archival value, and you don't know whom you are designing for. It should stand that test of time and vastness too. As we all know that good design is good business.
Here are some tips for designers:
Photoshop is not graphic design. Max, or Maya is not animation. Guys computer and execution is step two. The first step is thinking, and for thinking we have sketchbooks and notebooks, so keep one handy and don't hesitate to work on your personal projects.
Do not be a puppet in the hand of the publisher or the author, but on the other hand value their positive suggestions and respect the fact that they may have different opinions but in the end all of you intend to bring out something remarkable so look for the confluence, look for the harmony instead of discord.
Do free covers only if likes of Kazuo Ishiguro or Gulzarsahab personally ask you to do so!
Coming to the City of My Heart, what is the essence you wanted to capture while designing the cover? For a reader, what are the details that you have included, that you might miss?  Were there any reference images/paintings you used or was there any other kind of research involved?
I had many conversations with Rana Safvi for the cover. Initially, we thought of using parijat, the night jasmine and the shiuli flowers. They are beautiful, and there is a very important section in the book describing the 'Phool Waalon ki Sair'. But further into my research, and as I thought of more cover options, the publisher Poulomi and I both froze the idea of the celebration at the red fort. Apart from going through the available photos, I also visited it once at night. The experience was unspeakably beautiful! That's how I came to craft the image of the magnificent Lal Qila celebration under the starlit sky, capturing the essence of the book of both celebration and nostalgia.
I consciously left the wall of the Red Fort little incomplete, so the viewer can complete it with their own imagination just like the stories . . .the stories are complete when the readers add their own imagination to the authors work.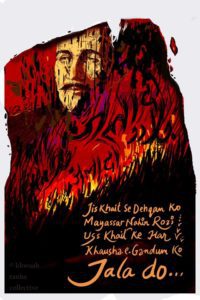 What are your upcoming projects?
I just finished a cover for Harper Collins' Hazaron Khwahishayn Aisi, a book of of Urdu ghazals by Anisur Rahman. I am working on a book series of Urdu poets, Pratinidhi Shayeri by Rajkamal Publications (Majaz, Akhtar Sheerani, Meera Ji, Parveen Shakir, Jalib, Sauda and Akbar Allahbadi to name a few) also Faiz Ahmad Faiz's Mere Dil Mere Musafir in transliteration. There is also a project in pipeline with Penguin and will be out in 2019.
In whatever time is left after all this creative chaos I take workshops in different institutes and colleges while slowly  working on my book for children.
If you had the option to design one book cover, which book would you chose? Why?
Earlier, it was any poetry book of Gulzar, but luckily I got to do a decent cover of Paji Nazmein last year so…now, I can tell you two. One is Deewar Mein Ek Khidki Rehti Thi by Vinod Kumar Shukla because it is one of my favorite books and with due respect to the designer, the text and visuals can be seen divorced on the same page. So there is a huge scope to fix that cover.
Second would be the book, which is still in pipeline, of my mentor Nicholas sir, who has influenced my taste in art, Hindustani and western classical music and taught me to love dogs, taught me not only to love the mangoes but the trees they are coming from too. So this is a more personal ambition.
Credits: Feature Image provided by the author. The two illustrations take from Facebook/KhwaabTanhaCollective.