Simla in Ragtime, a rare book on Shimla history should not be confused with Ragtime in Simla by Barabara Cleverley's book.
Justice Deepak Gupta, a Simla man through and through, served as judge of the High Court of Himachal Pradesh for more than eight years, and had one of the finest collections of rare books and photographs of Shimla and Shimla history. One day, he chanced upon an old, dusty book at Simla's lower bazaar, browsing through the bookstalls on a Sunday. This rare book, Simla in Ragtime is a humorous, illustrated guidebook of the city, highlighting Shimla's history, architecture, and social life. It has been written by a mysterious "DOZ", a pseudonym of an anonymous person who lived in Simla for many years.
While Gupta never found another copy of the book, he handed over many of its photocopies to friends. Through his research, he found that a second edition of 148 pages was published in 1918, but he could not trace a copy of it. In 2013, he finally got the rare book reprinted, sticking to the original—complete with its maps, drawings and illustrations. And a good thing he did, for here's a piece of pre-WWI literature, that gives us a Western account of the hill station, and one that would have otherwise been lost to history.
Rare book gimmick or real treasure?
When DOZ first came to Shimla on work, he felt the need for a reliable guidebook. Further, when friends asked him various questions about visiting Shimla, he decided to put together a guide to the city "in ragtime". He writes the book's Preface from Boston in 1913, describing Shimla as a simple hill station, a summer capital and mountain home, with "an air of distinction", due to the patronage of the Viceroy and his Council.
"Histories do not agree on the point as to who was the first European to come to Simla. Some say Sir William Lloyd (1817) or Lt. Ross (1819); others say Captain Kennedy (1822), while others again mention the Gerard brothers—two Scotsmen.

But who shall decide when historians disagree?"
The first Governor-General to succumb to Shimla's charms was Lord Amherst, in 1827, he informs. Elaborating on its history, the author writes that it was through Sir David Ochterlony that the British got Shimla and ruled over it. At that time, Shimla was the joint stock property of the Maharaja of Patiala and the Rana of Keonthal. With the Maharaja's permission, a few Europeans began converting it into a health resort. Soon, it became famous, as hotels and residences sprang up everywhere. Lord Combermere, the Commander-in-Chief, visited Shimla in 1828 with the Army Head Quarters staff. His main contribution to Shimla was the Combermere Bridge. There is also a popular hotel by his name in the present day Shimla Mall.
Bringing alive a slice of Shimla's, and India's history
DOZ describes in detail the train journey from Kalka to Shimla, passing through several hills and around 103 tunnels, calling it a "six hours bioscope show". One crosses the 4,000 feet long Indian Simplon at Barog after which the train reaches Tara Devi, the gate of Shimla. The next stop is the cantonment of Jutogh, followed by Summer Hill. Here, one gets to view Olympus and the Viceregal Lodge. Hotel Cecil becomes visible then (which he calls the local Tower of Babel), after which the train finally halts at the Shimla Railway Station, "where the usual crowd of smiling expectant friends, relatives, and lovers, greet you according to the degree of friendship, relationship, and affection."
The hills comprising Shimla include Prospect, Summer Hill, Mount Pleasant, Bentinck Hill, The Ridge, Jakko, Stirling Hill and Elysium. Its suburbs are Mahobra and Mahasu, six or more miles out along the Hindustan and Tibet Road. At that time, the congested area of Shimla constituted about seven square miles. The author talks at length about the tonga which was used back then as a popular mode of transport. The only wheeled conveyance that the general public was allowed at the time was the rickshaw, introduced from Japan in the seventies.
At the time this book was written, the population of Shimla during the season was about 38,000 persons only—and it was a place where "everybody claims to be somebody". The author dedicates an entire chapter to the Mall, Shimla's main artery, describing its main buildings—Peterhoff, Kennedy Estate, Gordon Castle, the YMCA—and its primary sites, such as Scandal Point, the Ridge, the Gaiety Theatre and Annandale (used mostly back then as a venue for fetes, races, gymkhanas, and football tournaments).
"The mall is crowded with fashionable Shimla out for an airing in purple and long ospreys, followed by rickshaws with jampanees fearfully and wonderfully arrayed. This flaunting on the mall goes on till sunset, which is a glorious sight in the hills. The sun sinks majestically over Prospect to see what is getting on round the other side of the world, leaving behind him a deep red glow, which gradually dissipates into greys, and then disappears altogether."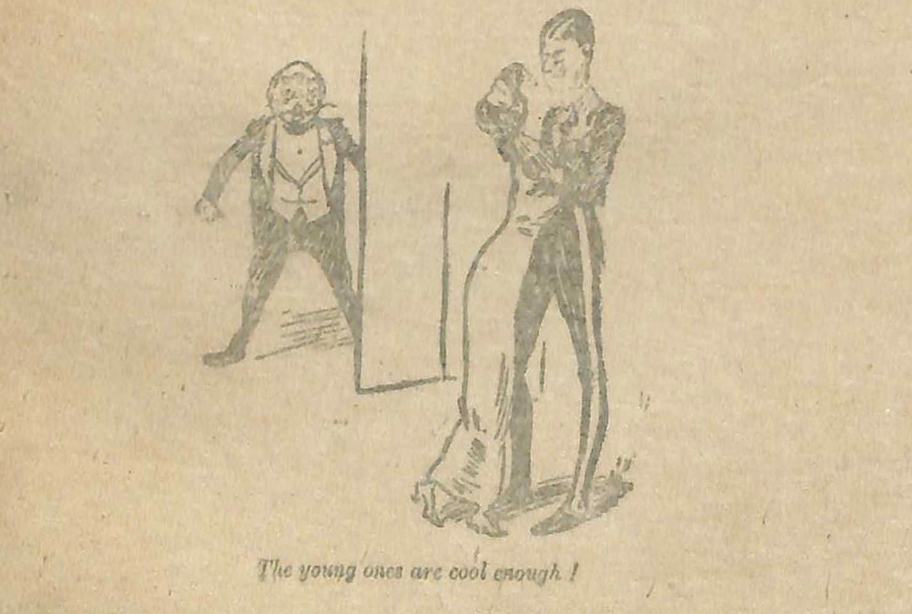 DOZ moves on further to other iconic city spots, such as the Bishop Cotton School near the Chota Shimla Bazaar, Kasumpti, Chelsea, St. Bede's College and up till Sanjauli and Mashobra—"whither fashionable Simla drives out for weekends and picnics, while many visitors rent houses for the season." The author also throws light on various aspects of Simla's social life during the time, including its aristocratic gatherings, the rules for being invited to exclusive balls, 'grass widows' (women who were left by their husbands to fend for themselves during the summer) and scandals. He also shares some anecdotes regarding staff members, such as dhobis, ayahs and masons.
Conclusion
This rare book is an enjoyable read, on the whole, particularly for anyone familiar with Shimla, or planning a visit there. Further, it is, for any reader, a fun peek into history as well as a delightful trip down memory lane. You can download it for free from here.
Best Quotes
"The fairest of women are delusions we know, but that is just why men are so fond of hugging delusions."