New Releases
Title: Raavan Enemy of Aryavarta by Amish Tripathi
Description: The third book in the Ram Chandra series, Raavan depicts the life and times of the infamous King of Lanka, his unmatched reputation as an erudite, his appetite for violence and his hunger to be the greatest of the greats.
Publication: Westland Publications (1 August 2019)
Where to get it: Get it here.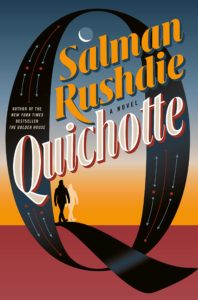 Title: Quichotte by Salman Rushdie
Description: Described as a 'Don Quixote for the modern age', this novel narrates the story of a below average writer called DuChamp, who creates characters Quichotte and his imaginary son Sancho, set in a day and age which itself, is lost; to win the hand of a glamorous TV actress Quichotte is in love with.
Publication: Penguin Hamish Hamilton (29 August 2019)
Where to get it: Get it here.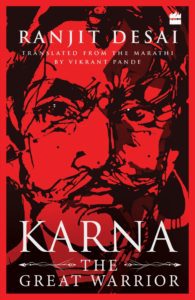 Title: Karna: The Great Warrior by Ranjit Desai and translated by Vikrant Pande
Description: This mythological Marathi novel is based on the life and times of Karna, the warrior from Mahabharata, that enumerates on his love for his wife, his alliance with Duryodhana, his hurt and angst and relationship with Lord Krishna.
Publication: Harper Perennial India (25 August 2019)
Where to get it: Get it here.

Title: Cow and Company by Parashar Kulkarni
Description: A satirical take on colonial India, this book comically presents British Chewing Gum Company that is setting up shop in Bombay, to introduce chewing gum to its residents and replace its enemy- the locals' favourite, paan. Religious sentiments of the people are hurt, and this plot is used by the author to reflect on Indian culture, society and religion in a hysterical way.
Publication: Penguin Viking (19 August 2019)
Where to get it: Get it here.
Adaptations
National Award Winning linguistic movies adapted from author Yeshe Dorjee Thongchi's books
A Sherdukpen film, Mishing (Apparition), and a Pangchenpa film, Bishkanyar Deshot (The Land of Poison Women), won awards at the 66th National Film Awards in the categories – special language category (languages that are not covered under Schedule VIII of the Constitution fall under this) and Pangchenpa category, respectively.
Both these movies are based on the books of Sahitya Akademi Award winning author Yeshe Dorjee Thongchi, who writes in Asamese. The Sherdukpen belief of how mortals are contacted by spirits to pass on messages is portrayed in Mishing whereas The Land of Poison Women is based on the death of many women owing to a superstition of the Panchenpa tribe.
Hyde Park Entertainment launches its Asia Subdivision in Chennai; aims to produce more Indian stories
Ashok Amritraj, Indian American Hollywood filmmaker, expands his Los Angeles based production company with a view to bring stories from South Asia to the forefront and produce more stories from his homeland.
Among the projects on board are Pashmina, based on a popular novel by Nidhi Chanani for Netflix, by Gurinder Chadha, films based on Pulitzer Prize nominee Suketu Mehta's Maximum City, which will be overseen by Anurag Kashyap; Zoya Akhtar, will be directing Paradise Towers, based on a novel by Shweta Bachchan and other projects on Deb, an Indian mythology thriller, by Nagesh Kukunoor, a famous writer-director and a fantasy series on a trilogy by Indian American author Chitra Banerjee Divakurni, titled The Conch Bearers.
Translations
A collection of poetry translated from Asamese to English by Surajit Borooah
A collection of Asamese poetry in English called 'Selected Assamese Poetry Vol. II,' was released at the Guwahati Press Club recently. Former Assam Public Service Commission member and poet Anees Uz Zaman, Archana Pujari, Anubhav Tulsi and Shrutimala Duarah were present during the book launch.
Works of four famous women poets of Kashmir from different eras translated into English by Neerja Mattoo
Lalded, Habba Khatoon, Rupa Bhavani and Arnimal, the four well known female voices of Kashmiri Literature from differing times have received a new, insightful voice through the commendable translation and introduction of their poems in Neerja Mattoo's book titled The Mystic and The Lyric published by Zubaan Publishers.
Tamil Nadu Universities to develop textbooks for, and introduce courses on, learning the art of translation
In collaboration with Government Arts College, Thiruvannamalai and University of Madras, Oxford University Press publishes books for translation studies. Wordscapes, covering stories, poems, plays, autobiographies from Kannada, Bengali, Hindi, Marathi and Tamil, with the focus on Tamil, is the final one of a series of three books for teaching translation.
Thiruvalluvar University also introduces Indian Literatures in English Translation for their third-year under graduate students with Wordscapes as the prescribed book.
Earth Anthem by Indian Poet Abhay K translated in 50 languages
The Earth Anthem was originally written by poet and diplomat Abhay K in 2008 when he was posted in St. Petersburg, Russia. It was released on the occasion of World Environment Day at the Indian Council of Cultural Relation in 2013. It has now been translated into 50 languages, some of which are Amharic, Mongolian, Khasi, Swahili, Gaelic, Dzongkha, Bhasa, Yoruba, Zulu, and others.