If you are looking for books to read for women's day, we have two recommendations. Neha Kirpal reviews Impetuous Women by Shikhandin and Women Who Misbehave by Sayantani Dasgupta, both released by Publish Viking to mark the occasion of Women's Day, on March 8, 2021.
We encourage you to buy books from a local bookstore. If that is not possible, please use the links on the page and support us. Thank you.
On Women's Day, March 8, 2021, Penguin Viking released two collections of short stories about rebellious women. Impetuous Women by Shikhandin (the writer's pseudonym) is a darkly comic, thrillingly tragic collection of stories about women who step across the social boundaries or the mythical 'Lakshman Rekha' against establishment, patriarchy, their own families, and loved ones. Women Who Misbehave by Sayantani Dasgupta contains stories that are at once unsettling and heartening, funny and poignant, dark yet laced with light and hope.
The two books, in many ways, can be read as a package deal – sharing similarities with their urban settings, sense of history, and the qualities that define the central characters.
Most of the seventeen stories in Shikhandin's Impetuous Women have a modern, urban setting, centering on expats living in India and abroad, specifically Singapore. The characters in them often remind a reader of familiar friends or acquaintances they may have known or interacted with. Further, the author's love for food and cooking resonates strongly through each story.
Women Who Misbehave is ten stories about nonconformist, unconventional and unapologetic women. Dasgupta primarily wrote the book because growing up, she needed more women to do the things men were doing. The roots of her book's inspiration lay within her own family, which is full of strong women, like her mother who instilled independence in her as well as her paternal grandmother, who defied societal norms to marry her grandfather, then went on to pursue her Master's degree long after the birth of her children. She wanted more than the handful of women-oriented shows and movies that rarely went beyond exploring love, duty, family, home and sacrifice. "I wanted women to give in to anger, ambition, wanderlust, desire, insecurity, greed, sloth and even perversity," she writes in her Author Note.
Urban Tales
In 'The Party', the protagonist meets many of her ex-colleagues at a gathering in a well known south Delhi neighbourhood. It brings back many old memories—both pleasant and not so—about each of them and their lives. Set in the US, 'Taste' is a story about two friends, Sarita and Dimple, whose friendship is based on rivalry and one-upmanship. 'Thirty Third Egg' is about an extravagant all-women vacation that costs a waiter his job. In 'Just Desserts', a culinary expert dishes up revenge against her husband, Dinesh, and the irresistible Poornima, but ends up being surprised herself. In 'Sexless in Singapore', a chance meeting with a young mother in a park brings Naina at peace with her inherent need to be her own true self without being a woman first. 'Threshold', a story set in Kolkata, is about a disconcerted working woman who employs an illegal immigrant to take care of her domestic chores.
A Slice of History
'The Reader' is a story set in Bengal's Raninagar in the year 1899, when ten year old Binu is newly married off to an indifferent Nabin. Binu's love for reading leads her to discover a library in her new home, which becomes a kind of refuge in her dull marriage. She is finally relieved when her husband too is supportive of her passion for reading. Realising that she deserves a lot more, a pregnant Manasi decides to leave her struggling poet husband in the post-independence story 'Knots'.
Life's Like That
'Miss Josephine' is a touching story about an old white lady baker who though lived a mysterious life, was an important element in shaping the taste of many childhoods. 'Miz Tiga Does Not Play Holi' is a heartwarming story about an old Catholic school teacher who does not enjoy celebrating the messiest festival with her giggly schoolgirls. As she reminisces about her youthful days when she would celebrate Holi with her late husband and their friends, the reader catches a glimpse of her soft-hearted persona through her outwardly stern facade.
In 'Missing the Movie', a young couple living in a village, goes to a cinema to watch an English film and have Coca-Cola afterwards. What they witness at the hall, however, turns out to be more shocking than the movie itself. In 'A Hard Kind of Love', a writer ends up disclosing all her marital experiences in the stories that she writes—making them public for other people's enjoyment.
Why you should read these books for women's day
All in all, both of the books are a tad bit misleading, and may even leave the reader with a disappointment of sorts. While one expects interesting stories of spunky and vivacious women. However, they are essentially a collection of short stories about women who are confused about various situations in their lives—whether it is choosing the wrong mate, getting married too young or realising that they want same-sex relationships. While they confront their dilemmas and plan to take on bold avataars in order to rectify their situations—whether by walking away from an abusive relationship, having an abortion or being gutsy enough to reveal their sexual choices—at the last minute, they often shy away from societal norms and regulations, and continue living in a conventional mode, making both the characters and the collections relatable. Overall, however, the combination makes for quick, breezy and entertaining reads, and are apt books to read for women's day.
Best Quotes 
From Impetuous Women:
"The real reason for getting close to another woman is hate."
From Women Who Misbehave:
"All writers rely on the everyday minutiae of their own lives to spin their stories."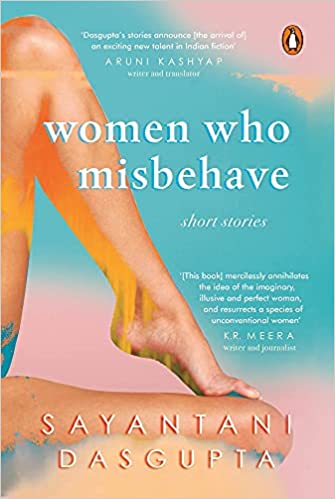 Book: Women Who Misbehave
Author: Sayantani Dasgupta
Publisher: Penguin Viking
Pages: 191
Price: Rs 399
Final Verdict: 3/5