In light of noted Hindi writer Geetanjali Shree and her historic feat at the International Booker Prize 2022, Niyogi Books is honoured to re-introduce her debut novel Mai. Translated to English by Nita Kumar as Mai: Silently Mother, this book was awarded the Sahitya Akademi Translation Prize in 2002. It was also shortlisted for the Crossword Book Award 2001.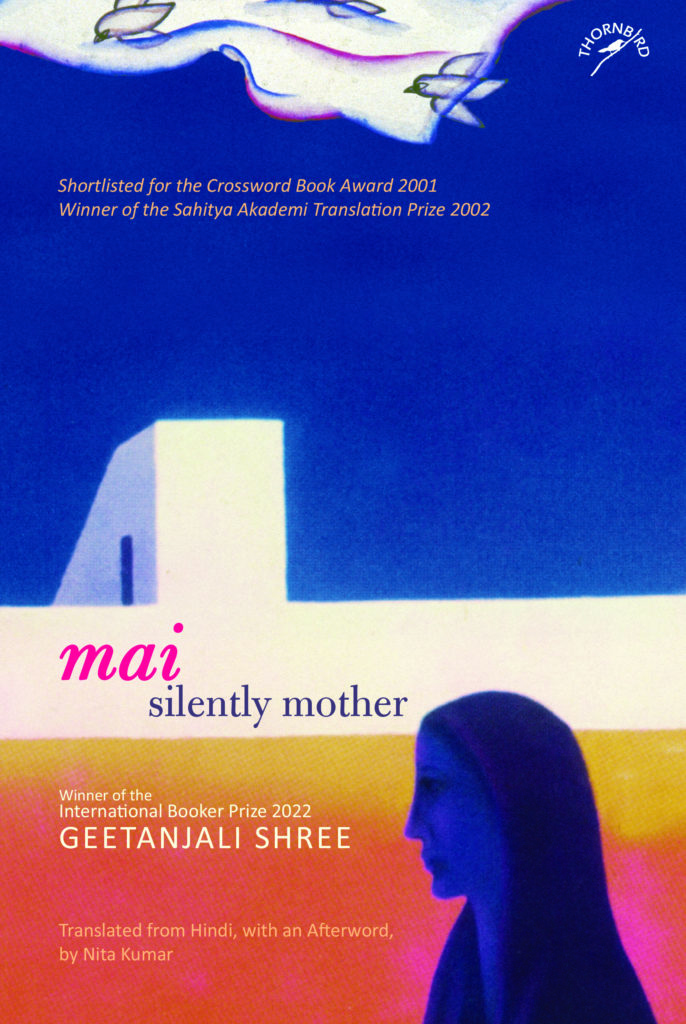 Title: Mai
Author: Geetanjali Shree || Translator: Nita Kumar
Publisher: Niyogi Books
Blurb: Behind the walls of a house in a North Indian town a whole world thrives—of the joint family, their attendants, their visitors. Three generations of women and their men live different strategies of adjustment and achievement to accommodate or challenge patriarchy. They seem to fit in recognised frames, but what are the subtle machinations behind the apparent stereotypes? It is that which the novel uncovers, in a tale told in deceptively simple terms, using smells, sounds, tastes and flavours, scenes and tiny signs, and incidents of a daily and ordinary existence to build, weave by weave, a rich and layered tapestry, saying always more than is apparent. 

At the centre is mai, the mother, seemingly weak and silent, but it is she who holds together the subtle patterns of relationships and agencies, and quietly carves out a life for herself as also for those around. Her New Age children are obsessed with rescuing her from the 'prison' and escaping themselves; but as the story unfolds, any simplistic notion of bondage and freedom goes for a toss. Profound stories of love and loss are lightly delivered.
Price: Rs. 395  | Format: Hardback | Pages: 224

About the author, Geetanjali Shree
Geetanjali Shree writes novels and short stories in Hindi. Mai was her debut novel. Her much-acclaimed novels Tirohit and Khali Jagah have also been translated into English as The Roof Beneath Her Feet and The Empty Space respectively. 
Her writings have been translated into multiple European and Indian languages and are a part of the syllabus in many universities across the world. The English translation of a novel by Geetanjali Shree, Ret Samadhi, titled Tomb of Sand, has been awarded International Booker Prize, 2022
Geetanjali Shree has also written an intellectual biography of Premchand, the doyen of Hindi literature, in English. 
About the translator
Nita Kumar, the Brown Family Professor of South Asian History at Claremont McKenna College, California, was awarded the prestigious Sahitya Akademi Translation Prize in 2002 for her English translation of Mai. She is the author of The Artisans of Banaras (1988), Friends, Brothers and Informants (1992), The Politics of Gender, Community, and Modernities (2007) and such other titles. 
About the publisher
Niyogi Books, based out of New Delhi, India, is one of the leading publishers of illustrated books on a wide range of subjects, from art to photography, philosophy to heritage and culture, textiles to maps, and many others. The publishing house has developed a prestigious author base that includes award-winning photographers and journalists, distinguished art historians and curators, and artists, scholars, travel writers, and translators from all over the world. B.N. Goswamy, Geeta Chandran, Hugh and Colleen Gantzer, Lata Mangeshkar, Mushirul Hasan, Jaya Jaitly, Sethu and Raghu Rai are just some of the illustrious names on our list.

In addition to its illustrated titles, Niyogi Books also publishes fiction, translations, and non-fiction (non-illustrated) titles through separate imprints Olive Turtle, Thornbird and Paper Missile, respectively.
Praise for the book
"Mai carries the reader beyond the intense portrait of an Indian Mother that is at its core. It unfurls a subtly and exquisitely told tale of the many lives of an Indian woman – and of the many lives that encircle her. Mai intrigues and mesmerizes the reader with its fascinating gallery of human beings and array of mysteries that transmutes their lives."

—Paul Zacharia, Renowned Malayalam fictionist and columnist
---
We encourage you to buy books from a local bookstore. If that is not possible, please use the links on the page and support us. Thank you.