Diksha Bijlani is a spoken-word poet, Applied Psychology graduate from Gargi College and she has represented India in Chicago's International Poetry Slam competition. She is also a co-founder of Slip of tongue and till now, they have done workshops and shows across universities. Diksha's chosen themes include, in her own words for a prior interview, "bisexuality, the right kind of human rights activism, how speaking English does not make me better than non-English speaking multilingual folk, and high-functioning depression."
onWriting intern Rupal reached out to her, to understand what poetry, and the written word, mean to her and how it complements her academic and professional interests in public policy.
Was it accident or intention that got you into Slam Poetry?
1. I like to call it a 'tubelight moment'. I started off as a very cynical audience member, who looked at spoken word like it were some Herculean artform that was way out of her league. While that didn't keep me off from sneaking into one or two events and snapping my fingers from time to time, it did make me uniquely grounded about whatever I did write, always stressing on the literary efficiency of it, in terms of imagery, metaphor, and message. The realisation about being able to write poetry happened when one day I just re-read a prose I'd written and found it extremely poetic. That prose later became one of my better spoken word pieces. So the initiation was more of a realisation of ability, rather than an experience or trial. Long story short, less of an inspiration, more of a tubelight moment.
What inspires you to write and perform?
Lived experience. To be able to find analogy in my story & link it with a greater social idea is what drives me to express. I have always believed that the smallest of our personal experiences have political value in them- the good old saying of "personal is political". I try to manoeuvre the personal into its larger political value through poetry.
Which is your favourite excerpt from your own writings?
I personally find parts of my poem "In Which I Resurrect Wonder Woman" very empowering:
"Who is going to fight our battles if all we fight is loose sleeves that refuse to surrender?

Each time I

Walk into the store and pick out

The first dress I do,

I am not thinking 'sensualise',

I am thinking world domination,

I am thinking Lady Gaga flawless,

I am thinking maybe

Our short dresses are our capes

Let every Superman know that

Wonder Woman will not hide anymore."
You can watch her perform it here: http://https://www.youtube.com/watch?reload=9&v=S017tN-vh98
What are your views upon Literature? What do you think poetry means to the society today?
Personally, I think it has always been a very significant form of expression to resist, to dissent, and to mobilise. It has been an artform to provide visibility to unnamed, underexpressed lived experiences. And i think poetry in its spoken form is an even stronger form of creative expression that helps a diverse crowd listen to you. That is the most significant battle it overcomes: it makes even oppressors take a seat, and listen to us.
Do you think reading is main aspect to judge intellect?
A significant aspect, but not the main. A lot of my personal wisdom comes not only from reading but also from organic memories & experiences that I could not have had with my nose buried in a book. Even though it is always about a balance, reading helps you channelise the wisdom & intellectual learning from your experiences. It helps you learn written expression, for that there is no better replacement than reading.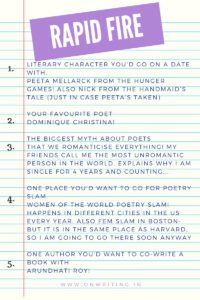 Your views upon criticism of Slam Poetry
A major criticism is that it is hollow activism- that we are all raging for the sake of it. I find that both a shallow evaluation & an ignorantly comfortable zone to be in. How do we comfortably deduce that speaking behind a mic, letting people be heard on a mic, & creating a poem out of resistance is not activism? Is personal empowerment of a poet by speaking up about their oppression not an act of resistance too?
The literary criticism is a little more well-founded, given by people who actually go to slams and sit through "bad poems", which are basically not too well written- sometimes called a "rant". I do believe we need to grow s poets, but that is not the fundamental trait I need in the spoken word circuit. I have always said I value honesty more than ability. Any real, organic, truly valuable experiene has the power to move people, well-curated or not. But we will grow more literary efficient with time too, I know too many literary greats within the spoken word circuit already.
Has poetry helped you in any ways to go to Harvard?
My application to study Public Policy at Harvard was well-balanced: it had limited mention of both my spoken word poetry achievements & my experience in public service. As far as my career plans are concerned, poetry complimented them, rather than standing out as a less useful or rather redundant skill I had on the side. I believe more than poetry it was the general skill of verbal expression through the tools of poetry, even if you're writing a prose, that help me get myself through. That is what may have helped. Although I must admit, it is always hard to gauge what stuck a chord with the admissions committee.