In December last year, we partnered with the Ethos Literary Festival, a two-day long celebration of the verse, which was presented by Hawakal Publishers, a poetry press that has for a decade, committed to bringing out the best of contemporary Indian poetry. This time tomorrow, the same passionate duo of Kiriti Sengupta (Chief Editor of the Ethos Literary Journal) and Bitan Chakraborty (Hawakal Publishers), will be hosting yet another poetry gathering in Hyderabad, The Durbar.
This day-long event will bring together the likes of Linda Ashok, Kingshuk Nag, Atreya Sarma Uppaluri (of Muse India), Rebecca Vedavathy, Raja Chakraborty, Sarabjit Sarkar, Nikita Parik, Many S Kurup, Shikhandin, Rimi Dey, Pitambar Naik, Jhilam Chattaraj, Nabina Das, Chaitali Bhattacharjee, Aneek Chatterjee and Utsab Ray. In store are book launches, poetry readings, discussions on poetry trends and more.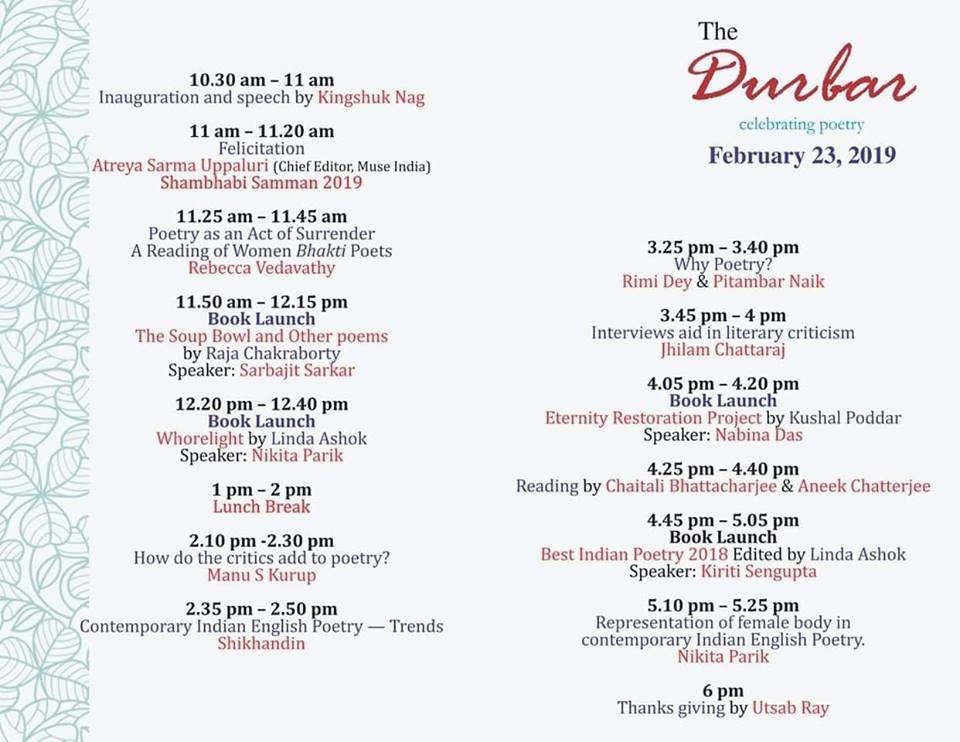 Purple Pencil Project caught up with Kiriti Sengupta and Bitan Chakraborty to understand what makes them do this. "It's the unconditional love for literature that brings people together, and trust the organizers. We want to honour that," says Sengupta. Himself a celebrated poet, he feels that the sense of community among poets only grows as they come face-to-face.
Bitan, who has pioneered Hawakal for over a decade, admits that the readership for poetry is only recently growing, a point that must be noted and discussed. "It's not easy to have gone on for a decade, but things are looking up." Hawakal had a stall at the Kolkata Book Fair 2019 too.
Atreya Sarma Uppaluri (Chief Editor, Muse India), who will be felicitated with Shambhabi Samman 2019 for his outstanding contribution to literature, echoes the thought. "I see that a healthy and perceptible change is taking place in the attitude of the poets as youngster are coming in. They are bold, they have no prejudice. The images they use, the thoughts they try to disseminate, resonates with more readers. As a result, poetry, which was often seen as a hobby of the old, is proceeding in the right direction."
Writer and poet Shikhandin says, "Poetry is a passion regardless of age. Poets typically start young. But you hear more young people these days because more avenues have opened up. They have opportunities to be seen and heard," she says. Shikhandin will be talking about Contemporary Trends in Indian Poetry at The Durbar.
Does having more festivals cause a clash? "Ethos Literary Festival has been organized by Ethos Literary Journal (ELJ), and it will be held annually in Calcutta. Every year Hawakal Publishers in association with Shambhabi Imprint organizes a Bengali lit fest in Delhi. The Durbar is a one-day celebration of poetry written in the English language, and it is being organized by Hawakal. Thus, it has no conflict with other festivals we curate," says Bitan.
Registration to the event is free, and on a first-come first-serve basis.