Yet another July 31 is here and my social media is filled, cheerfully, in reverence to the boy who lived, to the queen of the magical world; bringing back to a generation of kids who waited for their Hogwarts letters (I, curiously, never did), who tediously and religiously decoded every hidden meaning behind the world of Hogwarts, and the curious history of the greatest wizard ever to live.
But to me, Harry Potter has always been a little more than cheering for Harry, relating to Hermione, hoping to whack Ron in the head with the big, fat copy of Order of Pheonix more than once, hoping Dumbledore would stop being so secretive all the time, and wishing, oh boy, wishing that Fred would not die (the Potter saga predated Martin's ruthlessness). Over the years, Rowling, through both Twitter and Pottermore has revealed more than I ever thought it possible for anyone to imagine about the fantasy world we all grew up to love, cry for and wished to be part of.
To me, Potter was a summer romance, that one-time fling that was never mine to begin with. Living off borrowed books and battered copies to be read above my studies, Potter brings back the memories of reading under the blanket with a flashlight bright enough to help me read but not bright enough to wake my brother or parents up. It was a time when I didn't wait for the next release, but eagerly hoped someone in my circles would have the book and let me borrow it.
My parents were never too fond off, not entirely supportive and very strict about reading non-academic literature. It's an Indian idiosyncrasy and one that, weirdly, continues to persist.
Yet, my fight to read Potter, to be shouted at for finishing the then mammoth Order of the Phoenix in a record two-day span where I shut out, quite effectively, everything else, was just a glimpse of things to come.
When the Deathly Hallows was released, pre-bookings were meant for only the richer, cooler and more dedicated fans than I would ever be. So, I got my brother's friends to lend it to me, stayed up over the weekend to avoid the spoilers, took the book to school and had it confiscated, cried to have it returned and then finally finished it within the confines of my house. It was hysteria like I had never known, and for once I was getting to be a part of it.
I read, although sporadically, many books between The Philosopher's Stone and The Deathly Hallows. I grew up to buy many books and build my own little library. I grew up to go hungry to buy books in 2011–2012 because the arrival of e-books and Kindle worried my to sleepless nights. I grew up to fight for my rights as a member of the world of stories against the better judgement of those around me, to fiercely guard the books I possessed and the books I loved. Curiously, I still don't own the one series that ignited in me the passion for magical worlds, great love stories, staunch heroics and a single-minded thirst for knowledge and power. And, as I miraculously went too broke to pre-order The Cursed Child, as my timeline once again filled with the world I glimpsed so fully yet so briefly, I threw myself back to the era of my flings with books. If I can live off the memory (until a better time comes along) of the seven, I can squeeze in an eight one too.
Once again, I queue up to borrow the book. But this time, I won't need to fight for my right to read. That journey ended at 19 years later.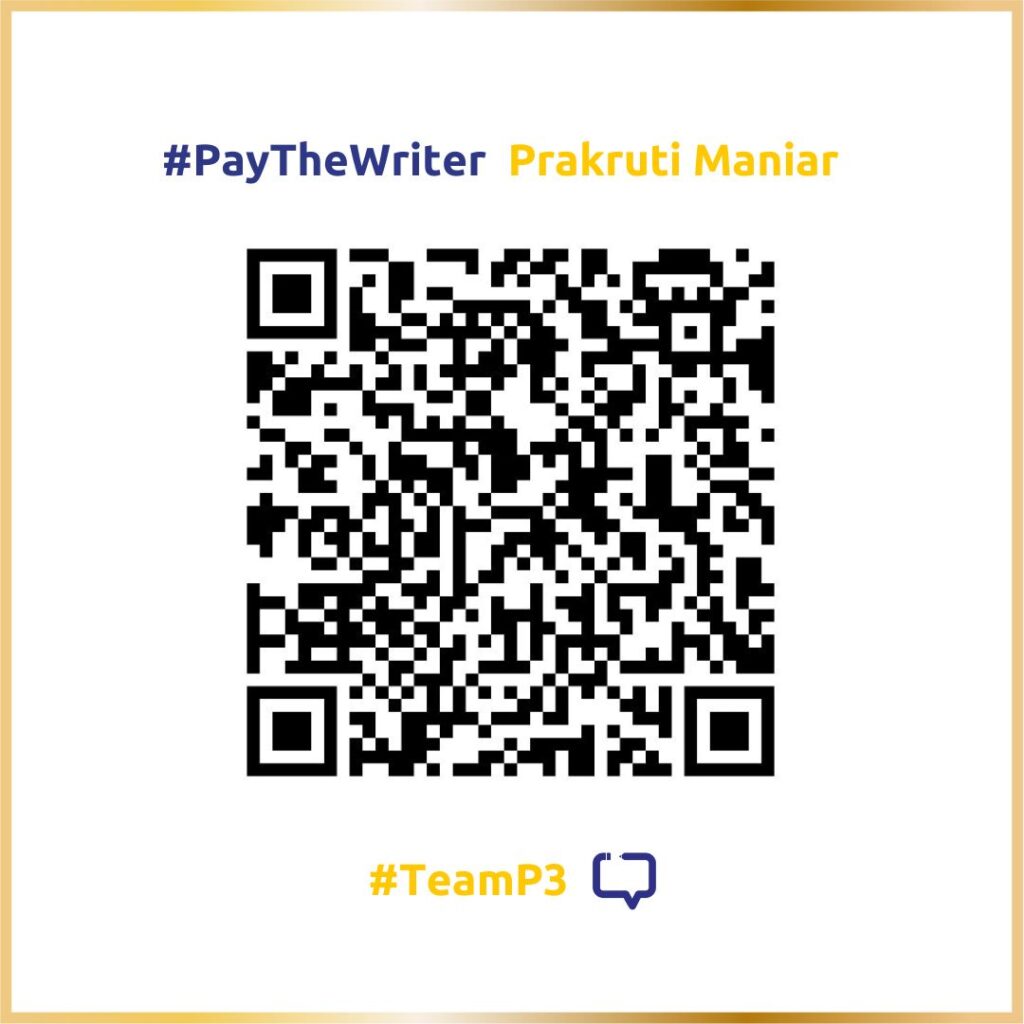 As part of our effort to compensate our writers better, we at Purple Pencil Project have launched the #PayTheWriter initiative, where readers can directly show support and appreciation for our wonderful team.
Scan or upload this image on your UPI app, and show them the love 😀