The second day of the ninth edition of The Hindu Lit For Life Fest 2019 began with pomp and enthusiasm, and was filled with a diverse and delectable menu of literary conversations in its kitty.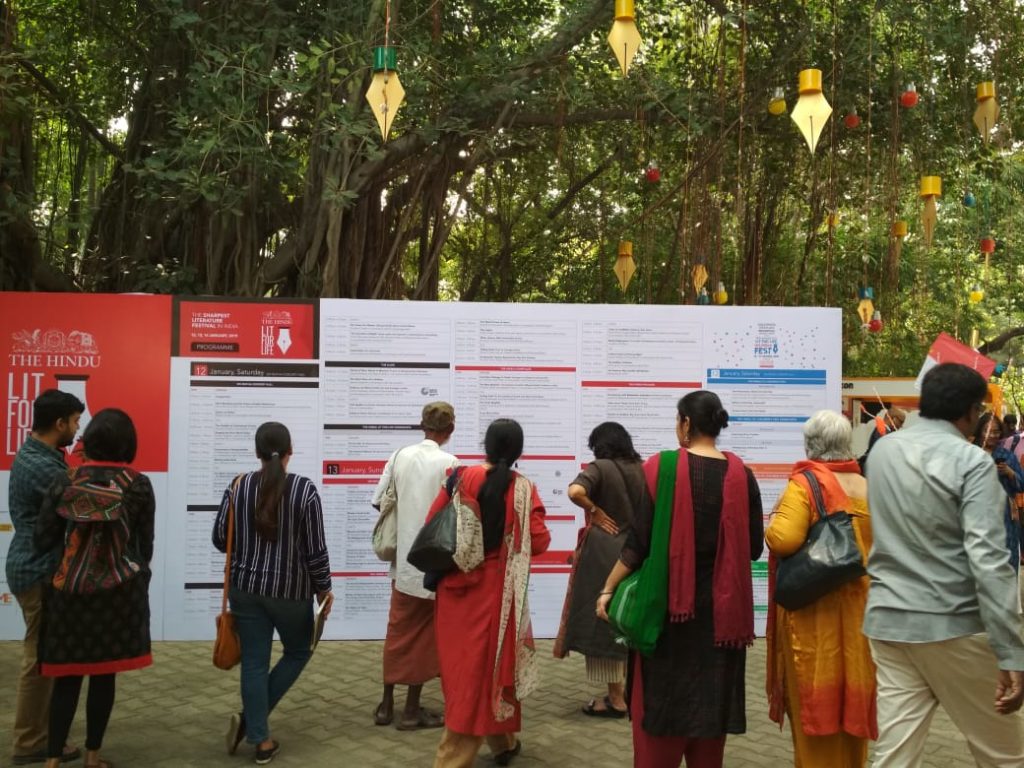 The first session was a panel discussing Politics of Identity: New ideas of caste and Religious Assertion with Aditya Mukherjee, Farahnaz Ispahani, Shiv Visvanathan and Ziya Us Salam in conversation with G Sampath at Sri Mutha Rao Concert Hall. The panelists discussed about identity politics and shared their views regarding the dangerous times we live in, democracy and majoritarianism. At The Hindu Pavilion, an interesting session on . Dravidian Ideology in Praxis: Homage to Kalaignar Karunanidhi: Dr N Ezhilan and N Ram in conversation with Kanimozhi Karunanidhi was introduced by N Ram, who started the discussion with a question about what the essential components of the Dravidian movement were.
The most awaited discussion of this year's fest was What Ails Indian Science and What Can Be Done About It? by Nobel Prize Winner Venki Ramakrishnan in conversation with Dr K Vijay Raghavan and was a real treat for both amateur and practitioners of science. Venki Ramakrishnan began the session by asking people to consider him as an affectionate observer of science from outside and he highlighted the fundamental problem about investing in Science and Technology. He also pointed out the decrease in the amount of investment in the field of science as a part of the GDP of our nation. Vijay Raghavan promptly responded about how central funding was concentrated on Central Universities and Government Labs like CSIR to which 5% of the students have access, while the rest who go to state universities which have far fewer resources to enable research. He also shared his concern about why we need science and listed out the challenges we have to take into account. Venki Ramakrishnan chipped in with his views that we cannot simply start investing more in science and we need people to absorb it and an increase in investment should be coupled with investment in education. He also mentioned about only a few percent of Indian people know English and suggested that people learn in their own language with ready availability of learning materials in vernacular languages.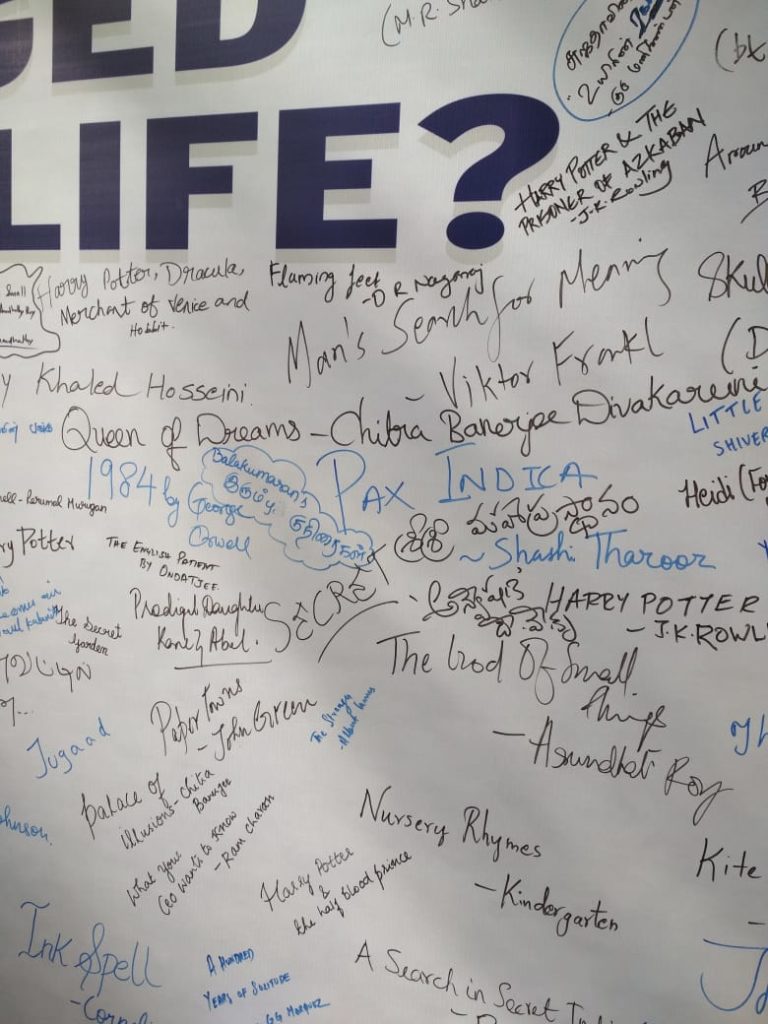 A panel discussion on The Tellers of Tales with Amitabha Bagchi, Sumana Roy and Abdullah Khan in conversation with Mini Kapoor at The Hindu Pavilion had the authors talking about their recent releases and discussing genres and landscapes. Amitabha Baghchi shared that he never had any confusions regarding genres and he wanted to create and escape into an alternate world, something he had been focusing on. There were many takeaways from the panel, on how it is possible to tell a story through poetry and non-fiction, how landscapes compel us to tell certain stories, and how politics and political situations provide inspiration for some compelling stories. 
A session on Modern South India with Rajmohan Gandhi in conversation with Nirmala Lakshman stressed the importance of Gandhi's new book, "'Modern South India: A history from the 17th Century to our Times" and a need for the North to be educated about the South. He also shared his views about South Indian languages and added how caste divisions in South India led to the British expansion.
After a sumptuous lunch, people gathered at the Sri Mutha Rao Concert Hall to talk about Bharati and Other Tamil Characters where historian A.R. Venkatachalapathy was in conversation with Gopalkrishna Gandhi, former Governor of West Bengal. Venkatachalapathy began the session with how Subramania Bharti was unique in the entire literary history of the world and how the copyrights for his writings were acquired by the government and put out in the public domain because of public pressure. Gopalkrishna Gandhi promptly added that not everybody in India knows about Bharti and how it is not a loss to Bharti but to us. Venkatachalapathy also shared his views and talked about Avinashilingam Chettiyar, Omathurar, Periyar and Aringar Anna, adding that people in the North are so ill-informed about the Tamils. He also suggested that there is a big need for biographies of people from South India to bridge this information gap. He concluded the panel informing about his imminent book on the biography of Periyar which is to be released soon. 
The Battleground of Indian History, with Audrey Truschke, Ira Mukhoty, John Keay and Rajmohan Gandhi in conversation with Aditya Mukherjee had panelists discussing the representation of women in history, political intervention in history and abuse of history. There was also an enthralling performance of songs by Indie band, Otha Sevuru.
And the award goes to…
The stage was set for the announcement of the much coveted The Hindu Prize at the Sir Mutha Rao Concert Hall with the viewers making a beeline and speculating on who would win. The Hindu Prize is given to recognise Indian writing in fiction. This year, a non-fiction category too was added, which carries a cash prize of Rs 5,00,000 each, a trophy and a citation. The Hindu Young World Goodbooks Awards were also announced at the festival under four categories: Best Picture Book Story, Best Picture Book Illustrations, Best Book Fiction and Best Book Non-Fiction. 
Here are the list of winners:
Neelum Saran Gour won the The Hindu Prize 2018 for Fiction for 'Requiem in Raga Janki'.
Manoranjan Byapari won The Hindu Prize 2018 for Non-Fiction for 'Interrogating My Chandal Life'.
Vinayak Varma won The Hindu Young world Goodbooks Awards for Best Picture Book: Story for 'Angry Akku'.
Rajiv Eipe won The Hindu Young world Goodbooks Awards for Best Picture Book: Illustration for 'Ammachi's Amazing Machines'.
Venita Coelho won The Hindu Young world Goodbooks Awards for Best Picture Book: Fiction for 'Boy No 32'
Mamta Nainy won The Hindu Young world Goodbooks Awards for Best Picture Book: Non-Fiction for 'A Brush with Indian Art'.
The sight of Manoranjan Byapari letting out tears of joy after he was announced the Hindu Prize 2018 for Non-Fiction category  moved everyone around the venue.
The awards ceremony was followed by a session on Tyranny of Diet with Rujuta Diwekar in conversation with Shonali Muthalaly where they discussed about the factors that impact fitness and the misconceptions around body weight. Rujuta Diwekar expressed that a good diet is one which has stood the test of time and a diet needs to thought about like a job or a relationship. She also asked people not to stand on the weighing scale the first thing in the morning and to  stand on their own two feet last thing in the night and see how light they were feeling. She concluded the session with the question that in Himalayas, an average school kid walks for 7 km every day. How much are we walking here? Are our children walking even 700 metres and opined that this health-related practices need to be introduced at the policy level. 
The final session was an illustrated lecture on Retracing Maps in search of Language by Nilima Sheikh. She showcased a series of artworks that talked about Kashmir, its history and its art. Her paintings informed us about the Valley's Buddhist past and present, Kashmir's legacy of Bhand Pather, Kashmir's traditional theatre, and more. The audience were keen to note that titles of the paintings she showcased in her lecture were named after noted poet Aga Shahid Ali's poems. Also, an extract from author Salman Rushdie's Shalimar, The Clown found its place in one of her art, transcribed across a painting. The day ended with noted and famous Indie band, Swarathma, playing under the glittering lights as the sun diminished filling the venue with the mellifluous voice and the audience humming to the tunes of the band.