As far as representation goes, stories from South India remain clearly under-represented in the Indian literary scene as compared to stories, folklore and mythology from Northern India. Lately, we're seeing a gradual shift in the narrative, with a number translated stories being anthologised by a number of publishing houses, such as Niyogi-published Moisture Trapped in the Stone, by Prof. K.N Rao. It is a compilation of short stories translated from Telugu to English, traversing across platitudes of Andhra Pradesh's landscape, covering life in both towns as well as rustic villages.
Moisture Trapped in the Stone is bursting with local flavours, the translation authentic to the dialects favoured by the original authors and somehow, still succinct and modern in its storytelling.
Nostalgia reruns
One of the key themes prevalent in the stories, is that of nostalgia, be it for a blissful childhood, a dear homeland or a family member.
Many of the characters in the stories are undergoing transitional phases in their lives, as a result of which they seem to be experiencing levels of dissonance that influence the direction of the narrative.
In Jalandhara's "A Sojourn", a woman looks back on a life well-lived, yearning for an opportunity missed that continues to haunt her even at the sunset of her life.
In "The Homing Pigeon", by Madhurantakam Rajaram, a American citizen and first-generation Indian boy, finds his way through the backroads of rural Andhra Pradesh to find and reconnect with his paternal grandparents who were deserted by his father.
The rural-urban divide
Mohammad Khadeer Babu's "The Cover," a tragic story that spans across one family's struggle to make a livelihood when all the odds are against them, is an impactful read.
Mubasheera Begum moves from her little Muslim community in a small village to the chaos of Hyderabad to secure a better future for her children. Her two daughters of marriageable age, her son who she pins her hopes on are all collateral damage at the hands of a greater political agenda, leading her to rue the day she decided to migrate from her placid life in her little village to a chaotic city where death and biases are rampant.
In Kethu Viswantha Reddy's "The Citadel in Disrepair," a man returns to the village he'd left in search of better pastures in the wake of a death in the family, to realize just how much the system has corroded since then and has the painful epiphany that there are some things that even he, as a doctor cannot heal.
Meanwhile, in "Bumblebee," life in the cities of India is shown at its realest, an educated, upper-middle class woman, must find a way to save her marriage in the face of her husband's infidelity without compromising on her family structure.
Politics and casteism
A number of stories in the book address the casteism that runs rampant in many parts of the state, whether it is the feud between the Reddys' and the Naidus in "Galiveedu to New York" to "Her Very Own Rubicon," where a man finally understands the depth of societal institutions on one's behaviour despite one's best intentions.
In "Moisture Trapped in a Stone", a woman's refusal to compromise on her ideals even in the face of opposition from her husband lead to the redemption of her community, considered 'lower caste', which has been rendered homeless.
K.N. Rao's translation retains the linguistic flavour through a generous sprinkle of colloquial and dialectic words that are all Moisture Trapped in the Stone, each of which is addressed in the glossary section, for those who are curious.
And as mentioned at beginning of the review, the latitudinal variety presented in Moisture Trapped in the Stone is a relish for the literary mind, keen to absorb the world as seen through the eyes of the characters.
Final verdict: Moisture Trapped in the Stone makes for an enlightening read and successfully leaves the reader guessing as each story approaches its end.
Favourite Quote: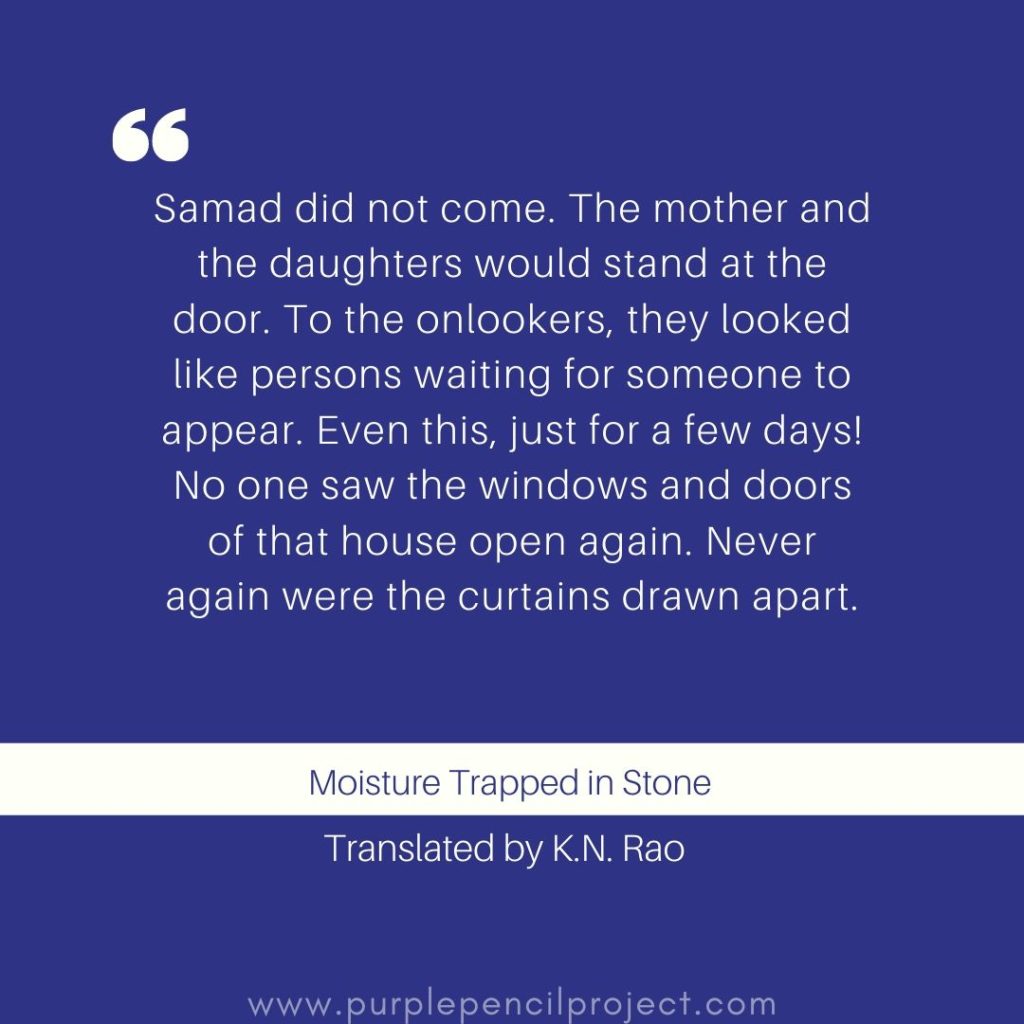 ***
We encourage you to buy the book if you can find it at your local bookstore. If you cannot, please use this link to order from Amazon, and support us.
---